Brash Bucs
"To the haters that said I'm not going to get my money.
I'm laughing in your face — Ha-Ha, that's funny. "

The above is just a small portion of the rap lyrics written by Terrell Owens of the Dallas Cowboys. While Owens' on-field talents are not to be questioned, his rap song and his forthcoming book further prove to me that he just doesn't get it.

Thanks to maverick Cowboys owner Jerry Jones paying Owens a king's ransom to play in Dallas the erstwhile Eagle will probably never get it. To me the signing is indicative of American sports today and I do not like it. It seems to be a society that values controversy over substance and confrontation over character. Now for the first time this society has a face and spokesman and his name is Terrell Owens, the poster boy of all that is wrong with sports today.

I have gotten into many debates with those who feel that Owens is one of the greatest things to happen to the NFL. Their argument goes that he is colorful and sexy, a rebel who rages against the staid and sedate NFL. If not for his theatrics, they argue the NFL would be boring.

Well, my reply is that if you are one of those who find TO entertaining I've got another venue that might suit your passions. It's called professional wrestling. But the purpose of this column is not to further pile on TO no matter how deserving he may be.

Instead what I want to look at is the evolution of personality in the NFL that has culminated in the TO type. Brashness has evolved through stages from "Fiery Leader" to "In Your Face" and finally arrived at "Team Killers." This evolution has been fueled by the ever-growing presence of 24-hour sports channels that thrive on confrontation and controversy. The Buccaneers have seen examples of all three types.

The Fiery Leader

The Fiery Leader is a player who wears his emotions on his sleeves and is unafraid to speak his mind to his teammates. Fiery Leaders still exist, but their heyday was the age before cable, mainly the 1970's and early 1980's. The Fiery Leader is brash not because he craves attention, but because he wants to bring out the best performance he can possibly get from his teammates. The Fiery Leader cares so much that he is willing to become a target not just of his teammates scorn, but the slings and arrows of the press and fans. No player better embodied this trait than David Lewis.

David Lewis was the vocal heart and soul of the 1979 Tampa Bay Buccaneer defense that led the NFL in every important statistical category. When the Buccaneers lost three straight games towards the end of that season, jeopardizing their chances at the NFC Central Division crown, it was Lewis who stood up and told it like it was.

After reading his teammates the riot act in the Candlestick Park locker room following a 23-7 loss to the 49ers, Lewis told the Tampa Tribune's Tom McEwen, "There is some choking going on. Here we are ready to become division champs and we lose 23-7. That's not championship football. I don't care how it sits with everybody. Three weeks straight, there's got to be some choking going on. I'm a team leader and I'll tell it like it is."

The Bucs responded the next week by stifling Kansas City 3-0 to clinch the crown. Lewis led by example as well, recording more than 100 tackles three straight years and making the 1980 Pro Bowl. Lewis' largest contribution to franchise history though may have been his speech in the Candlestick locker room when he refused to let his teammates be satisfied with just a winning record and ignited a spark that led to a championship.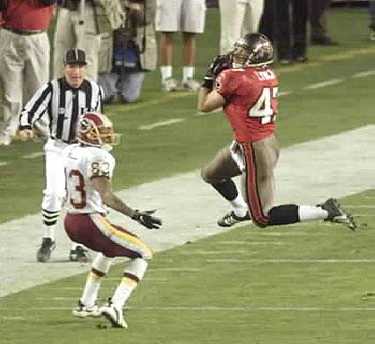 Honorable mention goes to John Lynch. Lynch's ultimate example of fiery leadership occurred in the 1999 playoffs against Washington when after intercepting a pass he slammed the ball down at the feet of his offensive teammates and told them to do something with it. The offense responded by scoring two touchdowns in a 14-13 victory.

The In Your Face Type
The In Your Face Type is a close cousin of the Fiery Leader with one exception. While the Fiery Leader is generally selfless in his actions, the In Your Face Type understands the importance of showmanship in not only energizing his teammates and the crowd in the stands, but in generating the kind of publicity that gets a man on SportsCenter and in commercials. This was a hard decision to make, but I select Broderick Thomas.


There was much fanfare when the Buccaneers drafted Thomas out of Nebraska with their first pick of the 1989 draft. "The Sandman," as Thomas was known, had been a ferocious hitter in college and many a Buc fan looked forward to seeing him terrorize opposing running backs. Unfortunately, Thomas never lived up to the hype. The linebacker put up some eye-popping numbers, including an astounding 174 tackles in 1991 and a three-sack performance against Dallas in 1990, but for the most part was a disappointment.

That didn't stop Thomas from being a very loud presence both on and off the field. The early 1990's was that period sandwiched between football becoming America's national sport in the late 80's and becoming a cousin of the WWE in the late 90's and early 00's. Thomas was an early trash-talker, getting in the face of players after tackles, scuffling a bit during pile-ups and seeking out any microphone he could find after the game.

What was funny was that Thomas didn't seem to need to be on a winner to talk about how great he was. I recall watching a dreadful 1991 game against Philadelphia. The Richard Williamson led Bucs had somehow won 14-13, their first victory of the year. In the locker room Thomas held court as though he had just led Tampa Bay to a playoff berth.

"The proof is in the pudding, and the pudding is pretty damn good," boasted Thomas about both the win and his blocked punt that acted as a catalyst. To this day I have no idea what kind of pudding Thomas was eating, but it was covered in the grime of a 3-13 season. Oh, well. That was our Sandman.

Players such as Hardy Nickerson, Warren Sapp and Simeon Rice were also representative of the In Your Face type. Since Thomas played in an era when very little about the Bucs was brash, I had to go with him.

The Team Killer

The Team Killer is the In Your Face player that goes too far. I can't think of a better example than Keyshawn Johnson. In fact I would go so far as to argue that "Meshawn" or "Leon" as some have called him, is the only Team Killer the Bucs have had. Like Terrell Owens, Keyshawn was brilliant on the field. Johnson's lack of burner speed was more than made up for by an almost pathological desire to outwork and out jump the defender for the ball. Factor in his selfless run-blocking ability and Keyshawn was a model of what you expect from a physical receiver.

On the sideline and in the locker room Keyshawn was a horrible presence on the Buccaneers. Surly and arrogant to the extreme, Keyshawn brought much unwanted attention to the locker room and put his teammates into some awkward situations. This trait though made Johnson a fixture on ESPN and other outlets, and he played the cable game very well despite what it meant to the team on the field.

Before a 2000 game against his former employer, the New York Jets, Keyshawn spent the week holding court with the national media and belittling New York in general and Wayne Chrebet in particular. Comparing himself to a star and Chrebet to a flashlight, Johnson all but assured a big game and punctuated his week by flipping a bird to a cameraman. Johnson flopped big time against a fired up Jets team, catching only one shovel pass in a 21-17 loss. Coincidentally, the flashlight Chrebet caught the game-winning touchdown.

Something similar happened in 2003 when Keyshawn called out Colts receiver Marvin Harrison. Johnson had stated he was the best receiver taken in 1996 and always outperformed those selected after him, which included Harrison. Once again Keyshawn had a mediocre game and Harrison hauled in pass after pass during the Colts amazing come from behind 38-35 victory.

Johnson was conspicuously quiet after these games, but sadly it wouldn't last for long as Keyshawn repeatedly complained about John Gruden and his teammates. The Bucs' head coach finally had enough and in a precedent setting move that TO would become familiar with, suspended Johnson and ultimately released him. What should have been an exciting and fun defense of a Super Bowl title instead turned into a Keyshawn soap opera that only fans of the WWE could enjoy. ESPN was thrilled no doubt, but Buc fans were short-changed.

Perhaps this experience is why the Buccaneers didn't bring Owens to town. After all, if you barely survived one three-ring circus, why would you bring in another clown?