Getting a franchise for Tampa Bay
What made Tampa so popular a pre-season site were not only the sell-out crowds but also the quality of the stadium. Tampa Stadium received rave reviews about the playing surface. Players loved the grass surface during a time when most facilities were installing rock-hard Astro-Turf and owners loved the drainage system that kept the field dry and protected their expensive investments.

Joe Zalupski said the man most responsible for the playing surface's popularity was Tampa Stadium superintendent Dave Ritchie. "Dave was my superintendent and first hire in 1966," Zalupski recalled. "He was probably as important to me and the stadium as anybody as both a friend and technician. He had a pride about himself and the field was important to him."

Leonard Levy stated that the string of sell-outs and stadium quality so impressed one NFL owner that the city almost found itself with a team in the early 1970's. "Carroll Rosenbloom became very interested in Tampa and once tried to move the Colts to Tampa. NFL Commissioner Pete Rozelle told him that was not going to happen, but Rosenbloom still scheduled all of Baltimore's 1972 exhibition games at Tampa Stadium. Before the season Rosenbloom pulled the trade that gave him the Los Angeles Rams and Robert Irsay the Colts. So Irsay owned the Colts when the team came to Tampa Bay."

Rosenbloom may not have moved his team to Tampa Bay, but according to Levy the Colts owner was crucial in getting a team for Tampa by demanding that expansion be put on the NFL's agenda in the early 1970's. "Our biggest barrier was in getting the NFL to put expansion on the agenda," said Levy. "When congress permitted the AFL-NFL merger one of the things Rozelle had testified was that the league would have a standing expansion committee and it would mean more cities would get teams. Well, they did not have a committee, or at least it was not active. We would go to Rozelle and he would tell us, 'I don't prepare the agenda, the owners do.' We would go to the owners and they would tell us, 'We don't prepare the agenda, Rozelle does.' Fortunately, we had two friends in Carroll Rosenbloom and Lamar Hunt. They insisted that it be put on the agenda and that is how it came that the league voted for expansion."

With expansion now a certainty the job of winning a franchise for Tampa Bay fell on the shoulders of Leonard Levy. A printer by trade, Levy was also a major supporter of football in the state of Florida. "Sports has always been my avocation, printing is how I made my living," Levy admitted recently. "I'm a Florida Gator. I'm probably a bigger college football fan than a pro football fan. I've missed only eight Gator games in Gainesville in forty-five years."

While he may have been a Gator at heart, Levy was also a member of the Tampa Sports Authority and as of the early 1970's he was named Chairman of Tampa's NFL Task Force Committee. Before Levy could persuade the NFL to expand to Tampa, he needed to make sure that he had all the local support he could muster. To do this Levy knew that he needed to make it clear that it was not just the city of Tampa that was petitioning for a franchise, but the entire Tampa Bay area. "Tampa by itself could not have supported a franchise, let's be honest," Levy said. "It might today but not back then. The market area of Tampa and St. Petersburg was certainly big enough though. Tampa Bay is a body of water that separates the two counties, but we felt using the name Tampa Bay would solidify the area."

It worked, and when Levy met with community leaders from every city in the Tampa Bay area he found it very beneficial in the political game of landing a franchise. "The whole area was supportive. In fact at a meeting we appointed a task force of about 100 people from all over and told them. 'What we need from you is any contacts you have from around the country. If any of you has any friends who is a friend of an owner let us know about it, you could open a door for us.' Somebody came up to me after the meeting and said that he knew Ralph Wilson's (owner of the Buffalo Bills) roommate from college."

Networking such as this plus the exposure Tampa Bay had received as the host of multiple pre-season games made the job Levy had of selling the community a little bit easier. After years of meeting one on one with all 26 owners, Pete Rozelle and civic leaders, Leonard Levy boarded a plane and flew to New York in April of 1974. The NFL was prepared to announce the awarding of the league's 27th franchise. Tampa Bay was in close competition with Seattle, Phoenix and Honolulu.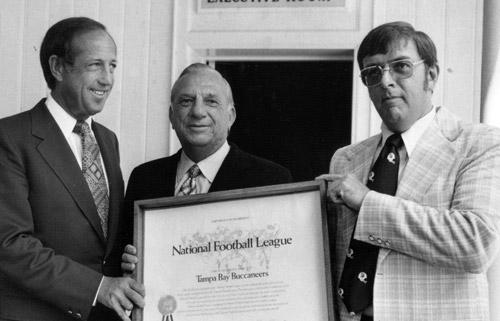 On the afternoon of April 24, 1974 Pete Rozelle strode to the podium of the Drake Hotel and announced that Tampa Bay was to be the NFL's 27th franchise. The newspapers of the day reported that Leonard Levy exclaimed, "Godamighty, Godamighty!" upon hearing the announcement. Mr. Levy recollects a calmer acceptance of the news, although he is still proud of that moment. "We felt like we were in good shape so it wasn't a total shock when it was announced."

"After Pete Rozelle said the NFL voted to admit Tampa, he said, 'We have Leonard Levy here, let me get Leonard up front.' That is one of those memories you won't ever forget. I'm a small-town guy and I walked up to the front of that room with all the cameras snapping, that was quite an experience for me. "I've got a picture of me in my office with Pete Rozelle shaking my hand."

The Ownership Switcheroo
While Leonard Levy was the point man in bringing professional football to Tampa, he was not going to be part of a proposed ownership group. Levy explained why, "The NFL decided that any task force should not involve an owner's group, it should be a civic effort. When Tampa Bay and later Seattle were selected, only the cities were named not the owners. We're the only two cities where the league picked the cities first and then the ownership groups."

Among those vying for the rights to purchase the Tampa Bay franchise was Harry Mangurian and Tim Marcum who had supplied the money and effort behind the series of successful exhibition games. The winner of the bid turned out to be Tom McCloskey, a wealthy construction and real estate developer from Philadelphia.

McCloskey only owned the franchise for a short time. So short in fact, that he didn't last long enough to see the team christened the Buccaneers. When McCloskey left the team was still referred to as the Tampa Bay franchise. The reasons for McCloskey's decision to abandon ownership came down to one thing: money. With the nation in the grips of a recession in 1974, McCloskey was fearful that owning a start-up franchise would eat away at too much of his capital. It was also rumored that McCloskey was afraid that his soon to be ex-wife would end up with half the franchise after a date in court.

Jacksonville tax attorney Hugh Culverhouse popped up with his checkbook and paid the 16 million dollars to become majority owner. Culverhouse would own the team until his death in the mid 1990's. Culverhouse's trust owned and operated the franchise for a short period of time until Malcolm Glazer purchased the team in 1995 for 192 million dollars.

Factor in Raymond James Stadium and the new training facility under construction and the Tampa Bay Buccaneers are worth well in the range of 700 million dollars. That is quite a large corporation. And to think it all started with an innocuous bill in the Florida Legislature meant to build a home for college football and the hard work of a printer who really liked college football but wanted to see a professional team in his hometown. .

Denis Crawford, February 2006