The 1980 Bucs against the Hall of Fame
1980 was the first truly disappointing season in Buccaneer history. Coming off a divisional championship and playoff victory, Tampa Bay was chosen by many as the up-and-coming team of the new decade.

Unfortunately, injuries and a much more difficult schedule conspired with overconfidence and lackluster play to create a 5-10-1 record. The more difficult schedule included the following contests with future Hall of Famers.

1980 Game One Tampa Bay 17 Cincinnati 12
Cincinnati Bengal Hall of Famers: - Anthony Munoz: Offensive Tackle (Class of 1998)

Munoz was a Buccaneer for a very brief time in 1993 but injuries kept him from playing during the regular season for former Bengals coach Sam Wyche.

This game was Munoz's NFL debut as a number one draft choice for the Bengals out of USC. Munoz played at a Hall of Fame caliber from the beginning, but the Bengals were without quarterback Ken Anderson and relied on Jack "The Throwin' Samoan" Thompson. Thompson flashed all the "brilliance" he would show in 1983 for Tampa Bay, completing just 6 of 21 passes for 47 yards. The Bengals gave up three sacks (two for Randy Crowder and one for Lee Roy Selmon) and paved the way for a measly 128 total yards.

Despite the offensive ineptitude, the Bengals held the lead until a last minute touchdown pass from Doug Williams to Jimmie Giles won the game. The Bengals head coach for this game was Hall of Fame offensive lineman Forrest Gregg, a former member of Vince Lombardi's Green Bay Packers dynasty who would lead the Bengals to a Super Bowl appearance in 1981.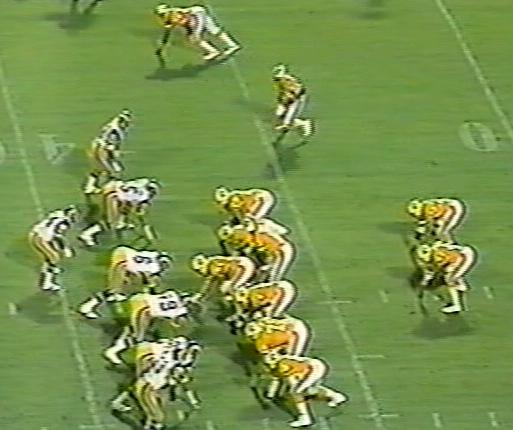 1980 Game Two Tampa Bay 10 Los Angeles Rams 9
Los Angeles Ram Hall of Famers:- Jackie Slater: Tackle (Class of 2001), Jack Youngblood: Defensive End (Class of 2001)

Ah, the heady days of ABC's "Monday Night Football: Thursday Night Edition!" For several years ABC would have bonus primetime games on Sunday, Thursday or Friday nights. This was the Bucs first ever appearance in front of Frank Gifford (Hall of Famer), Howard Cosell and Fran Tarkenton (Hall of Famer, subbing for "Dandy" Don Meredith).

The Bucs gained a small measure of revenge in scoring the 10 points they could have used nine months earlier in the NFC Championship Game. Jackie Slater and the Rams offensive line still effectively bulldozed through the Bucs defense, gaining 169 rushing yards and holding the ball for over 33 minutes. However, 111 penalty yards and four Vince Ferragamo interceptions kept the Bucs in the game long enough for Doug Williams to lead his second straight last minute, game-winning touchdown.

Jack Youngblood, with a fully healed leg, was credited with two tackles and a sack of Doug Williams for a six-yard loss in the second quarter. Youngblood did miss a tackle of Williams on the quarterback's famous 10-yard scramble on the play before his winning touchdown. Facing 2nd and 10, Williams scrambled to the right where Youngblood had the chance to bring him down at about the eleven-yard line, but Tampa Bay's quarterback eluded his grasp and brutally fought to the one-yard line, setting up a first and goal situation from which the Bucs won the game.

1980 Game Three Dallas 28 Tampa Bay 17
Dallas Cowboy Hall of Famers:- Tony Dorsett: Running Back (Class of 1994), Tom Landry: Head Coach (Class of 1990), Randy White: Defensive Tackle (Class of 1994)

The Bucs had grown tremendously as a football team since their last encounter with America's Team in 1977. In the first half, the Bucs stood toe-to-toe with a Cowboy team that was still a legitimate Super Bowl contender for the legendary Tom Landry. A 49-yard Doug Williams to Jimmie Giles bomb put the Bucs up 17-7 in the second quarter but then the Cowboys roared back and pulled away.

Tony Dorsett rushed for an even 100 yards on the day and caught six passes for an additional 46 yards. The opening drive of the day showed how versatile Dorsett was. On the Cowboys 75-yard scoring drive, Dorsett touched the ball on seven of 12 plays, gaining 50 of the 75 yards. That's efficiency! On the all important drive to end the second half, a drive that cut the Bucs lead to 17-14 and stifled some of Tampa Bay's momentum, Dorsett's 11-yard scamper with a screen pass helped set up Danny White's scoring toss to Billy Joe Dupree.

Randy White, known as "Manster" for Half-Man, Half-Monster, rang up five tackles but didn't get a sack. It was not a great day for the Dallas defense as the Bucs were able to roll up over 300 yards of offense. However, when Dallas needed a stop, they got it and that was the difference in the contest.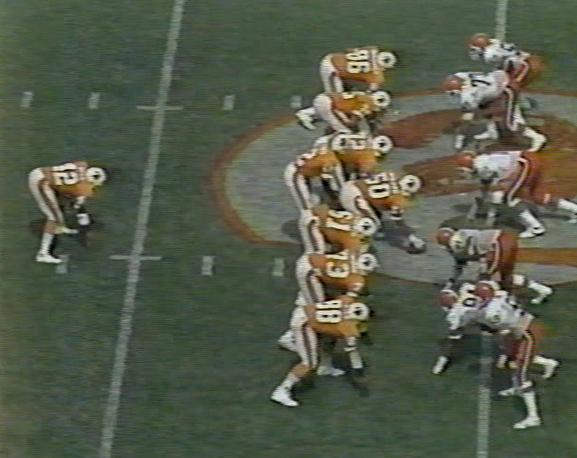 1980 Game Four Cleveland 34 Tampa Bay 27
Cleveland Brown Hall of Famers:- Joe DeLamielleure: Guard (Class of 2003), Ozzie Newsome: Tight End (Class of 1999)

The "Kardiac Kids" of Cleveland didn't need any last second miracles in this game. 28 unanswered points over the second and third quarters gave the Browns a commanding lead. Doug Williams and the Bucs offense did have a wild fourth quarter, but to no avail.

DeLamielleure and his associates on the Cleveland line gave 1980 NFL MVP Brian Sipe the time to become the first quarterback to ever throw for more than 300 yards against Tampa Bay. Other than a sack by David Logan for a ten-yard loss in the third quarter and a holding penalty on DeLamielleure, the Cleveland offense had free reign.

Ozzie Newsome, affectionately known as the "Wizard of Oz," only caught two passes for 25 yards. On a day in which Sipe had at least one completion to nine different receivers, it could be argued the Bucs didn't really contain Newsome as much as they couldn't contain any wide-out in an orange helmet.

1980 Game Five Chicago 23 Tampa Bay 0
Chicago Bear Hall of Famers:- Dan Hampton: Defensive Tackle (Class of 2002), Alan Page: Defensive Tackle (Class of 1988), Walter Payton: Running Back (Class of 1993)

Arguably the most embarrassing loss of the year as the Bucs got blown out on national television. This time it isn't just primetime, it really is Monday Night Football.

Walter Payton is Walter Payton. "Sweetness" gains 134 yards on the ground and another 14 by air. 122 of Payton's rushing yards came in the second half as the Bears pulled away from what had been a tight defensive struggle in the first half. This is the era when Payton truly was the Bears offense.

With a troika of quarterbacks (Bob Avellini, Mike Phipps and Vince Evans) that would make Jeb Blount a Hall of Famer by comparison, Bears coach Neill Armstrong simply called Payton's number on 75% - 80% of the plays. It is a testament to Payton that the Bears made the playoffs in 1977 and 1979 with this type of offense.

The young and old Hall of Famers of the Bears defensive front, Dan Hampton and Alan Page, combine for three sacks of Doug Williams and contribute three more tackles as the Bucs flounder on the big stage.

1980 Game Six Tampa Bay 14 Green Bay 14
Green Bay Packer Hall of Famers:- James Lofton: Wide Receiver (Class of 2003)

There is an expression that a tie in football is like kissing your sister. This game would have been a Packer victory if not for the bad day suffered by Green Bay kicker Tom Birney. Birney missed two chip-shot field goals, a performance which would lead to the Packers signing Hall of Famer Jan Stenerud before the end of the season.

The Packers had three different receivers gain over 100 yards on receptions and shockingly James Lofton was not one of them. Eddie Lee Ivery, Paul Coffman and Aundra Thompson all surpassed 100 yards while Lofton gained 31 on two receptions. That is still a healthy average but on a day in which the Bucs secondary played as though peopled by cardboard cut-outs Lofton's normal production wasn't necessary.

Lofton's first reception, a 17-yard catch at Tampa Bay's three-yard line set-up the Packers first touchdown. His second catch, a 14-yarder in the third quarter, did not lead to points.


1980 Game Seven Houston 20 Tampa Bay 14
Houston Oiler Hall of Famers:- Elvin Bethea: Defensive End (Class of 2003), Earl Campbell: Running Back (Class of 1991), Dave Casper: Tight End (Class of 2002)

The Bucs catch the "Tyler Rose" at the peak of his career. Campbell packed 232 pounds of muscle, speed and fury onto a 5'11' frame. On this day Campbell almost gained a yard for every pound, finishing with 203 yards (the most rushing yards ever against Tampa Bay). Campbell averaged over six yards per carry and helped the Oilers gain a whopping 470 yards of total offense. The only drawback for Campbell was a fumble caused by Aaron Brown that was returned 80 yards for a touchdown by Cedric Brown.

When you can run the ball like that, a team doesn't need to pass. Casper, who followed quarterback Ken Stabler from the Raiders, only caught one pass for fourteen yards. But his one catch did help lead to a Toni Fritsch field goal and a 6-0 lead for Houston. Elvin Bethea, the first Hall of Famer the Bucs ever faced as a franchise, sat out this game.

1980 Game Eight Tampa Bay 24 San Francisco 23
San Francisco 49er Hall of Famers:- Joe Montana: Quarterback (Class of 2000), Bill Walsh: Head Coach (Class of 1993)

This game not only marked the only victory for the Bucs on the Pacific coast between 1976 and 1996, but also the only time the Tampa Bay Buccaneers beat a Bill Walsh or Joe Montana led team.

The 49ers were still one season away from bringing on several talented defensive players including two of Hall of Fame caliber (Ronnie Lott and Fred Dean), so Walsh and Montana were still in the business of trying to outscore opponents. One of Montana's greatest talents was the two-minute offense…not just at the end of the game, but at the end of the first half.

With only 1:47 remaining in the first half, the 49ers faced first down at their own eight-yard line. Keep in mind, the 49ers are ahead 10-7 but knowing his defense couldn't stop anyone with consistency, Walsh lets his second-year quarterback go to work. Six plays and 69 yards later, the 49ers kick a field goal to increase their lead to 13-7 and show the Bucs and the rest of the NFL just what a "hurry-up" offense looks like.


(Author's note: I know in writing about the 49ers of this era, I can come across as overly complimentary, but for those of you who didn't see the Montana-led Niners, trust me, they completely revolutionized the way offense was played. It was a true pleasure to watch even when they were cutting the Bucs hearts out.)

Montana finished with a solid line of 24 completions in 31 attempts for 200 yards and a 45-yard touchdown to running back Lenvil Elliott. Montana's only black mark was an interception off a tipped pass by Mike Washington. The theft gave the Bucs a short field which was turned into a touchdown by Doug Williams and a 21-20 lead.

Montana led the 49ers back to a 23-21 lead only to watch on the sidelines as the Bucs engineered one of the greatest drives in team history, a 16-play, 68-yard drive which took 7:21 and culminated in Garo Yepremian's 40-yard field goal with only 47 seconds to play. If Montana had had about 20 more seconds the Bucs most likely would have lost. With only 37 seconds and two timeouts, Montana moved the 49ers 34 yards but that was only close enough for an unrealistic 63-yard field goal attempt.

1980 Game Nine Tampa Bay 30 New York Giants 13
New York Giant Hall of Famers:- Harry Carson: Linebacker (Class of 2006)

Early Bucs nemesis Harry Carson sat out this game with an injury.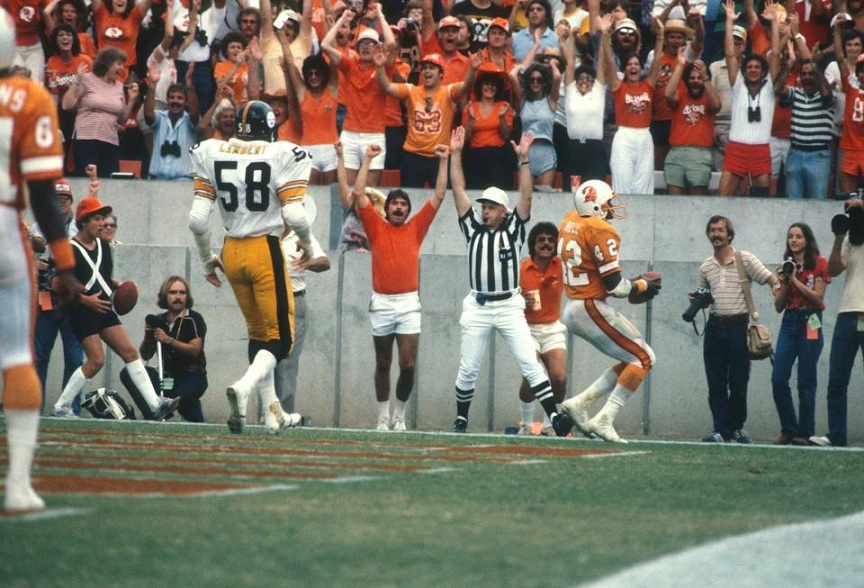 1980 Game 10 Pittsburgh 24 Tampa Bay 21
Pittsburgh Steeler Hall of Famers:- Mel Blount: Cornerback (Class of 1989), Terry Bradshaw: Quarterback (Class of 1989), Joe Greene: Defensive Tackle (Class of 1987), Jack Ham: Linebacker (Class of 1988), Franco Harris: Running Back (Class of 1990), Jack Lambert: Linebacker (Class of 1990), Chuck Noll: Head Coach (Class of 1993), John Stallworth: Wide Receiver (Class of 2002), Lynn Swann: Wide Receiver (Class of 2001), Mike Webster: Center (Class of 1997)

Four years earlier the Steelers crushed the expansion Bucs 42-0. The exact same roster of Pittsburgh Hall of Famers won two more Super Bowls in the interim and arrived in Tampa eager to win "One (a Super Bowl ring) for the Thumb." For Bucs fans this was a chance to see what could have happened had Tampa Bay only been able to generate 10 points in the NFC Championship Game. Given the outcome of this game, the Bucs may have still lost but it would have been a fun game.

The Steelers were without Franco Harris on offense which helped the Bucs corral Pittsburgh's attack. If not for yet another catastrophic special teams error (a blocked punt recovered for a touchdown) and a Jerry Eckwood fumble deep in Tampa Bay territory, the Bucs could have won. However, the gaffes gift-wrapped ten points for the Steelers preventing a memorable victory for the Bucs over a roster that could hold team reunions in Canton.

The Hall of Fame combination of Bradshaw to Swann did connect for a 20-yard touchdown late in the first half on a pass that was tipped at the goal line. That was Swann's only catch of the day as the Bucs defense did a very good job of containing a pair of Hall of Fame receivers. Fellow wide-out Stallworth caught only two passes for 34 yards and was shaken up on a hit by Cedric Brown in the second quarter. On the day Bradshaw finished with only 11 completions on 26 attempts for 100 yards. He was also sacked once by Lee Roy Selmon and intercepted by Scot Brantley (who incidentally was tackled by Swann on the play).

On the other side of the ball the Steel Curtain began to show its age. The Bucs gained 369 total yards with a whopping 23 first downs. However, Tampa Bay couldn't translate those eye-popping numbers into more points. Mel Blount had two tackles and a pass defensed. "Mean" Joe Greene finished with two tackles and Pittsburgh's only sack, an eight-yard loss on Doug Williams during the Bucs final possession of the game.

Jack Ham doled out his usual understated yet effective brand of hostility from the linebacker position. Ham finished with six tackles and three passes defensed. One of Ham's tackles was big, a five-yard loss for the Bucs on a screen pass to Ricky Bell that helped give Pittsburgh possession of the ball with just enough time to score late in the first half. While usually more publicized, Lambert finished with only three tackles, none for loss.

In the end Chuck Noll's Steelers did what they had to do when they had to do it in a close game statistically dominated by the Bucs. Often, that is what makes the difference between a good player and a Hall of Fame player.


1980 Game 11 Minnesota 38 Tampa Bay 30
Minnesota Viking Hall of Famers:- Bud Grant: Head Coach (Class of 1994), Jim Langer: Center (Class of 1987) Ron Yary: Tackle (Class of 2001)

The final division champion of Bud Grant's notable career had an offensive field day at Metropolitan Stadium. The Vikings scored on four straight possessions to open the game and set the tone.

Langer had been a lynchpin of the Miami Dolphins offensive line in the 1970's when Larry Csonka, Jim Kiick and "Mercury" Morris ran all over the NFL. Now in his twilight, Langer moved north and substituted on the Viking line. Other than two short yardage sacks by Dave Stalls and Cecil Johnson, the Vikings offense did as they pleased accumulating 450 total yards and 26 first downs.

Amazingly the Bucs outgained and out first-downed the Vikings, but on this day Minnesota prevailed.

1980 Game 12 Detroit 24 Tampa Bay 10
The Lions were the only team the Buccaneers faced in 1980 without a Hall of Famer on the roster.

1980 Game 13 Tampa Bay 20 Green Bay 17
Green Bay Packer Hall of Famers:- James Lofton: Wide Receiver (Class of 2003), Jan Stenerud: Kicker (Class of 1991)

Stenerud was signed as a free agent by the Packers shortly after the implosion of Tom Birney during the team's tie earlier in the season. Stenerud made good on a 40-yard field goal in the second quarter but his miss of a 45-yarder as time expired prevented another possible "sister-kisser."

As in their previous encounter, the Packers made more use of their backs and tight end as receiving threats. James Lofton finished with just two receptions for 22 yards while Eddie Lee Ivery, Gerry Ellis and Paul Coffman combined for a total of 19 receptions. Lofton's 13-yard reception in the third quarter led to a touchdown that cut Tampa's lead to 13-10. Lofton's value in 1980 was apparently as a decoy and it did work to some effect.

1980 Game 14 Minnesota 21 Tampa Bay 10
Minnesota Viking Hall of Famers:- Bud Grant: Head Coach (Class of 1994), Jim Langer: Center (Class of 1987), Ron Yary: Tackle (Class of 2001)

The Vikings put more distance between themselves and the rest of the NFC Central in this game at Tampa Stadium. Bud Grant's team relied on defense as they shutout the Buccaneers over the final 45 minutes.

Jim Langer once again came in as a substitute as he, Yary and the rest of the Vikings offensive line helped Minnesota score 21 unanswered points. The line did allow three Tampa Bay sacks (two by Dave Logan and one by Bill Kollar) but for the most part handled the Bucs defense as any hope for the playoffs in Tampa evaporated.

1980 Game 15 Detroit 27 Tampa Bay 14
The Bucs are swept by their only 1980 opponent without a Hall of Famer on the roster.


1980 Game16 Chicago 14 Tampa Bay 13
Chicago Bear Hall of Famers:- Dan Hampton: Defensive Tackle (Class of 2002), Alan Page: Defensive Tackle (Class of 1988), Walter Payton: Running Back (Class of 1993)

A season-finale featuring two disappointing teams is much more competitive than the first 1980 Bucs-Bears encounter.

Walter Payton enjoys a stellar day, rushing for 130 yards on 29 carries while adding an additional 25 yards on receptions. While Payton did not score a touchdown (he had a touchdown in the second quarter nullified by a penalty), he did set up the first of Chicago's two touchdowns with hard running. On the Bears first touchdown drive, Payton accounted for 28 of Chicago's 50 yards.

Dan Hampton only had one tackle for a Bears defense that gave up 450 yards of total offense on the day. The real story was the ageless Alan Page who enjoyed a second act in Chicago in which he personally declared war on Tampa Bay. Once again Page is a force, recording 8 solo tackles and making the key play of the game, blocking Garo Yepremian's game-winning field goal attempt at the end of the game. Fortunately, Page would retire after 1982!

Conclusion
In 1980 the Bucs were shown to not be as strong as they appeared in 1979. A stouter schedule in which fourteen of the sixteen games featured a roster with Hall of Famers combined with a defense that took a bit of a step back in execution was enough to doom the Bucs. In 1981 the Bucs would return to the playoffs, but they would never look as good as they did in 1979 (at least not until the late 1990s).