The 1978 Bucs v the Hall of Fame
The Professional Football Hall of Fame in Canton, Ohio honors the contributions of 273 players, coaches and administrators. From their inception in 1976 the Tampa Bay Buccaneers have been affiliated with three members: Lee Roy Selmon, Randall McDaniel and Steve Young. Only Lee Roy Selmon played the bulk of his career in Tampa Bay and as of this writing is considered the only true Buccaneer member. McDaniel and Young are "tangential" Buccaneers.

In 1978 the Buccaneers officially began play in the NFC Central Division. At mid-season the Bucs were 4-4 and thinking playoffs. By the end of an injury-marred season the Bucs were 5-11 but big things were brewing in Tampa Bay. In the course of the season the Bucs made quite an impression on a Minnesota Hall of Famer and served notice to a few other Canton-bound citizens of the NFC Central that one couldn't take the Bucs lightly anymore.

1978 Game 1 New York Giants 19 Tampa Bay 13
New York Giant Hall of Famers - Harry Carson: Linebacker (Class of 2006), Larry Csonka: Running Back (Class of 1987)

Larry Csonka's final season in New York was just as uneventful as his first two. Csonka acted in the role of closer in this contest and showed flashes of his old self, if ever so briefly. Five of Csonka's six carries occurred on the Giants last drive of the game when they nursed a six-point lead. Those 25-yards tough yards helped to run out the clock on the Bucs. Csonka's final carry, a four-yard gain, was also the final play of the game.

Harry Carson had a big day on defense, racking up eight tackles, a pass defense and an interception. Carson's pick came against Buc quarterback Gary Huff. Huff entered the game when starter Doug Williams was injured. The Carson interception came at a critical juncture. The Bucs were leading 10-7 and had the ball at midfield and were looking to score before halftime. Carson returned the interception to Tampa Bay's 33-yard line. The Bucs defense held, but the Giants were already in field goal range. Giants kicker Joe Danelo kicked a 42-yard field goal to tie the game at 10 and suck some of the energy out of Tampa Stadium.

1978 Game 2 Detroit 15 Tampa Bay 7
The first official game against a fellow member of the NFC Central Division was against a Detroit team with no members of the Hall of Fame on their roster.

1978 Game 3 Tampa Bay 16 Minnesota 10
Minnesota Viking Hall of Famers - Carl Eller: Defensive End (Class of 2004), Bud Grant: Head Coach (Class of 1994), Paul Krause: Safety (Class of 1998), Alan Page: Defensive Tackle (Class of 1988), Fran Tarkenton: Quarterback (Class of 1986), Ron Yary: Tackle (Class of 2001)

In 1977 the Vikings Hall of Famers did just enough to beat the Buccaneers. On a shocking Sunday in Bloomington these same Hall of Famers, one of Bud Grant's last playoff teams, could only watch an upset unfold.


Ron Yary and the rest of the Minnesota offensive line could not protect Fran Tarkenton. Wally Chambers had one 17-yard sack of "Scramblin' Fran," but the real star of the day was Tampa Bay's own future Hall of Famer Lee Roy Selmon. Selmon dominated the game, sacking Tarkenton three times and harassing him several others (the game book credits Selmon with an amazing 13 quarterback pressures).

One of those sacks occurred after Neil O'Donoghue's infamous field goal attempt. The Vikings had the ball first and goal at the Bucs 10-yard line trailing 16-7 in the fourth quarter. Before you could say "Lee Roy Selmon" the Vikings were back on the 24-yard line and had to settle for a field goal. Lee Roy's other sacks came in the first quarter and second quarter.

Tarkenton was able to throw for one touchdown to future broadcaster Ahmad Rashad, but was otherwise inefficient. Tarkenton also had two passes intercepted, one by Jeris White which led to Ricky Bell's touchdown run, and the other by Curtis Jordan. Tarkenton was eventually benched and replaced in the game by back-up Tommy Kramer.

All told the Bucs held the Vikings to 73 yards rushing and only 146 yards passing. Not a great day for the Minnesota offense. Tarkenton was duly impressed, saying after the game, "They shut down our running game so severely that we almost quit trying. Tampa Bay's defense is one of the best three we play, in a class with Dallas and Denver."

On defense the "Purple People Eaters" lived up to their name, holding the Buccaneers to only 155 total yards, but they lacked big plays and were betrayed by their sputtering offense. Alan Page and Carl Eller only combined for four tackles while Paul Krause saw spot duty and did not impact the statistics.

1978 Game 4 Tampa Bay 14 Atlanta 9
The Falcons had no Hall of Famers on their roster for this game. The Bucs win put them at .500 for the first time in franchise history.

1978 Game 5 Minnesota 24 Tampa Bay 7
Minnesota Viking Hall of Famers - Carl Eller: Defensive End (Class of 2004), Bud Grant: Head Coach (Class of 1994), Paul Krause: Safety (Class of 1998), Alan Page: Defensive Tackle (Class of 1988), Fran Tarkenton: Quarterback (Class of 1986), Ron Yary: Tackle (Class of 2001)

What a difference two weeks can make! With a chance to take the division lead and get to a winning record the Bucs wilted at Tampa Stadium in front of a sell-out crowd.


Doug Williams threw for more than 300 yards against the "Purple People Eaters," but the Vikings iconic defense made the plays when they had to, snagging three interceptions and holding the Bucs to just 87 yards rushing. The only play of note for a Hall of Fame defender was Alan Page's block of Neil O'Donoghue's field goal in the third quarter which could have cut the Viking's lead to 17-10.

Later in the game a Dave Green punt was blocked and returned for a touchdown. That big swing on special teams was the difference in the game. The Bucs did have a 56-yard touchdown strike from Doug Williams to Morris Owens in the first half, but could not muster consistent play for the day. Paul Krause had one tackle, Carl Eller had one tackle and Page went without a single tackle.

Fran Tarkenton and his offensive line led by Ron Yary had a much better day. Tarkenton completed 20 of 31 passes for 213 yards and a touchdown. Jeris White did get an interception of Tarkenton in the third quarter, but "Scramblin' Fran was left relatively unscathed except for a sack by future offensive lineman Charley Hannah.

1978 Game 6 Tampa Bay 30 Kansas City 13
Kansas City Chief Hall of Famers - Marv Levy: Head Coach (Class of 2001), Jan Stenerud: Kicker (Class of 1991), Emmitt Thomas: Cornerback (Class of 2008)

It is easy to forget that long before Marv Levy took the Buffalo Bills to four consecutive Super Bowls, he got his start as an NFL head coach in Kansas City. The Chiefs never made the playoffs under Levy and during his first season in Missouri, Levy suffered through his worst season as a coach, finishing 4-12. On this day Levy had no answers for the Bucs when Tampa Bay blew open a close game in the 4th quarter.

Jan Stenerud made two of three field goals on the game. The only pure kicker in the Hall, Stenerud missed from 50 yards and was replaced on kickoffs by future Tampa Bay Bandits kicker Zenon Andrusyshyn.

Emmitt Thomas ended the game with four tackles and 1 pass defensed. Thomas was the defender on two Tampa Bay touchdown drives in the fourth quarter. On the drive that put Tampa Bay up 16-6, Thomas tackled Morris Owens after the Buc receiver caught an 11-yard pass on third down. On the drive that put the Bucs up 30-13, Thomas tackled Owens after a 30-yard pass play that brought the Bucs to the Chiefs 14-yard line. This would be Thomas' last game against the Bucs.


1978 Game 7 New York Giants 17 Tampa Bay 14
New York Giant Hall of Famers - Harry Carson: Linebacker (Class of 2006), Larry Csonka: Running Back (Class of 1987)

Larry Csonka had a big day in his final appearance against the Buccaneers, gaining 56 yards on 13 carries and scoring both Giant touchdowns. The Bucs led 14-3 in the fourth quarter before suffering a meltdown with back-to-back turnovers. Both turnovers gave the Giants a short field, a Larry Csonka specialty. The Hall of Famer with the question mark-shaped nose rumbled seven yards for his first touchdown and blasted one-yard for his second.

Both Giant scores were set up by Hall of Fame linebacker Harry Carson. Early in the fourth, Carson intercepted a Doug Williams pass when the ball caromed off tight end Jim Obradovich near midfield. Carson returned the theft 30 yards, giving the Giants a first and ten at Tampa Bay's 25. On the very next Tampa Bay possession, Carson recovered a fumble by Buccaneer tailback Louis Carter at Tampa Bay's 12.

Carson's great day also included eight solo tackles, six assists and a pass defensed. Days like this no doubt got Carson the Tampa Bay vote when Hall of Fame balloting came around.

1978 Game 8 Tampa Bay 33 Chicago 19
Chicago Bear Hall of Famers - Alan Page: Defensive Tackle (Class of 1988), Walter Payton: Running Back (Class of 1993)

At the age of 33 many felt Alan Page's best days were behind him. The former keystone of the Vikings "Purple People Eaters," Page was waived by the Vikings in 1978 and quickly signed with NFC Central Division rival Chicago. He would continue to wreak havoc for another four years, putting the lie to the belief he was over the hill.

The timing of Page's signing with the Bears meant that he would play the Buccaneers four times in one season!!! On this day in Tampa, Page started on the right side and recorded only two tackles (on back-to-back runs by Ricky Bell). Page did get credit for a sack in the third quarter when he touched down Steve Wilson after the Tampa Bay center recovered a Doug Williams fumble, and blocked an extra point attempt by Neil O'Donoghue.

Walter Payton got over 100 total yards on the day. Payton was held to only 34 yards on 15 carries, for an average of just over two yards a carry. However, Payton was an all-around back and while the Bucs may have nullified his running, they couldn't stop his receiving. Payton caught five passes for 74 yards including a 30-yard gain early in the third quarter on a touchdown drive that put the Bears up 16-13.

Just keeping Payton in check was a victory for the Bucs defense. After the game Payton paid the Bucs a great compliment. "Last year Tampa Bay had the best defense in the NFL," he said. "Today they lived up to my expectations." At 4-4 the Bucs were thinking playoffs.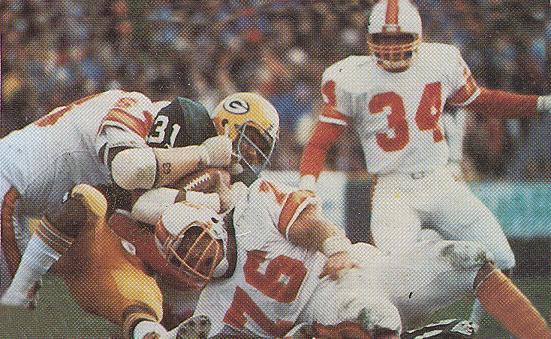 1978 Game 9 Green Bay 9 Tampa Bay 7
Green Bay Packer Hall of Famers - James Lofton: Wide Receiver (Class of 2003)

A man who would prove to be detrimental to the mental health of Tampa Bay cornerbacks for years to come had his debut in this game. The rookie out of Stanford caught three passes for 41 yards. Lofton didn't have an auspicious opening as he was called for an offensive interference on the first pass thrown his way.

However, on Green Bay's game-winning drive Lofton started off the proceedings with his third and final catch, a 21-yarder to spark the Packers. Lofton also caught a pass right before Chester Marcol's clinching field goal, but was ruled out of bounds. Lofton also tried a pass in the second half, but threw to long for teammate Aundra Thompson. Lofton's attempt was a creative play in an otherwise dreary slugfest.

1978 Game 10 Los Angeles 26 Tampa Bay 23
Los Angeles Ram Hall of Famers - Tom Mack: Guard (Class of 1999), Jackie Slater: Tackle (Class of 2001), Jack Youngblood: Defensive End (Class of 2001)

Speaking of slugfests……this was the game in which Doug Williams had his jaw broken on a vicious hit by future actor (and not Hall of Famer) Fred Dryer. The Hall of Famer on the Rams defensive front was Jack Youngblood, who had one sack on the day. Youngblood's sack was timely. The Bucs had gotten near the Rams goal line in the second quarter after Louis Carter's great pass to Morris Owens on a halfback option play.

The Bucs had third and goal when back-up Mike Rae was sacked by Youngblood. On the very next play kicker Neil O'Donoghue missed a chip shot that proved gutting later in the game. In addition to the sack, Youngblood also contributed two tackles and three assists.

The Rams continued to have the services of guard Tom Mack in his last year. Normally a power-team, Mack and his young partner Jackie Slater (who didn't start, but did come in as a substitute) gave Pat Haden time to throw for almost 240 yards and a touchdown. Mack and his linemates also parted the Bucs defense like the Red Sea on LA's game-winning drive.

This game went a long way to earning the Bucs respect around the league and establishing a brutal physical rivalry with the Rams. Over the next two years the teams would play three more times with each game resulting in injuries and fisticuffs.

1978 Game 11 Detroit 34 Tampa Bay 23
The Lions had no Hall of Famers on their roster in this game.


1978 Game 12 Tampa Bay 31 Buffalo 10
Buffalo Bill Hall of Famers - Joe DeLamielleure: Guard (Class of 2003)

O.J. Simpson was now a San Francisco 49er and the Buffalo Bills offensive line was no longer referred to as "The Electric Company." However, DeLamielleure was still a force to be reckoned with for years to come. On this day the Tampa Bay defense overwhelmed the Bills, racking up three sacks (one each by Lee Roy Selmon, Wally Chambers and Paul Harris), limiting Buffalo to just 211 yards of total offense, forcing five turnovers and allowing only a field goal and garbage time touchdown.

Ironically, you could make the case this was a Paul Gruber-like experience for DeLamielleure. Gruber had many solid to stellar days in the thankless role of offensive lineman during Buccaneer blowout losses. It appears to have been the case for DeLamielleure on this day as well.


1978 Game 13 Chicago 14 Tampa Bay 3
Chicago Bear Hall of Famers - Alan Page: Defensive Tackle (Class of 1988), Walter Payton: Running Back (Class of 1993)

A banner day for Bear Hall of Famers! First off, Alan Page proved he wasn't too old to handle the Bucs offensive line (of course this was his fourth go-around with the Bucs….maybe he had learned something!). Page recorded three sacks of Mike Rae on the day, one in the second quarter, one in the third quarter and one in the fourth quarter. Page must have been getting a sandwich in the first quarter. Page had two other tackles on the day helping to spearhead a defense that surrendered only 92 yards on the day.

The Bears meanwhile rolled up over 300 yards of offense despite passing for only 50 yards! Guess what constituted the Bears offense on this day? That's right, a steady diet of Roland Harper. Huh? Yes, the little-known Harper gained 144 yards on 25 carries. Some guy named Payton contributed an additional 105 yards rushing and 26 yards receiving. In fact, Payton led the Bears in receptions that day. His two catches made up half of the Bears total in the game! Payton scored on a three-yard run in the third quarter to stake the Bears to a 7-3 lead.

Payton's games vs. the Buccaneers usually followed this pattern. During the game, one suspects the Bucs are "handling" Payton because he doesn't explode for an 80-yard sprint ala Tony Dorsett or Eric Dickerson. But at the end of the day, Payton has his obligatory 100 yards rushing, 40-60 yards receiving and a touchdown or two.

1978 Game 14 Green Bay 17 Tampa Bay 7
Green Bay Packer Hall of Famers - James Lofton: Wide Receiver (Class of 2003)

James Lofton had a great first half as the Packers built a double-digit lead. On Green Bay's second drive, Lofton gained 30 of his 39 yards. A 20-yard strike from David Whitehurst got the Packers into scoring position. Two plays later Lofton snared a ten-yard pass for Green Bay's opening score.

Lofton caught a nine-yard pass in the second quarter. In the same drive as his nine yard reception, Lofton was interfered with by an unidentified Buccaneer. The infraction cost the Bucs 17-yards and gave Green Bay first and goal from the one-yard line. Green Bay scored two plays later for a 17-7 lead that would become the final score.

Realizing the Bucs simply couldn't get out of their own way on offense, the Packers played it conservatively in the second half and Lofton went without a pass being thrown his way. Who could blame Bart Starr? The Bucs best offense at this point of the season was an opportunistic defense.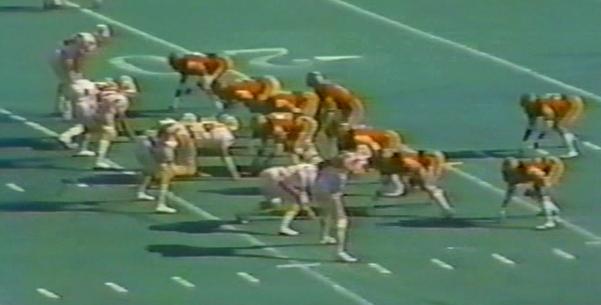 1978 Game 15 San Francisco 6 Tampa Bay 3
San Francisco 49er Hall of Famers - O.J. Simpson: Running Back (Class of 1985)

ZZZZZZZZZZZZZ!!! Oh, I'm sorry. Just the thought of this game puts me to sleep.

The infamous O.J. Simpson finished his gridiron career in his hometown. "The Juice" never really got untracked in San Francisco. Simpson did not play in this game as he had been put on injured reserve after ten games. I wonder what he did to "kill" time during this game.

Interestingly, future Bucs quarterback Steve DeBerg saw limited action in this game. Within a year, he would be competing with some kid who would become a Hall of Fame quarterback in San Francisco.

1978 Game 16 New Orleans 17 Tampa Bay 10
New Orleans Saint Hall of Famers

No Hall of Fame players were on the roster for this game. However, Doug Williams' birdcage facemask, designed so he could play with his wired-shut jaw, is located in the Hall of Fame archives! I'm just sayin'!

Conclusion
A year of such promise falls short due to devastating injuries. The Bucs saw the emergence of a future Hall of Fame player (Lofton) with whom they would have many encounters, the renaissance of another (Page) and the continued excellence of another (Payton). All of theses players called the NFC Central home.

The Vikings ended up winning the division with a mediocre record of 8-7-1, winning on a tiebreaker against Green Bay, who amazingly finished with the same odd record. The Vikings Hall of Fame roster was aged, the Bears and Packers were up and comers and the Lions were, well, the Lions. In 1979 a usurper appeared from the Sunshine State and many a Hall of Famer would be caught off guard. And of course, they only had to play against Alan Page twice!