The 1977 Bucs v the Hall of Fame
The Professional Football Hall of Fame in Canton, Ohio honors the contributions of 273 players, coaches and administrators. From their inception in 1976 the Tampa Bay Buccaneers have been affiliated with three members: Lee Roy Selmon, Randall McDaniel and Steve Young. Only Lee Roy Selmon played the bulk of his career in Tampa Bay and as of this writing is considered the only true Buccaneer member. McDaniel and Young are "tangential" Buccaneers.

Speaking of tangential, the Buccaneers have competed against hundreds of Hall of Famers (literally). Here then is the next in a series of how members of the Hall of Fame fared against your Tampa Bay Buccaneers. As a note, the author did not consider owners and administrators in this series, focusing only on players and coaches.

1977 Game One Philadelphia 13 Tampa Bay 3
Philadelphia Eagle Hall of Famers - none.

The Eagles of the early to mid 1970s were a dismal group. Under Dick Vermeil, they eventually became a Super Bowl team. In 1977 they were still a year away from the playoffs and still had a dearth of talent. The Eagles had no future Hall of Famers on the roster for this game. Interestingly, this game saw Vince Papale, the subject of the great movie "Invincible," snag his only NFL reception for 15 yards.

1977 Game Two Minnesota 9 Tampa Bay 3
Minnesota Viking Hall of Famers - Carl Eller: Defensive End (Class of 2004), Bud Grant: Head Coach (Class of 1994), Paul Krause: Safety (Class of 1998), Alan Page: Defensive Tackle (Class of 1988), Fran Tarkenton: Quarterback (Class of 1986) and Ron Yary: Tackle (Class of 2001).



On this Saturday night in Tampa, the Vikings did just enough to win. Carl Eller and Alan Page, the two Hall of Fame members of the famed "Purple People Eaters" defense, had solid nights. Page had four tackles, none for loss, and Eller contributed only one tackle, but it counted heavily! Eller led off the scoring in the second quarter when he sacked Randy Hedberg in the end zone for a safety and a 2-0 Viking lead.

Paul Krause was known for his tackling as well as his ball-hawking ability and in the second quarter both were on display. With the Bucs threatening to score, Krause stopped Morris Owens at the one-yard line to prevent a touchdown. On the next play, Hedberg attempted a quarterback sneak but was stopped by Alan Page. The Bucs settled for a field goal. Later in the second quarter Hedberg tried a deep pass that Krause intercepted and returned for 25 yards. Fortunately, the half ended before the Vikings could do anything.

The Vikings offense was held in check by the Bucs young defense, Council Rudolph even caught the mercurial Tarkenton for a sack of 12 yards. The Vikings line, anchored by Yary, didn't have much luck running (104 yards total), but they did just enough. As would happen often in 1977, the Bucs D was betrayed by a bad offense. The Bucs inability to sustain drives led to a tired defense and in the third quarter Tarkenton scrambled around long enough to find Chuck Foreman for a 31-yard touchdown pass. All told Tarkenton finished with 25 completions in 38 attempts for 223 yards and the touchdown. Jeris White and Dewey Selmon did pick Tarkenton off during the game.

At the end of the day, this game was a perfect example of Hall of Famers doing what it takes to defeat a less talented opponent.

1977 Game Three Dallas 23 Tampa Bay 7
Dallas Cowboy Hall of Famers - Tony Dorsett: Running Back (Class of 1994), Tom Landry: Head Coach (Class of 1990), Mel Renfro: Cornerback (Class of 1996), Roger Staubach: Quarterback (Class of 1985), Randy White: Defensive Tackle (Class of 1994) and Rayfield Wright: Tackle (Class of 2006)

The 1977 Cowboys were probably the greatest team Tom Landry coached. They would ultimately win Super Bowl XII in a blowout of the Denver Broncos and come to be known as "America's Team" thanks to the title of an NFL Films highlight.


More than thirty years after his retirement, Roger Staubach still remains the face of the Landry-era. A former US Naval officer, Staubach crafted a career filled with dramatic games and fantastic finishes, earning the nickname "Captain Comeback."

On this day against Tampa Bay (Staubach's only game against the Bucs), there was no need for drama. Staubach completed 15 of 24 passes for 212 yards, with his longest pass of 24 yards in the third quarter. Staubach wasn't perfect though. Shortly after his 24-yard pass to Drew Pearson, Staubach fumbled and the ball was recovered by Paul Harris, a linebacker who only started three times for the Bucs (the only starts of his NFL career). If that ball isn't on a mantel somewhere, it is a crime! Staubach also had one pass intercepted by Richard "Batman" Wood.

Wood had a great day against the Hall of Fame Cowboys. In addition to his theft of Staubach, Wood also recovered a fumble by Tony Dorsett and returned it for Tampa Bay's only touchdown of the game. Jeris White forced the fumble.

Speaking of Dorsett, in just his third NFL game he ran for 72 yards on only 10 carries, a healthy seven-yard per carry average. His 14-yard gain in the fourth quarter was his longest run as the Cowboys were killing the clock.

The only other Hall of Fame member of the Dallas offense, tackle Rayfield Wright, did not play. It was Dallas' only game against Tampa Bay during Wright's distinguished career. The line didn't seem to miss him as the Cowboys rolled for over 400 yards of total offense. Wood's touchdown was the lone bright spot, although Council Rudolph and Dave Pear did team up for a sack of Staubach.

The Dallas defense had little trouble with Tampa Bay's anemic offense, keeping the Bucs O from scoring and limiting them to 163 total yards and sacking Gary Huff twice. Neither sack was by Randy White or Mel Renfro. White only had one tackle and Renfro none. White's lone tackle came in the fourth quarter on a four-yard gain by Anthony Davis. Renfro's only statistical entry is a pass defensed against Isaac Hagins on the second-to-last play of the game. This would also be Renfro's only game against Tampa Bay as he retired at the conclusion of the 1977 season.

1977 Game Four Washington 10 Tampa Bay 0
Washington Redskin Hall of Famers - George Allen: Head Coach (Class of 2002), Chris Hanburger: Linebacker (Class of 2011), Ken Houston: Safety (Class of 1986), John Riggins: Running Back (Class of 1992) and Charley Taylor: Wide Receiver (Class of 1984).

George Allen was the anti-John McKay. Whereas McKay was a big believer in building through the draft and youth, Allen always built with wizened veterans, so much so that his teams were often given the name "The Over the Hill Gang."

The ages of the Hall of Famers in this game were: Charley Taylor 36, Chris Hanburger 36 and Ken Houston 33. Riggins was the youngest at 28. Allen was also the father of future Bucs GM Bruce Allen. This was Allen's last year as Redskin coach with the team finishing 9-5 but out of the playoffs. On this day, old age and treachery definitely overcame youth and inexperience.


Charley Taylor had only two receptions on the day for 26 yards, but his 15-yarder in the first quarter led to a field goal and a 3-0 Washington lead. Taylor's other reception, an 11-yarder in the second quarter, completed his stat line for the day.

John Riggins led the Redskins with 52 yards rushing on 17 carries. Not a good average, but on this day Washington needed very little offense. Riggins also caught one pass for nine yards from Billy Kilmer. Riggins did rip off a couple of runs for more than ten yards, but was held largely in check by the Buccaneer defense.

Chris Hanburger finished with 2 tackles according to the stat sheet. Hanburger tackled Ed Williams after an 8-yard gain in first quarter but there is no record of his second tackle on the sheet. A best guess is an anonymous tackle of Isaac Hagins after an 18-yard completion from Gary Huff early in the fourth quarter. No one is listed as tackling Hagins, so perhaps Hanburger made this tackle. Either way, it was not a great day for the future Hall of Famer.

Ken Houston had a bizarre interception on the final play of the first half. With only seven seconds left, Gary Huff attempted a pass to put the Bucs in scoring position but was picked off by Houston, who then fumbled. The ball was recovered by Washington teammate Gerard Williams, who then fumbled the ball. That second fumble was also recovered by a Redskin, Joe Lavender as the half expired. Houston also contributed three tackles and recovered a fumble by Anthony Davis in the first quarter.

1977 Game Five Seattle 30 Tampa Bay 23
Seattle Seahawk Hall of Famers - Steve Largent: Wide Receiver (Class of 1995)

Expansion Bowl II! Just one year removed from their "colossal" meeting in 1976, the expansion Seahawks and Bucs engaged in the first re-match in Tampa Bay history in the Kingdome.

Steve Largent showed flashes of the brilliance that would define his career. Not blessed with great speed, Largent was precise in running his routes and could burn by a less than attentive defensive back. Against the Bucs he caught four passes for 44 yards and two touchdowns. His first reception was an eight-yard touchdown to open the scoring in the first quarter.

Largent also caught a 26-yard pass, his longest of the game, on the final play of the first quarter. The reception was a key play on a drive that culminated in Largent's second touchdown, a four-yard reception to put Seattle up 14-6 early in the second quarter. Largent's final reception was in the second quarter, a six-yard catch.

1977 Game Six Green Bay 13 Tampa Bay 0
The Packers had no Hall of Famers involved in this game unless you count head coach Bart Starr. Starr earned his bronze bust during his playing days leading Vince Lombardi's Packer dynasty. His 52-76-3 record as coach did NOT get him a ticket to Canton.

1977 Game Seven San Francisco 20 Tampa Bay 10
The 49ers had no Hall of Famers involved in this game. However, in the years to come a game against the 49ers became akin to playing the entire Hall of Fame!

1977 Game Eight Los Angeles Rams 31 Tampa Bay 0
Los Angeles Ram Hall of Famers - Tom Mack: Guard (Class of 1999), Joe Namath: Quarterback (Class of 1985), Jackie Slater: Tackle (Class of 2001) and Jack Youngblood: Defensive End (Class of 2001).

In case you're curious: Yes, it is that Joe Namath. Namath had one ill-fated season with the Rams, starting the first four games of the season before being benched in favor of Pat Haden. In this game Namath only had the chance to work on his tan at the Coliseum, never hitting the field after warm-ups.

Tom Mack started at guard and Jackie Slater entered as a substitute according to the game book. The Rams offensive line held the Bucs defense at bay on the afternoon, controlling the line of scrimmage. The Rams allowed no sacks of Haden, allowing him to throw for two touchdowns, including a 51-yarder to Harold Jackson in the second quarter, while the rushing game ground out over 170 yards on an astounding 52 attempts. The 3.4 average was just enough to guarantee a first down every third carry as the Rams kept the ball for 35 minutes.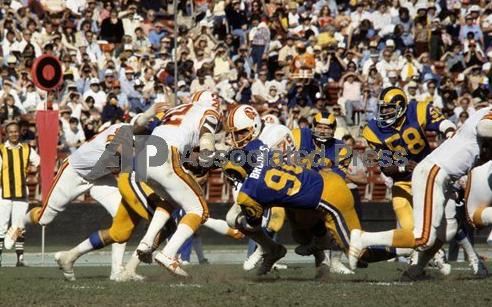 On defense, Jack Youngblood only recorded two assisted tackles and one solo tackle of Ricky Bell after a four-yard gain in the third quarter. Youngblood was also credited with hitting Jeb Blount on a fumble in the third quarter but was not credited with the tackle or sack (it went to Cody Jones). Interestingly, it was linebacker Jim Youngblood (no relation) who had the signature play, a 25-yard score on an interception return early in the third quarter.

1977 Game Nine New York Giants 10 Tampa Bay 0
New York Giants Hall of Famers - Harry Carson: Linebacker (Class of 2006) and Larry Csonka: Running Back (Class of 1987).

Many people forget that after his iconic role in the Miami Dolphins Super Bowl seasons, Larry Csonka jumped to the World Football League. After the WFL folded, Csonka found himself on the Giants where he struggled to regain his stride. In 1977 he gained only 464 yards on the season, with only 16 coming on this day on six carries.

Following a high snap to Bucs punter Dave Green, the Giants had the ball first and goal from the one-yard line in the first quarter. Csonka was given first crack at the touchdown but was thrown for a yard-loss although no Buccaneer is credited with the tackle in the game book. The touchdown was scored a play later by Hammond. Csonka's longest run of the game would be a five-yard carry in the third quarter. On the play Dewey Selmon made the tackle.

Harry Carson had a solid day. The game book lists a "Carton" with some tackles. Research shows no one named "Carton" on the Giants roster, so the author did assume "Carson" made those tackles. All told Carson had five tackles, none for a loss. His 14-yard sack of Jeb Blount in the third quarter was wiped out by a defensive holding penalty. Carson's tackle of Ed Williams on the first play of a goal-line stand in the third quarter also helped to keep the Bucs scoreless on the season at Tampa Stadium.

1977 Game Ten Detroit 16 Tampa Bay 7
Detroit Lion Hall of Famers - Lem Barney: Cornerback (Class of 1992) and Charlie Sanders: Tight End (Class of 2007).

The first Lions Hall of Famer to wear #20 (Barry Sanders would be the second), Lem Barney was in the final year of his stellar career. His only impact on this game came in the third quarter when he forced a fumble by Isaac Hagins deep in Lions territory following a 45-yard completion from Jeb Blount. The ball rolled through the end zone for a touchback following one of only a scant few big Bucs gains on the season.

The first Lions Hall of Famer to be named Sanders (Barry Sanders would be the second), Charlie Sanders had one reception for fourteen yards. The reception came in the third quarter from Gary Danielson. The reception gave the Lions a first down on a drive that led to their first score of the day. Interestingly, on the play before, Sanders was the intended receiver on a half back option pass by Eddie Payton, Walter Payton's brother.

1977 Game Eleven Atlanta 17 Tampa Bay 0
The Falcons had no Hall of Famers on the roster for this game. This was a Falcon team coached by future Bucs head coach Leeman Bennett. The 1977 Falcons set the NFL record for fewest points allowed in a 14-game season with 129.


1977 Game Twelve Chicago 10 Tampa Bay 0
Chicago Bears Hall of Famers - Walter Payton: Running Back (Class of 1993).

The fantastic running back known as "Sweetness" would have many memorable encounters with the Tampa Bay defense as the Bears were by far the first NFC Central Division team to become a Buccaneer rival.

Payton's first contest against Tampa Bay produced a 100-yard game and a rushing touchdown. This was no easy game for Payton though. It took 33 brutal carries for Payton to get his 101 yards. That is a rough 3-yard average. His three-yard touchdown late in the fourth quarter but the finishing touches on Tampa Bay's 26th loss in a row.

Payton's longest carry of the day was 19-yards, coming in the fourth quarter as the Bears were running out the clock. Normally a dangerous receiving threat out of the backfield, Payton was held without a reception.

1977 Game Thirteen Tampa Bay 33 New Orleans 14
New Orleans Saints Hall of Famers - Hank Stram: Head Coach (Class of 2003).

Hank Stram qualified for the Hall of Fame based on his time with the Dallas Texans/Kansas City Chiefs in the days of the American Football League. A three-time AFL Champion, the Chiefs also shocked the NFL Champion Minnesota Vikings 23-7 in Super Bowl IV.

Stram moved to New Orleans in 1976 and only won seven games in two seasons. The breaking point for his termination was the loss to Tampa Bay, the Bucs first win in franchise history. When asked about the loss to Tampa Bay, Stram could only say, "We're all very ashamed of what happened today: Ashamed for our people, our fans, the organization, everybody. It is my worst coaching experience."

Later in the week before he was fired, Stram famously set fire to the game films so his team wouldn't have to watch them. Ironically as a CBS broadcaster, Stram would call many Buccaneer games including being hired to do color on Buccaneer pre-season games during the 1980's.

1977 Game Fourteen Tampa Bay 17 St. Louis 7
St. Louis Cardinals Hall of Famers - Dan Dierdorf: Tackle (Class of 1996), Jackie Smith: Tight End (Class of 1994) and Roger Wehrli: Cornerback (Class of 2007).

The first home victory in franchise history came against a team with three bona fide Hall of Famers although many might not be familiar with Smith and Wehrli.

Long before becoming a broadcaster, Dan Dierdorf was a dominant presence on the Cardinals offensive line. Even though the Bucs won, Dierdorf and his linemates prevented St. Louis quarterback Jim Hart from being sacked. The Cardinals also ran for over 130 yards, but two untimely interceptions by Mark Cotney and Mike Washington helped to keep the Cardinals from scoring more than one touchdown.


Jackie Smith had a long and illustrious career in St. Louis, but in his final game as a Cardinal he only saw spot duty and went without a reception. Smith would have one more season in Dallas capped by an unfortunately memorable drop of a Roger Staubach pass in the end zone during Super Bowl XIII.

Roger Wehrli was a perennial Pro Bowl defensive back and in this game finished with one tackle, one assist and two passes defensed. Fortunately for his legacy, Wehrli was not the victim of Morris Owens 61-yard touchdown in the second quarter.

Conclusion
The Bucs finally won games in 1977, ending the career of a Hall of Fame coach in the process. The Bucs first victory in Tampa Stadium also came against a team with three future Hall of Famers on the field (albeit one of them barely played).

There was only one game where the Buccaneers were truly outclassed by a roster of Hall of Famers, a 23-7 loss to Dallas. Other than that the Bucs did hold their own. On the whole though it appeared the future Hall of Famers did just enough to get their team in the win column. As the Bucs talent improved, so did the effort required to beat them.