The 1976 Bucs v the Hall of Fame
The Professional Football Hall of Fame in Canton, Ohio honors the contributions of 273 players, coaches and administrators. From their inception in 1976 the Tampa Bay Buccaneers have been affiliated with three members: Lee Roy Selmon, Randall McDaniel and Steve Young. Only Lee Roy Selmon played the bulk of his career in Tampa Bay and as of this writing is considered the only true Buccaneer member. McDaniel and Young are "tangential" Buccaneers.

Speaking of tangential, the Buccaneers have competed against hundreds of Hall of Famers (literally). Here then is the first in a series of how members of the Hall of Fame fared against your Tampa Bay Buccaneers. As a note, the author did not consider owners and administrators in this series, focusing only on players and coaches.

1976 Game One Houston 20 Tampa Bay 0
Houston Oiler Hall of Famers - Elvin Bethea: Defensive End (Class of 2003)

One of the more unheralded defensive linemen of the 1970's, Bethea had a very good stat line and provided original Buccaneer Vince Kendrick with something to brag about. Bethea tackled Kendrick after a three yard gain on Kendrick's only NFL carry. How many people can say their only play in the NFL was stopped by a Hall of Famer?

That was the only tackle made by Bethea after positive yardage. Bethea tackled Essex Johnson for a two-yard loss, sacked Parnell Dickinson for a nine-yard loss and stuffed Louis Carter for no gain on the final play of the game.

1976 Game Two San Diego 23 Tampa Bay 0
San Diego Charger Hall of Famers - Fred Dean: Defensive End (Class of 2008), Dan Fouts: Quarterback (Class of 1993), Charlie Joiner: Wide Receiver (Class of 1996)

Dan Fouts was a pedestrian 14 of 21 for 154 yards, a far cry from his Air Coryell days which were still two years away. Charlie Joiner caught three of Fouts' passes for 59 yards, including a 24-yarder in the second quarter that set up a field goal.

Fred Dean's first tackle of the day was a five yard loss for Essex Johnson. This was the start of a productive day for Dean. He ended up with seven tackles, two for losses. The other was a 2-yard loss by Charlie Davis. In an interesting side note the offensive coordinator for San Diego head coach Tommy Prothro was future San Francisco head coach Bill Walsh (Hall of Fame Class of 1993).

1976 Game Three Buffalo 14 Tampa Bay 9
Buffalo Bill Hall of Famers - O.J Simpson: Running Back (Class of 1985), Joe DeLamielleure: Guard (Class of 2003)

O.J Simpson did not have a Hall of Fame day as the Bucs held him to 39 yards on 20 carries. "The Juice's" longest run was a 13-yarder in the 4th quarter. The play was right before the game-winning TD pass in Tampa Bay's 14-9 loss. This was O.J's first game against his former USC head coach, John McKay.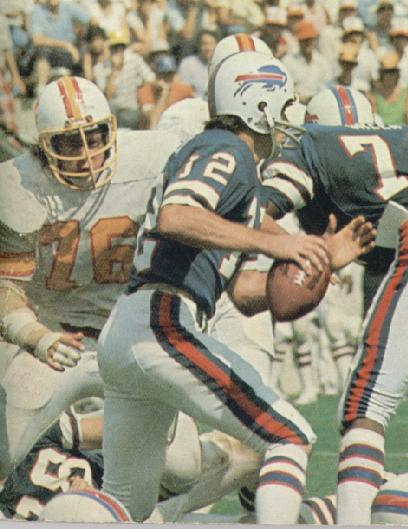 The Bills' offensive line was nicknamed the "Electric Company" because it allowed "The Juice" to flow. One of the primary transformers was DeLamielleure who didn't help the Juice much this day, but did allow Joe Ferguson the time to pass for two touchdowns.

1976 Game Four Baltimore 42 Tampa Bay 17
Baltimore Colt Hall of Famers - none.

As storied a franchise as the Colts are, they had no Hall of Famers on the roster in this contest. With a final score like 42-17, you'd think they would have had a dozen.

1976 Game Five Cincinnati 21 Tampa Bay 0
Cincinnati Bengal Hall of Famers - none.

The Bengals likewise had no Hall of Famers on the roster in this game. This was the Bengals first season following Hall of Fame coach Paul Brown's decision to step aside from coaching.

1976 Game Six Seattle 13 Tampa Bay 10
Seattle Seahawk Hall of Famers - Steve Largent: Wide Receiver (Class of 1995)

The Expansion Bowl! Steve Largent caught 3 passes for 49 yards. His longest reception was for 30 yards and led to Seattle's only touchdown in the second quarter. Interestingly, Largent caught a touchdown pass from Zorn that was wiped out by a penalty just one down before the touchdown that stood. The Seahawks beat the Bucs in the Expansion Bowl 13-10.

1976 Game Seven Miami 23 Tampa Bay 20
Miami Dolphin Hall of Famers - Nick Buoniconti: Linebacker (Class of 2001), Bob Griese: Quarterback (Class of 1990), Jim Langer: Center (Class of 1987), Larry Little: Guard (Class of 1993), Don Shula: Head Coach (Class of 1997)

Larry Little went into the Hall as a guard, but the game book lists him as starting at right tackle. Jim Langer started at Center. The offensive line gave up six sacks, hardly befitting a unit with two Hall of Famers. But the Dolphins did run for 200 yards paced by non-Hall of Fame caliber back Benny Malone's 118 yards.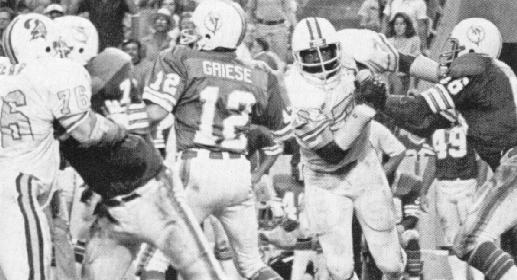 Bob Griese attempted only 15 passes, completing 8 for 132 yards. This wasn't atypical as Griese had a reputation as an expert game manager for Don Shula. When Griese did throw, he made the passes count. Mark Cotney did pick off one Griese pass in the end zone on the first play of the fourth quarter.

Nick Buoniconti did not start, but substituted and had tackles of Parnell Dickinson after a six yard gain, Steve Spurrier after a seven yard gain and three assists.

1976 Game Eight Kansas City 28 Tampa Bay 19
Kansas City Chief Hall of Famers - Willie Lanier: Linbacker (Class of 1986), Jan Stenerud: Kicker (Class of 1991), Emmitt Thomas: Cornerback (Class of 2008)

Hall of Famers Hank Stram, Len Dawson, Buck Buchanan and Bobby Bell had all left the Chiefs in the prior two seasons. The Chiefs at one time were the NFL elite, winning Super Bowl IV and becoming a perennial playoff participant. By 1976 time only three Hall of Famers remained from the salad days and the Chiefs were a shell of their former selves.

Jan Stenerud had an off day, missing two field goals and an extra point, but the Chiefs had more than enough to beat the Bucs. Willie Lanier had two tackles on passes to Essex Johnson and Louis Carter, but the Bucs gained 25 yards on the two plays to end the 3rd quarter. It appears the Bucs targeted the elder linebacker with passes to tailbacks based on the yards gained before his tackles.

Early in the fourth, Lanier tackled Essex Johnson after a 38-yard gain on a pass by Spurrier. The drive produced the first Bucs touchdown. Johnson later had two more receptions which gained a total of 18 yards before Lanier made the tackles. Lanier did tackle Louis Carter for a loss in the fourth quarter. Emmitt Thomas had one pass defense and no tackles. Not a great day for the Canton-bound Chiefs, but enough for a win.

1976 Game Nine Denver 48 Tampa Bay 13
Denver Bronco Hall of Famers - none.

There were no Bronco Hall of Famers in this game. However, McKay had a Hall of Fame moment in calling Denver head coach John Ralston a prick after the game!

1976 Game Ten New York Jets 34 Tampa Bay 0
New York Jet Hall of Famers - Joe Namath: Quarterback (Class of 1985)

Broadway Joe! Many don't recall that Namath had a career after Super Bowl III. Namath played for the Jets until 1976, making this game against the Bucs his last appearance in a Jet victory.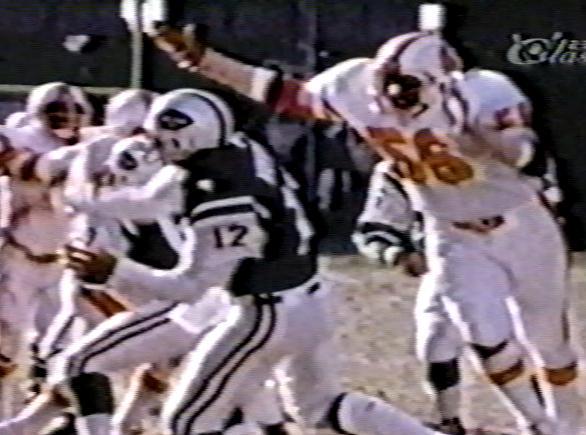 Namath took over for starting quarterback Richard Todd late in the first quarter. Appropriately his first play was a touchdown, albeit a handoff to Clark Gaines on a rushing score. The touchdown came on a one-play drive set up by a Buccaneer fumble deep in their territory. The type of touchdown Namath was better known for occurred in the second quarter, a three-yard scoring pass to Richard Caster.

Todd returned to the game in the second half and Namath sat down having completed 7 of 12 passes for 94 yards and the touchdown. Other than an 11-yard loss on a sack by Richard "Batman" Wood, Namath wasn't messed with much. "I thought our guys were nice to him," McKay said. This was the third and final NFL victory for College Football Hall of Fame coach Lou Holtz.

Game Eleven Cleveland 24 Tampa Bay 7
Cleveland Brown Hall of Famers - Paul Warfield: Wide Receiver (Class of 1983)

This was Paul Warfield's second go-round with the Browns. While well-known for being Bob Griese's favorite target with the early 70's Miami Dolphins, Warfield actually played the bulk of his career in Cleveland (1964-1969, and 1976-1977). While he may have lost a step during his twilight, Warfield still had enough in the tank to torch the Bucs for 79 yards on just 4 receptions, including a 15-yard touchdown from Brian Sipe in the third quarter.

Warfield's 16-yard reception for a first down set up Cleveland's first touchdown. Warfield also had a 14-yard reception for a first down on the drive that produced his touchdown which broke a 7-7 tie. His final reception was for 34 yards in the fourth quarter, which helped produce the Browns final points, a field goal to seal the 24-7 snooze fest.

1976 Game Twelve Oakland 49 Tampa Bay 16
Oakland Raider Hall of Famers - Fred Bilentnikoff: Wide Receiver (Class of 1988), Willie Brown: Cornerback (Class of 1984), Dave Casper: Tight End (Class of 2002), Ted Hendricks: Linebacker (Class of 1990), John Madden: Head Coach (Class of 2006), Art Shell: Tackle (Class of 1989), Gene Upshaw: Guard (Class of 1987)

The most dominant team of the John Madden era had little trouble with the Bucs. This is the first of back-to-back ugly losses to teams stocked with men destined to wear gold jackets. Dave Casper did not play, but the rest of the Hall of Famers had fun.

Bilentnikoff, whose 40-yard dash could be timed by a sundial, had four receptions for 61 yards. Bilentnikoff's first reception for 15 yards gave the Raiders a first and goal in the second quarter, setting Oakland up for the go ahead touchdown to break a 7-7 tie. The Florida State alum (had to mention that!) had three receptions for 46 yards on Oakland's first drive of second half. This helped the Raiders break out to a 27-10 lead and Bilentnikoff gets to drink Coca-Cola for the rest of the day.

Ted Hendricks, known as "The Mad Stork," had four total tackles. Among Hendricks' tackles was a stuffing of Ed Williams for no gain in the second quarter and a sack of Steve Spurrier for a nine yard loss in third quarter.

Willie Brown intercepted Spurrier on the Bucs last play of the game, returning the desperation pass 22 yards to round out the 48-16 beatdown. Other than the interception, Brown had one pass defense and one tackle according to the game book.

As with all game books, there are really no statistics for offensive lineman. Even penalties remain anonymous. The testament to Art Shell and Gene Upshaw is the fact the Raiders rolled for almost 500 yards of offense. The line also surrendered just one sack by Council Rudolph.

1976 Game Thirteen Pittsburgh 42 Tampa Bay 0
Pittsburgh Steeler Hall of Famers - Mel Blount: Cornerback (Class of 1989), Terry Bradshaw: Quarterback (Class of 1989), Joe Greene: Defensive Tackle (Class of 1987), Jack Ham: Linebacker (Class of 1988), Franco Harris: Running Back (Class of 1990), Jack Lambert: Linebacker (Class of 1990), Chuck Noll: Head Coach (Class of 1993), John Stallworth: Wide Receiver (Class of 2002), Lynn Swann: Wide Receiver (Class of 2001), Mike Webster: Center (Class of 1997)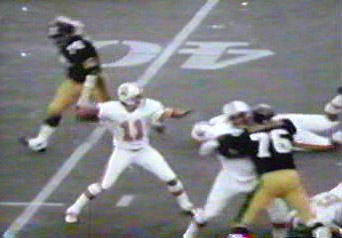 It might be easier to write about the players from this Steelers team NOT in the Hall of Fame. The Bucs lost 42-0 and honestly it could have been worse!

Terry Bradshaw didn't even start the game, Mike Kruczek did! After all, it didn't take a Hall of Fame coach like Chuck Noll to know the Steelers with Bo Derek at quarterback would have scored 40! Bradshaw did come into the game in the second half and ho-hummed it for 79 yards on six of eight passes including two long touchdowns to Swann.

"Mean" Joe Greene sacked Terry Hanratty on the Bucs first possession and it was all downhill from there. Green finished with 1 ½ sacks and Jack Lambert had one sack. The Bucs gained a whopping 105 yards on the game. 75 yards of that was probably the result of "The Steel Curtain" being bored.

Mel Blount had two tackles and picked off Terry Hanratty in the second quarter, returned the theft 27 yards before fumbling the ball through the back of the end zone. This was the only Hall of Fame mistake on the day. Jack Lambert and Jack Ham only totaled five tackles, but once again, Pittsburgh reserves carried most of the day.

In addition to his two touchdowns, Swann also caught three other passes for a total of 92 yards. John Stallworth did see action but did not have a reception on the day. Franco Harris did start but only gained 55 yards on 14 carries. This had more to with Rocky Bleier's 118-yard effort than anything the Bucs did. Harris did not play the second half. While there are no real stats for centers, give Webster and the Pittsburgh line credit. The Steelers did not give up a sack and using mostly reserves, rolled up over 220 yards rushing.

1976 Game Fourteen New England 31 Tampa Bay 14
New England Patriot Hall of Famers - John Hannah: Guard (Class of 1991), Mike Haynes: Cornerback (Class of 1997)

John Hannah was called the "Greatest football player I ever coached" by Paul "Bear" Bryant. The 1976 Patriots rushed for almost 3,000 yards on the season. Two years later, the 1978 Patriots would set the record with more than 3,100 yards rushing in a season. A big reason for this was Hannah leading the way on power sweeps. On this day Hannah and the line paved the way for 260 yards rushing in a run away victory.

Cornerback Mike Haynes didn't have any interceptions, but he did return three punts for 54 yards, including a 36 yarder in the fourth quarter that led to a field goal, putting New England up 24-14. Haynes also contributed three tackles.

Conclusion
All in all the 1976 Bucs gave a good showing against the Hall of Fame. The high point was bottling up O.J. Simpson and taking a Hall of Fame-laden roster of Dolphins to the limit. The low point was the final three games against the Raiders, Steelers and Patriots. In those games the lopsided talent level was obvious. Next up in the series will be the 1977 Bucs versus the Hall of Fame.