Wanted in 2011
While reading the fantastic look back at the best 25 running backs of all time, I started looking ahead to 2011, where the Tampa Bay Buccaneers are going to need something if they really want to return to Buc-Ball.

Playing BucBall meant two things; it meant playing good sound fundamental defense with a defensive line that plays in the offensive side of the line, and running the football. More importantly, it means running the football with the hopes that here and there you will break one, and that requires a breakaway threat.

This is something NOT in the Bucs arsenal at this time.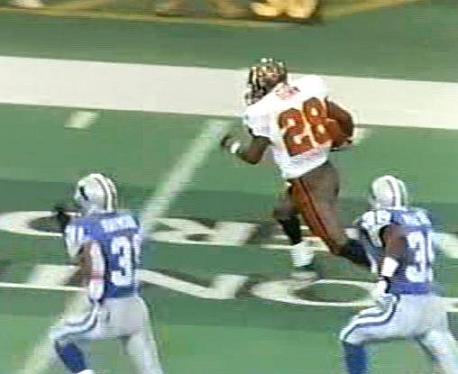 Once upon a time the Bucs went into a season with a serviceable 3.5 yard per carry Running back, and a good fullback. But it wasn't until Warrick Dunn arrived that anything really happened to the offense. Dunn might only get 1 or 2 yards per carry, but then that one opportunity knocks and Dunn was GONE!

49 yards on one run vs the Lions in game two of the 1997 season resulted in a scoring drive. At Green Bay Dunn had several runs that only gained a couple yards, if that. But given the right number of carry attempts, the running back out of Florida State would break a long one and provide the spark needed for the offense.

Going into 2009, the Bucs have Cadillac Williams and Derrick Ward as full time running backs, and they are capable of grinding out the tough yards. They both are even capable of the 20-yard play too. But last season the longest run by a back was 35 yards by Cadillac, and that simply is not going to cut it.

Whether by draft or free agent, the Bucs are going to have to find someone to help put the long ball back in Buc-Ball.