Why Josh Freeman is the Quarterback of the Future
I wasnít around for the great one; (Steve Spurrier, who did you think I was talking about?) nor was I a fan at the time of Huff, Dickinson, Blount, nor Hedberg.

Nope, I became a Bucs fan in Doug Williamsí sophomore year, so I grew up knowing the Bucs quarterback was THE BUCS QUARTERBACK, and that is that! There would be no QB Controversy under Coach McKay, and even though you would hear criticism, he was the man, and I loved to cheer him on.

This is finally repeating itself with Josh Freeman, and unlike Vinny, or Trent, this one is going to work out, maybe even better than the one I grew up with.

The Naysayers will point out his alarming interception rate last season. They are going to surely show me quarterback stats on stars that do not have high interception in their rookie seasons? Peyton Manning led the NFL his rookie year in Picks, he threw 28 of them.

Heck, Brett Favre STILL throws a ton each year. Drew Brees threw 31 picks in his first two years starting with the Chargers. Terry Bradshaw; the man with 4 Super Bowl rings, has 24 picks to go with his 6 touchdowns in his rookie year. He added 22 more the next season.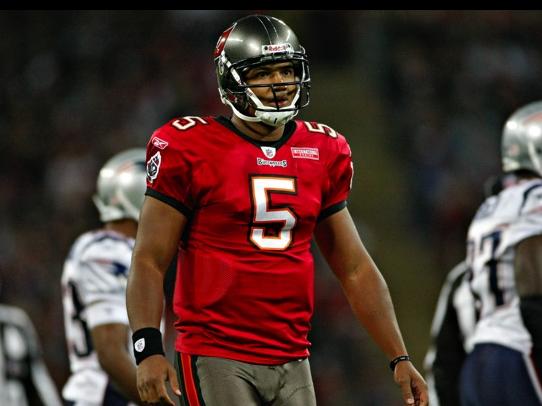 Rookie Quarterbacks NOT named Marino, Roethlisburger, Ryan or Flacco, can expect to throw some completions to the other team. Josh Freeman is no different.

Leadership is something all the greats have. Joe Montana, Dan Fouts, Tom Brady, all commanded a high level of respect in the huddle for their teams that others were not able to achieve. The Buccaneers clearly responded to Freemanís insertion in the starting lineup. Response that may not be measured in yardage or statistics, but by the way the team plays, and the way the team wins.

Take a step back and look at the results that Josh Freeman showed us, then remember this is the kid who did not get OTA reps, those were given to Luke McCown and Leftwich for their contest the produced 3 weeks of starts, then Josh Johnson was given the nod.

This will be the first time Josh Freeman is going into a season with the full plate of knowledge that comes from all offseason studying the playbook. This is a new playbook put together by Mr. Olsen without having to rip pages out of BCs or Jon Grudenís out of necessity. Freeman will have a full time QB coach who will whisper in his ear when he is doing right or wrong, and so far Josh is soaking all this attention.

Reports say he is basically living at One Buc Place, studying film, watching for clues to turn him into a Montana, Elway or Fouts one day. Olsen Coached Mr. Brees while at Purdue, he knows the workings of todays NFL signal caller. After those 28, Peyton Manning threw only 15 picks his next season.