Head spinning changes were needed at One Buc Place
Let's be honest, you're feeling pretty woozy right now aren't you? There are so many changes at One Buc, your not sure if the defensive coordinator is Floyd Peters or Monte Kiffin. Its neither...Try Bill Sheridan. No, not Tony Sheridan either; there are no more Bonnies over this ocean.

Gone is the comfort zone so many players felt under former coach Raheem Morris. Thats the way the NFL works, if you dont win, its out with the old and in with the new. Well the door has been revolving for some time now. Can you feel the room spinning?

Kellen Winslow Jr, Tanard Jackson to name a few, players new Head Coach Greg Schiano made examples of as he is clearly showing THIS Buccaneers team will have more accountability.

Looking back, can you find a player Morris made an example out of other than poor Brian Price? There has even been talk that Schiano is a control freak, but the truth is, he is simply showing WHO is in control, and it's not the players.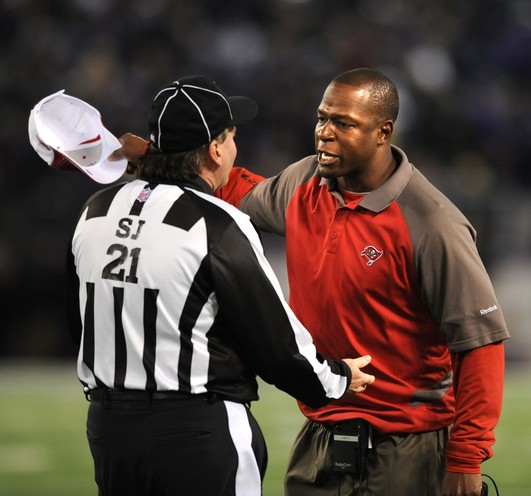 Let me sit down for a moment, I'm getting dizzy....

Is it just me? Will you be looking to print out the Bucs roster or, if your old enough, seek out a program at the Bucs first home game? (Hint: They dont make them any more!) There are over 30 new names on the Bucs roster, and you know you have a lot of new players when you have two Nicks and three Johnsons!

Most importantly though, especially for the ever fading image of the Bucs franchise, was the appearance of the Bucs in Free Agency. The youth movement has ended, and Tampa Bay brought in some playmakers, and another much needed running back for LeGarrette Blount to have competition/collaboration with.

So sit down, its still about six weeks away from training camp, but dont be surprised if the Bucs look like the 1987 strike team when they come out in preseason. And neither be shocked if Greg Schiano's new guys aren't a much improved lot from 2011: after all, wouldn't you expect that from a team with three Johnsons?