Donít worry about Talib
Donít worry about Talib, he bounced back from a poor timed leap before. He was a rookie in 2008, when Paul, Phil and I met Talib under the stadium in the Club Section thanks to Glazer ticket upgrades. But Talib started out his rookie year in bad fashion.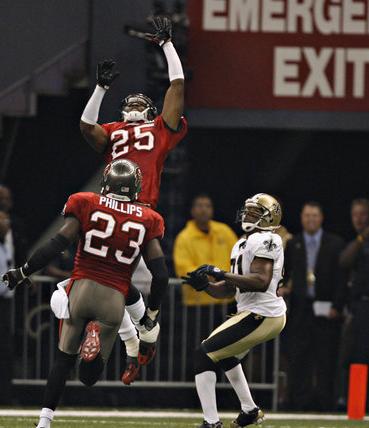 He mis-timed his leap in New Orleans against the Saints, and the result was a touchdown by Saints WR David Patten. The 7-0 early 1st quarter lead helped the Bucs to an opening day 0-1 record. How did Talib respond?

Pretty well, on the field that is! He got his first Interception the next week when the Bucs played Atlanta in Raymond James Stadium, and Talib would go on to pick off four passes all together in his rookie year, and added one each year after that. Which puts him on pace to pick off seven this year if you follow the trend!

Obviously to get the opportunity to fail in his very first start in his rookie year, Talib was good enough off the bat to start at nickel back. By 2009, his second season, he was the starter.

Now a days, Talib is known more for his off-field activities than on, but that is not entirely true. Talib is a talented defensive back, but as Derrick Brooks has told us on many occasions, defensive players donít really tackle well for the first few weeks. When you consider the offseason the NFL teams had, it shouldnít surprise anyone for Talib to rebound and end up a heck of a defensive player in 2011.

He will have to be, with the receivers the Bucs have to face this season.