Detroit, the friendly opponent
Detroit, Rock City.

Oh the memories of all the NFC Central battles! They were the only team who gave us a break, those Lions. The Bucs are lifetime 14 games under .500 vs the Vikings during its Central days, 17-31. Green Bay? 17-29-1 when the Black n Blue division had five members.

Chicago Bears? Please! Da Bears owned us in Da 80's, although we went out with a bang in 1989 sweeping them! 16-34 Against the Monsters of Midway, including the last ever NFC Central contest, a game the 2001 Bucs embarrassed themselves by even showing up in the windy city to lose 27-3.

But Detroit, you beautiful Silver and Hawaiian Blue friend, you were always there for us! Going into the game the Bucs are 26-28 life-time against the Lions, no team from the Old NFC Central was ever friendlier to us. Shall we count the ways?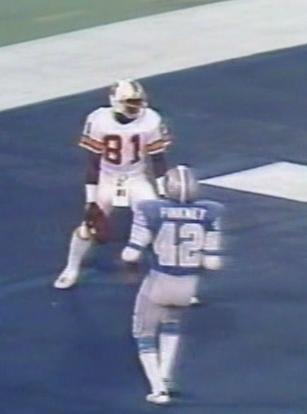 0-24 in the 1977 season, the Lions tried to give us that first win. A Ricky Bell TD was the reason behind a 7-0-halftime lead. But alas, the Bucs were just too friendly themselves back in those days. How did the Bucs start out their magical 1979 season? Home on a Saturday night against a team picked to win their division, Lion QB Gary Danielson was hurt during preseason, going against the Bucs with Jeff Komlo. Apparently Detroit Rock City never listened to Elton John to learn what Saturday nights were good for.

In 1982 the Bucs were known as the Cardiac Kids. The Lions made their buddies wait until the very end before giving up a Bill Capece FG with :25 seconds left in the game and the Bucs scoring the final 17 straight points.

A good friendly team takes care of their opponents' QB too. You don't want to rough anyone up too much if you're the friendly type like the Lions have been. Oh they played hard to get with Jack Thompson, but that was only to show the Bucs that Steve DeBerg was their man. And when Detroit heard Steve Young was going to start his first game against them in 1985, well the Lions gave him future Hall of Fame treatment; A rare '85 victory.


Of course friendship is a two way street; with Tampa Bay on the verge of winning in 1989, the Bucs gave that away in the form of a Rodney Peete last minute TD to start a Bucs loosing streak. And back when we never had a special teams return for a touchdown? Detroit gave us Vernon Turner's 1994 punt return for 80 yards and a score. They even helped us usher out Sam Wyche in classy style; well, Casey Weldon style that is!

These days however, the Bucs only play the new NFC North once every three years, on a home and away basis, so this Detroit game is actually the scheduled rematch for the 2008 game at Ford Field were the Bucs spotted Detroit a 17-0 lead before pouring it on.

Before that? Cadillac Williams first year after he broke Alan Ameche's record for yardage in a rookie's first three games, and the game Brad Johnson hurt his back in before the 4 week rest leading up to the Bucs' Super Bowl run in 2002. Tampa Bay is 3-1 against these new NFC North Lions, so hopefully someone will tell Ndamukong Suh his team is here as Welcome Wagon for Bucs rookies.

Oh and we'll take payment for that Kellen Winslow Jr. pass interference call any time. No interest required; That's what friends are for. Hey, wasn't Dionne Warwick from Detroit?