Did the Bucs play Free Agency well?
The talk this year, among other things, is how the Bucs front office did not give the Bucs, their coaches, or especially their fans the tools needed to be successful. Bucs fans wanted the Glazers to give more money for spending in free agency, but would it really have made a difference?

It's almost as if Tampa Bay completely passed on the whole period. Some need reminders on how the Bucs picked up the biggest tight end acquisition, and the best available running back out there too.

Now whilst Derrick Ward's numbers are not all that here in Tampa Bay, once can make a point that NO ONE's numbers are all that this year, and that a lack of dedication to a running game is more responsible for Ward's doing in than anything else.

Kellen Winslow has been a consistent target for all three quarterbacks who started this season, and the Bucs also re-upped his contract. Amazing how someone can complain about the Glazers not spending money and yet spending too much, all in the same breath!

Like it or not, Michael Clayton would have been picked up by Seattle, so the Bucs who were unsure about their Wide Receiver position, paid him handsomely.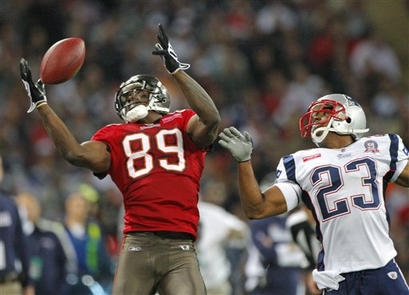 Another person paid nicely was WR Antonio Bryant, given a sweet 10 million dollars and kept from leaving by the Bucs. Yes he has missed time with an injury, but now that he is healthy, his number comes up a lot, especially that circus he single handedly put on in Carolina.

So what are the big gripes then about the Glazers lack of spending? You wanted more free agents even though the blueprint has been put down many times on how to build a powerful franchise? Build through the draft, augment via the players for hire. Want proof? Let's look at two guys the fans were giving heat to the Bucs for not picking up early in the season.

I say early in the season, because after midseason, no one in their right mind criticized the Bucs for not making the move. Funny how that happens huh?

Remember all the "Freeman was a terrible pick, we should have taken Cutler, he is proven" talk? And who could forget the " You needed to get Albert Haynesworth at all cost"

Redskin fans have learned that lesson the hard way, as have Bear fans who felt when they got Jay Cutler, they would be the favorite to win the division. Cutler has a pedestrian QB rating of 75.3. He has thrown 17 TDs, but has also added 20 interceptions to his resume for the year. In half as many games, Freeman has 7 TDs and 12 Intís, with eight coming all in the last two weeks; this coming from a rookie.

Then there is the wonder that is Haynesworth. Washington is sure glad they paid that money. From the 2008 15th ranked sacker in the NFL to not even being able to crack the top 50 in 2009. His three sacks are half of what Gaines Adams recorded last season for the Bucs.

As a team, the Redskins are pretty good defensively; against the pass (5th). But that is not Haynesworth's strength, nor would that have been the reason we would have paid him his 100+ million, instead to stop other teams from rushing all over . The Redskins ranking vs the run; 23rd. Well played Mr. Snyder.

Washington is 3-9, while Chicago is 5-7. Both records are better than the Bucs at 1-11, but neither is something to strive for when you pay that much for a free agent.

When you look at teams like the New England Patriots and Indianapolis Colts who year in and year out start a season just knowing they are going to get a playoff bid, similar to how we used to be during the Tony Dungy era, you see teams put together by tried and true drafting.

Free agents are like spices, a little garlic, pinch of basil, a touch of salt and pepper, and your team has a foundation with added pieces where you need them.

The Washington Redskins show us how year in and year out what kind of a dish you get with all spice but very little meat. Lots of flavor at the beginning, but leaves you wanting more when youíre finished.