What will motivate thee? Let me count the ways…
Going into Carolina, the Bucs may be looking for some motivation to help them knock off the Panthers. They have several choices to select from:-

Defense from Mars
The Bucs woke up after getting run over by New Orleans to wake up in 2002. Ok, 2007 maybe, still; the defense did look similar to the defense of old on many occurrences. Will they finally stop Carolina from rushing for 250+ yards for the first time in 3 games?

Returning to the scene of the Crime
The new Sherlock Holmes movie is coming out, and the Bucs need to figure out how to solve the clues, because they are going to revisit the scene of the crime that happened last year, how they stole our hearts out after pretending to be a 9-3 team, in the Monday Night Game that put Jon Gruden in the booth!

That game was cast as a game for the Ages, but us Bucs fans only remember two things, Monte Kiffin saying goodbye, and Antonio Bryant's one handed catch we have all practiced making in our pajamas in our bedroom.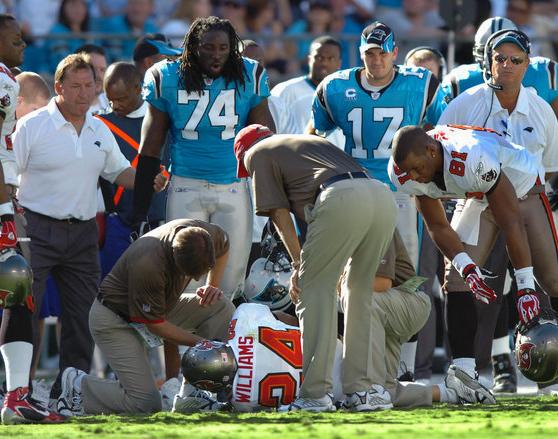 Fully Restored 2005 Cadillac
Talking about returning to the scene, its been two years now since Cadillac had been sprawled out on the sideline being loaded onto the cart with every Buc player around him. He has come back from not one, but two of these knee injuries now, but at this time last year he wasn't fully back yet.

He really hit it in stride later on in the year before hurting it all over again. He may not have been himself last time in this stadium, but this Sunday could be a different story. For some reason, the holes are just bigger when Mr. Williams runs.

If that doesn't do the trick for them, maybe they will read this little tidbit; 3 of the last 4 Bucs games have now either been won by the Bucs, or gone down to the last seconds before losing (Game 9 @ Miami, Game 11 @ Atlanta).

And the last time we played the Panthers? Carolina scored the game winning TD with only 29 seconds left then too. So hold onto your Bucco Bruce hats Bucs fans, this one could get wild ... for the right motivation!