We're 1-0 and I'm excited!
I heard on the radio that everyone in Tampa Bay needs to just calm down after the Bucs victory over a mediocre Cleveland Browns team.

WHAT?? Calm Down? There will be plenty of time to calm down during the offseason! WERE UNDEFEATED! Weíre in First Place!

I can calm down in March when the only Bucs news is that of the Milwaukee Bucks. I can calm down in June when were going over the 2011 Bucs Draft picks and wondering if they will contribute next year (or will anyone contribute , as in will there be any games at all)!!

No my friends, I am not going to calm down, nor should you. I say lets all get excited! Yes I know its only one win, and its against the Cleveland Browns, but this same Cleveland Team won the last 4 games in a row last year, and admit it, they didnít look that bad did they?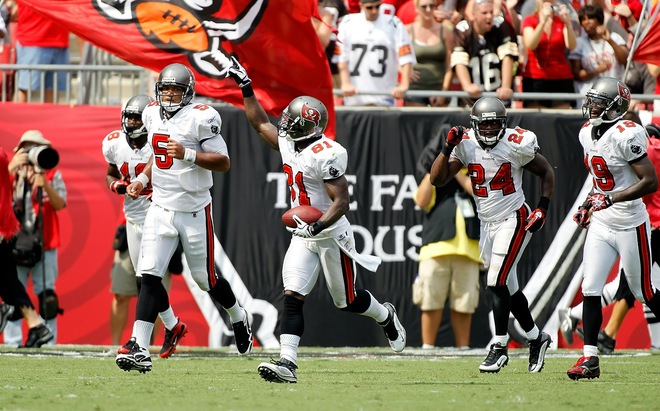 Nope, let's get excited, so we can start a frenzy in time for the next home game, so we donít have to throw bones at the Steeler Fans like we did the Brownies ( I just learned by halftime they wanted bones thrown at them, not beers. Sorry)!

Looking back at the past, a 1-0 start doesnít guarantee nothing, but just the fact that itís the first time EVER in the history of this franchise while playing at Raymond James Stadium that we WON the opening day game at home! Its also the first time weíve won an opening day game since 2005, and we won the NFC South that year 11-5.

Now no one is saying were going 11-5 at all, but the year before that 2005 season, the Wild Card Entrant was a whopping 8-8; and Philadelphia, Dallas, Carolina, Minnesota, San Francisco all started the season off 0-1 so far!

Those are all teams most say could be playoff bound, and weíve started 2010 a game up on them, and face a Panthers team that will probably be starting Jimmy Clausen to be followed by a Steelers team whose starting QB will be Dennis Dixon.

Itís football season, the Bucs are on TV this week, and weíre 1-0, and Iím excited!