Will a Buccaneer quarterback last 16 games this season?
It hasn't happened since 2003, when Brad Johnson went from Start to Finish for the Bucs, mind you the only time a QB was able to do that under the 7-year career of Head Coach Jon Gruden. It may not be a coincidence that the Bucs ranked 10th offensively that season either!

Since then, and before that, its been a history of back ups and Whose Who players sometimes, like in 2006 when PreSeason hero Bruce Gradkowski became the starter, perhaps for a bit longer than he should have.

The next year Jeff Garcia was brought in via free agency and was having a great year when a first play of the game hit against the Redskins caused him to miss a critical game at New Orleans where Luke McCown started instead. Garcia went weeks without playing until the playoff game and looked rusty.

Hard to fault him for that though, when in our own Super Bowl season Brad Johnson missed several games including the last two, and went one full month without playing a football game when the playoffs started. He tore apart the 49ers, Eagles, and Raiders and put a Lombardi Trophy at One Buc (and Paul Stewart's hands).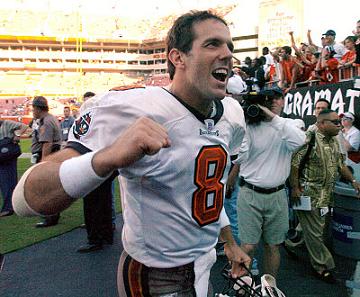 Brian Griese has seen his share of Ins and Outs too, taking over for an ineffective, <> injured Garcia (injured feelings due to Favre-itis) in 2008, and Griese replaced an equally ineffective Brad Johsnon back in 2004, via an injured shoulder to Chris Simms, who replaced Griese in 2005 when Brian's knees were taken out.

Then Chris Simms takes the story full circle when he fights for a first win in 06 and gives up his spleen, and job, to Gradkowki! Not the Spleen that is, just the Job. Not sure where the spleen is these days.

I didn't lose you did I? It was much simpler back in the days before free agency when the back-up QB was one or two steps below the starter, so that you cringed if your starter was dinged up because it meant the season was over.

You just knew Chuck Fusina wasn't better than Doug Williams, or Joe Ferguson than Vinny Testaverde. Or Vinny and Chris Chandler. Wait…never mind. Or every Young QB prospect and Steve DeBerg!