The next 50 days
The next 50 days are the loneliest ones, conjuring up images of desert oasis and barren wastelands. In other words, the 2009, 1986 or 1976 Bucs teams. Blank, empty, and devoid of anything meaningful!

Players leave mandatory mini camp with their Bowling scores, while we're left scouring the net and papers for Bucs news, of which there usually is none. So we will take a look at what we DO have to look forward to in 2010 for our Tampa Bay Buccaneers football season in Raheem Morris' second year on the job.

Josh Freeman is the team's first franchise quarterback since Trent Dilfer and Vinny Testeverde, and his second year on the job will likely be compared to those player's sophmore years. 1995 saw Dilfer throw two touchdowns in the first game of the year, in which the Bucs started 5 dash 2, but ended up throwing only 4 TDs all year.

It wasn't anything to write home about for Dilfer, who was benched often by Sam Wyche. Vinny took his second season and ran with it; albeit the wrong way. Vinny set a record for 35 interceptions that year, several times throwing 3 or 4 in one game. Its highly unlikely Freeman will experience either type of year.

Last season he received virtually zero reps, and this year he has been at One Buc all offseason studying, looking at game film. He is getting starting QB reps this year, and according to those who have watched Josh at this years OTAs, he is doing great.

In 2005, the Bucs had the number one ranked defense, and that was the last year Tampa Bay rushed the passer with any authority. That was also the last full year for Simeon Rice, which is probably no coincidence. Each year the pass rush got worse, and it wasn't until 2010 that it was really addressed.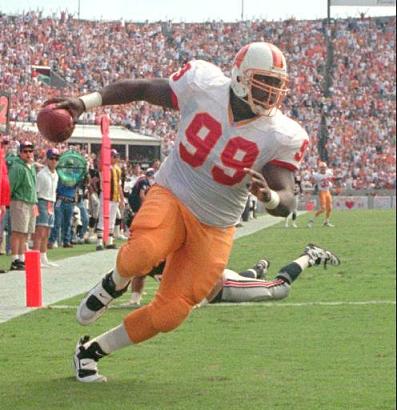 DTs McCoy and Price will form a spark in fans viewing habits, where we are used to seeing great defenses and this season should give us a reason not to cringe when the offense goes off the field.

It was fun watching Sapp and Brooks grow, but it wasn't until their second seasons that their eventual systems would be in place. Not so with Geno Hayes and Quincy Black, nor Myron Lewis who will be called on to replace Ronde Barber soon.

Never mind that most fans were calling him the next David Boston, when Antonio Bryant had the kind of year he had in 2008, he won over Bucs fans who missed Joey Galloway's Bicep pump. Last year however, the injury Bug caught up to Bryant even before the season started, and the quarterback carousel did little to help either.

In any case, when he left in free agency, he left a big vacuum; one that left a huge sucking sound in Tampa Bay. Instead of picking up some established veterans, the Bucs addressed the position with some special picks in the 2010 NFL Draft, netting Benn and Williams which we may look back on one day and see that move as another Stallworth/Swann or Taylor/Rice one day. These youngsters will be exciting to watch as they grow, and second year receiver Sammy Stroughter has a lot to show too.

So it may be absent of excitement and action, but the coming time off will just help build up excitement for a young team that is being put together similar to those '95 –'96 teams. This one however, is being put together with a little more balance as offensive and defensive players will gather our attention to the youngsters, and give us a little more to cheer for than 2009.