It Takes More Than Coaching
The Negative Nancys were all over Raheem Morris last year for the clubís 3-13 record, which without a winning streak at the end could have ended up 1-15!

To be fair, Morris deserves some criticism for some of the mistakes he made. He was a rookie Head Coach, and any time you are a rookie at anything, youíre going to make some errors.

But the Bucs record was not his fault, because itís never just about coaching. Super Bowl winning teams have the perfect chemistry of good coaching and good players. Without that perfect balance, you really canít get anywhere. You can put the best coaching staff on a team of college all stars, the worst NFL team would whoop them 48-3.

Case in point, a team with one of the best coaching staffs ever; the early 90ís Minnesota Vikings. They were head coached by Dennis Green, an excellent Head Coach in anyoneís mind.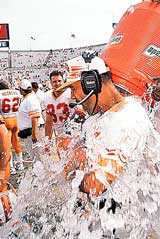 They had probably one of the best offensive coordinators, Brian Billick. The same Billick who won a Super Bowl with an amazing defense, Billick provided some of the most powerful offenses with the Purple gang. The defense, as we all k now, was run by one Tony Dungy. Enough Said.

Dennis Green, Brian Billick, Tony Dungy as your main coaching staff? What happened? Players. Thatís what happened. Sure you had John Randle and you had Jack Del Rio. But you need more than two stars to have a great defense, ask Dungy that!

An ageing Warren Moon and Anthony Carter, lack of a real running threat, and despite an offensive line with Randal McDaniel and Jeff Christie, pro bowlers for sure, They just werenít able to get it done.

Once Dungy left, the Vikings had their best chance in 1998, with a 15-1 record. But the 1 loss in there was to Tampa Bay who had two rushers go over 100 yards, and laid the blueprint for the equally run-capable Falcons to duplicate in the NFC Championship game.

So keep that in mind Bucs fans, when the team doesnít have a great record, like in 2009, look at the talent level of the players, before you look at the level of coaching you have.