Week 6 2012
Always nice to see Rich Gannon on the commentary crew (actually check that, he is horseshit as an analyst albeit not Kurt Warner bad). Gannon of course managed to throw five touchdown pases in a Super Bowl. The problem for the Loose Gannon was that three of them were to Buccaneer defensive backs.

Bucko went into a Mexican restaurant the other day and asked for the annoyed Saints linebacker meal. They brought me a steaming Fujita.

So the NFL is in the middle of their pink month to support breast cancer awareness and Bucko thinks this is a really admirable cause. But can we please tone down the amount of pink being seen on the field? Pink gloves and perhaps caps on the sideline yes - more pink legwarmers than a 1982 repeat of Fame - way too much guys.

And still on the pink subject, this Sunday is Throwback weekend in Tampa which means the Buccaneers will be in orange jerseys. And it is still pink month. You can do the math from there. This could wind up looking like BUCPOWER editor Paul Stewart on the golf course.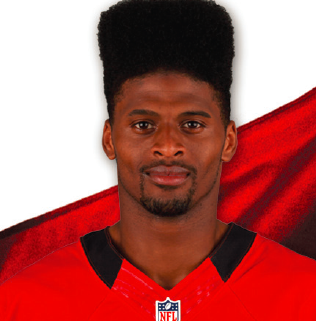 You have to love Bucs' third-string WR Tiquan Underwood. He is the living scientific proof that you can fit a square hairstyle into a round helmet.

Congratulations to new starting DE Daniel Te'o-Neisham who is now tied for the league lead in most combined apostophies and hyphens in their surname.

One of the better songs from the 1980s was John Parr's classic "St.Elmo's Fire". Bucko has the misfortune to hear an alternative version recently that Parr actually recorded paying tribute to Tim Tebow.

Congratulations to that Austrian daredevil parachutist for his leap from 22 miles up last Sunday. What I cannot understand is how he lands perfectly on his feet from that incredible height but the Chiefs' Jamaal Charles falls over at the slightest contact from a defender a yard away.