Week 3 2012
Welcome to another Bucko's column, the page that can only just fit on to Jerry Jones' monster scoreboard in Dallas. Although it was noticed how some of the Bucs' PR staff were trying to get themselves spotted on the sideline on it and then taking pictures for Facebook of the fact.

There were so many false start penalties by the Cowboys' offensive line on Sunday that Jeremy Trueblood phoned his agent after the game demanding to be traded to Dallas as he would fit in perfectly there.

Fox Sports have the admirable Mike Pereira on standby to talk through any replay decisions. Notice how he is always right? But he's the sort of guy you really wouldn't want to be on your pub trivial pursuit team or be at a party with. He'd still be going on about the first question or topic some four hours later.

Tony Romo went to the sideline during the Bucs' game with the Cowboys' bench worried he was concussed. "Do you think your ex-girlfriend, Jessica Simpson is an ugly pig?" he was asked. When he replied that she is, the medical staff knew he was fine and thinking normally.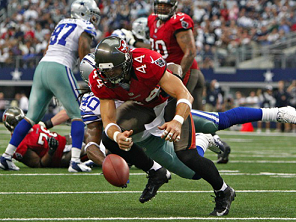 Bucko's nickname of the week
Dallas "BBQ" Clark
Stick a fork in him, he's done

Greg Schiano was wearing a badge with "SDS" on it during Sunday's game. It was either a tribute to the late Steve Sabol or it stood for "someone dump Shipley" after the fumbled punt return.

The latest NFL advert involving Ray Lewis has the caption "once in your lifetime". Going back to the Atlanta Super Bowl again, sometimes the gags just do themselves.

Checked out the NFL standings recently? This is the year of the Angry Birds. Falcons 3-0, Cardinals 3-0 and Ravens 2-1 all leading their divisions with the Seahawks also at 2-1.. Only the Eagles at 1-2 are letting the aviary down.

When Connor Barth kicked that late fieldgoal to reduce the Bucs' deficit to six, it also meant they covered the Vegas spread in the game. More fool anyone who gambles so no sympathy for anyone who lost out because of it.

Last Thursday night, way after Bucko's bedtime, the Panthers took on the Giants in another inane early-week game. It was Cam Newton's first appearance at peak time. Shame his performance was anything but peak.

And speaking of the Giants, Bucko did notice how the Buccaneers deliberately let New York score inside the final two minutes. Apparently the defensive call in the huddle was "Raheem on two".