Tampa Bay Buccaneers 20 New York Giants 8
Sunday 30 November 1997 at the Meadowlands
| | | |
| --- | --- | --- |
| | | |
| TB | 7:54-2Q | Alstott 1 pass from Dilfer (Husted kick) |
| NYG | 0:04-2Q | Daluiso FG45 |
| TB | 11:26-3Q | Alstott 9 run (Husted kick) |
| NYG | 0:35-3Q | Daluiso FG30 |
| NYG | 14:08-4Q | Safety, Dilfer intentional grounding in endzone |
| TB | 7:22-4Q | Rhett 1 run (2pt conversion failed) |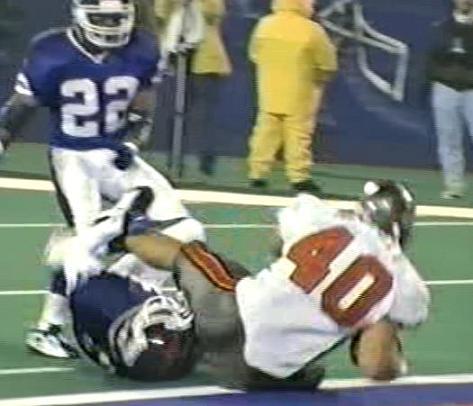 INDIVIDUAL STATISTICS
RUSHING
BUCS: Dunn 24-120, Alstott 11-30, Rhett 2-1, Dilfer 4-(-4).
GIANTS: Wheatley 9-64, Way 7-28, Barber 3-4, Kanell 2-3.
PASSING
BUCS: Dilfer 22-12-152-3-1.
GIANTS: Kanell 31-14-117-2-0.
RECEIVING
BUCS: Moore 3-55, Dunn 2-49, Williams 2-17, Alstott 2-9, Thomas 1-11, Ellison 1-8, Davis 1-3.
GIANTS: Way 4-29, Calloway 3-56, Wheatley 2-10, Alexander 2-6, Patten 1-10, Barber 1-7, Pegram 1-(-1).
INTERCEPTIONS
BUCS: Abraham 1-16, Brooks 1-0.
GIANTS: Sparks 2-68, Wooten 1-53.
KICK RETURNS
BUCS: Anthony 2-43, Ellison 1-49.
GIANTS: Pegram 4-64, Sparks 1-8.
PUNT RETURNS
BUCS: Williams 4-87.
GIANTS: Toomer 1-0.
SACKS
BUCS: Ahanotu 2-14.
GIANTS: none.

GAME REPORTS AND COMMENTS
This game was live on Sky Sports in the UK and after interceptions galore by both sides in the first half, Buc ball took over in the second half and the Bucs were back on the winning track for the post-season.

The key defensive effort came in the fourth quarter when John Lynch stopped Tyrone Wheatley on 4th and 1, and despite another later New York drive reaching Buc territory, the Tampa ground game ran out the final five minutes to preserve the victory.
Rick Stroud reports from Giants Stadium
The Buccaneer defense takes a stand
Upon this rock - the Bucs are built
Warrick Dunn moves into uncharted territory
OFFENSE
DEFENSE
LT
74 Gruber
LDE
72 Ahanotu
LG
60 Pyne
NT
77 Culpepper
C
61 Mayberry
UT
99 Sapp
RG
64 Diaz
RDE
91 Upshaw
RT
70 Odom
WLB
55 Brooks
WR
85 Anthony
MLB
56 Nickerson
WR
86 Williams
SLB
59 Porter
TE
83 Moore
LCB
21 Abraham
FB
40 Alstott
SS
47 Lynch
RB
28 Dunn
FS
22 Mincy
QB
12 Dilfer
RCB
27 Parker
SUBSTITUTIONS
4 Walsh, 5 Husted, 7 Landeta, 19 Hunter, 23 Bouie, 25 Johnson, 31 Young, 32 Rhett, 37 Ellison, 45 Legette, 50 Gooch, 51 Singleton, 52 Bellisari, 53 Quarles, 69 Pierson, 71 Wunsch, 73 Middleton, 80 Harris, 84 Thomas, 87 Davis, 90 Maniecki, 94 White, 97 Jackson
DID NOT PLAY
INACTIVE
13 Milanovich, 20 Barber, 24 Robinson, 65 Dogins, 75 Curry, 78 Jones, 82 Hape, 88 Copeland