Tampa Bay Buccaneers 7 Phoenix Cardinals 3
Sunday 27 December 1992 at Sun Devil Stadium
| | | |
| --- | --- | --- |
| | | |
| PHO | 4:55-1Q | Davis FG21 |
| TB | 2:36-1Q | Carrier 23 pass from Testaverde (Murray kick) |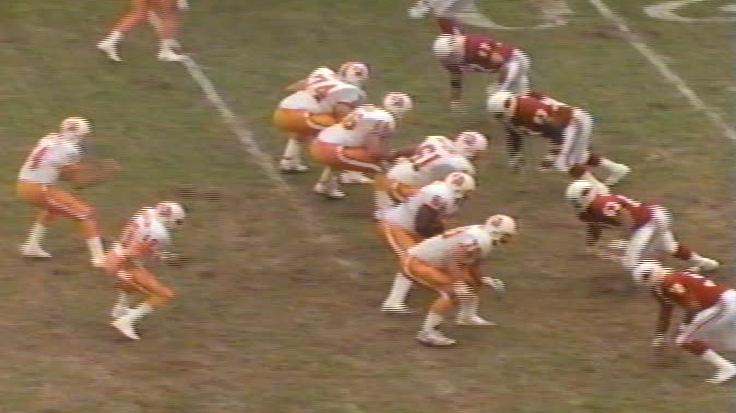 INDIVIDUAL STATISTICS
RUSHING
BUCS: Cobb 11-11, Testaverde 4-9, McDowell 2-7, Anderson 2-3.
CARDINALS: Johnson 20-91, Centers 2-18, Proehl 1-10, Chandler 2-1.
PASSING
BUCS: Testaverde 41-24-228-1-1.
CARDINALS: Chandler 43-23-234-3-0, Proehl 1-0-0-1-0, Rosenbach 1-0-0-1-0.
RECEIVING
BUCS: Carrier 7-88, Dawsey 7-71, McDowell 3-42, Anderson 3-12, Cobb 2-(-3), Hawkins 1-13, Armstrong 1-5.
CARDINALS: Centers 7-87, Hill 6-56, Proehl 6-47, Johnson 3-22, Jones 1-22.
INTERCEPTIONS
BUCS: King 2-24, Mack 2-0, Lewis 1-0.
CARDINALS: Williams 1-2.
KICK RETURNS
BUCS: Wilson 1-23.
CARDINALS: Blount 1-34.
PUNT RETURNS
BUCS: Anderson 2-11.
CARDINALS: Blount 3=31.
SACKS
BUCS: McCants 1-1.
CARDINALS: Davis 1-9, Rucker 1-7, Bankston 1-2.

GAME REPORTS AND COMMENTS
Click here for the gamebook and the play-by-play
Click here for the Rick Stroud column
Click here for the game report
Hubert Mizell looks at what the future holds for these Bucs
Sun Devil Stadium was a loose gravelly mess and both kickers missed three fieldgoals on the dodgy surface conditions. The game's only TD came on a Vinny pass to Mark Carrier, whilst the Buc defense weighed in with five interceptions including one by Milton Mack on the final play of the game.
OFFENSE
DEFENSE
LT
74 Gruber
LDE
71 Dotson
LG
66 Reimers
UT
95 Duckens
C
61 Mayberry
DT
77 Wheeler
RG
62 Beckles
RDE
52 McCants
RT
70 McRae
LLB
54 Williams
WR
85 Hawkins
MLB
55 Brownlow
WR
88 Carrier
RB
51 Thomas
WR
80 Dawsey
LCB
29 Reynolds
WR
87 Thomas
SS
23 Carter
RB
40 Anderson
FS
41 King
QB
14 Testaverde
RCB
21 Mack
SUBSTITUTIONS
3 Murray, 4 Stryzinski, 22 Lewis, 24 Jones, 27 Fullington, 31 Pollard, 33 Royster, 34 Cobb, 37 McDowell, 44 Anderson, 53 Brady, 59 Alexander, 64 Ryan, 67 Sullivan, 73 McHale, 78 Mayfield, 83 Moore, 84 Wilson, 86 Armstrong, 91 Hall
DID NOT PLAY
7 Erickson, 8 Pawlawski, 76 Dill
INACTIVE
17 DeBerg, 89 Harrison