Tampa Bay Buccaneers 13 Dallas Cowboys 17
Sunday 21 October 1990 at Tampa Stadium
| | | |
| --- | --- | --- |
| | | |
| TB | 0:25-1Q | Christie FG23 |
| TB | 1:19-2Q | Peebles 2 pass from Testaverde (Christie kick) |
| DAL | 5:22-3Q | Willis FG24 |
| DAL | 9:46-4Q | Holt 64 interception return (Willis kick) |
| TB | 1:56-4Q | Christie FG32 |
| DAL | 0:23-4Q | Irvin 28 pass from Aikman (Willis kick) |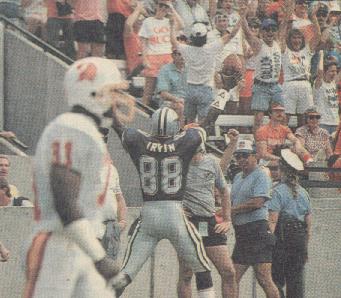 INDIVIDUAL STATISTICS
RUSHING
BUCS: Cobb 14-54, Harvey 6-25, G.Anderson 4-11.
COWBOYS: Smith 16-48, Aikman 2-18, Agee 3-6, Dixon 3-6.
PASSING
BUCS: Testaverde 32-21-271-2-1, Chandler 3-1-23-1-0.
COWBOYS: Aikman 29-13-159-1-1.
RECEIVING
BUCS: Carrier 6-113, Peebles 5-47, Drewrey 3-39, Hall 3-29, Pillow 2-45, Cobb 2-20, G Anderson 1-1.
COWBOYS: Novacek 5-69, Irvin 2-42, McKinnon 2-10, Agee 1-14, Awalt 1-11, Johnston 1-8, Martin 1-5.
INTERCEPTIONS
BUCS: Reynolds 1-0.
COWBOYS: Holt 2-64, Bates 1-4.
KICK RETURNS
BUCS: Peebles 2-40, Cobb 1-16.
COWBOYS: Dixon 3-64.
PUNT RETURNS
BUCS: Drewrey 2-7.
COWBOYS: Harris 1-4.
SACKS
BUCS: Moss 1-7, Cannon 1-7.
COWBOYS: Noonan 2-15, Tolbert 2-13, Stubbs 1-17, Norton 1-8.

GAME REPORTS AND COMMENTS
Click here for the gamebook and the play-by-play
I hate Dallas for this! We were leading 17-10, the Cowboys only had gained 143 yards of total offense in 59 minutes and their points had only come on a typical Vinny interception return for a score and a fumble by John Harvey inside our 30-yard line.

Phil Carter turned to me and said "you know they're going to go down and win it now don't you?". They did as well thanks to Aikman and Irvin.

And to top it all, Phil Jones heard the interview and decided to call me when he got home to the UK to join the club.
OFFENSE
DEFENSE
LT
74 Gruber
LDE
79 Davis
LG
75 Bax
NT
95 Jarvis
C
60 Grimes
RDE
71 Skow
RG
62 Beckles
LOLB
51 Thomas
RT
72 Taylor
LILB
99 Marve
WR
80 Pillow
RILB
58 Moss
WR
88 Carrier
ROLB
59 Murphy
TE
82 Hall
LCB
29 Reynolds
FB
33 Cobb
SS
30 Robinson
RB
26 Harvey
FS
39 Hamilton
QB
14 Testaverde
RCB
45 Haddix
SUBSTITUTIONS
2 Christie, 3 Royals, 17 Chandler, 20 Harris, 31 Rice, 32 Perkins. 38 Lawson, 40 G Anderson, 42 Everett, 52 McCants, 53 Coleman, 54 Randle, 56 Anno, 61 Mayberry, 69 Bruhin, 78 Cannon, 83 Peebles, 87 Drewrey, 89 J Anderson, 96 Newton, 98 Seals
DID NOT PLAY
70 Swayne, 81 Ford
INACTIVE
7 Carlson, 84 Hill