Tampa Bay Buccaneers 22 Pittsburgh Steelers 31
Sunday 24 December 1989 at Tampa Stadium
| | | |
| --- | --- | --- |
| | | |
| PIT | 12:11-1Q | Worley 1 run (Anderson kick) |
| TB | 6:45-1Q | Carrier 7 pass from Ferguson (Igwebuike kick) |
| PIT | 13:54-2Q | Lipps 79 pass from Brister (Anderson kick) |
| TB | 6:33-2Q | Igwebuike FG45 |
| PIT | 1:01-2Q | Lipps 12 pass from Brister (Anderson kick) |
| PIT | 0:00-2Q | Anderson FG32 |
| TB | 4:56-3Q | Igwebuike FG24 |
| PIT | 0:05-3Q | Worley 2 run (Anderson kick) |
| TB | 3:52-4Q | Safety – Cocroft blocked punt through the endzone |
| TB | 3:02-4Q | Carrier 39 pass from Ferguson (Igwebuike kick) |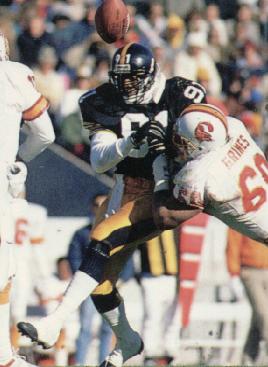 INDIVIDUAL STATISTICS
RUSHING
BUCS: Tate 11-38, Stamps 2-18, Howard 5-15, Wilder 7-13.
STEELERS: Hoge 18-90, Worley 18-51, Brister 1-6.
PASSING
BUCS: Ferguson 41-21-244-1-2.
STEELERS: Brister 15-7-178-2-2.
RECEIVING
BUCS: Carrier 6-101, Stamps 3-34, Hall 3-33, Drewrey 2-24, Tate 2-20, Wilder 2-4, Harris 1-17, Howard 1-7, Peebles 1-4.
STEELERS: Lipps 4-137, Mularkey 1-27, Hill 1-13, Worley 1-1.
INTERCEPTIONS
BUCS: Reynolds 1-4, Futrell 1-1.
STEELERS: Woodson 1-39.
KICK RETURNS
BUCS: Stamps 2-39, Elder 2-38, Drewrey 1-26.
STEELERS: Woodson 2-86.
PUNT RETURNS
BUCS: Drewrey 1-9.
STEELERS: Woodson 3-12.
SACKS
BUCS: none.
STEELERS: Lloyd 1-7.

GAME REPORTS AND COMMENTS
Click here for the gamebook and the play-by-play
Click here for Michelle Kaufman's comments
Click here for a game report
I remember analysing the stats of this game with Phil Carter at Plough Lane watching Wimbledon play Manchester United of all places!

It was the coldest home game in Buc history with the game temperature at just 39 degrees leading to a crowd of less than 30,000 showing up.

Mark Carrier had his fourth straigth 100-yard game, one again missed by Vinny due to his ankle injury.
OFFENSE
DEFENSE
LT
74 Gruber
LDE
78 Cannon
LG
75 Bax
NT
97 Lee
C
60 Grimes
RDE
94 Goff
RG
69 Bruhin
LOLB
59 Murphy
RT
72 Taylor
LILB
99 Marve
WR
84 Hill
RILB
54 Randle
WR
88 Carrier
ROLB
58 Moss
TE
82 Hall
LCB
36 Futrell
FB
43 Howard
SS
30 Robinson
RB
34 Tate
FS
39 Hamilton
QB
12 Ferguson
RCB
22 Jones
SUBSTITUTIONS
1 Igwebuike, 5 Mohr, 11 Bell, 20 Harris, 24 Stamps, 25 Cocroft, 29 Reynolds, 32 Wilder, 40 Elder, 41 Mitchell, 51 Thomas, 56 Anno, 57 Najarian, 70 Swayne, 73 McHale, 77 Weston, 79 Davis, 80 Pillow, 83 Peebles, 85 Walker, 86 Harris, 87 Drewrey
DID NOT PLAY
65 Graham
INACTIVE
3 Carney, 71 Cooper