Tampa Bay Buccaneers 16 Green Bay Packers 17
Sunday 3 December 1989 at Tampa Stadium
| | | |
| --- | --- | --- |
| | | |
| GB | 2:40-1Q | Sharpe 21 pass from Majkowski (Jacke kick) |
| TB | 12:35-2Q | Igwebuike FG49 |
| TB | 10:23-3Q | Igwebuike FG40 |
| TB | 12:30-4Q | Stamps 21 run (Igwebuike kick) |
| GB | 9:55-4Q | Sharpe 55 pass from Majkowski (Bracken kick) |
| TB | 1:35-4Q | Igwebuike FG36 |
| GB | 0:00-4Q | Jacke FG47 |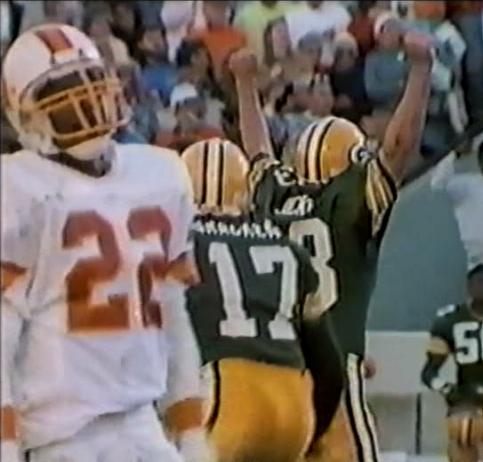 INDIVIDUAL STATISTICS
RUSHING
BUCS: Howard 17-49, Stamps 7-33, Wilder 3-6.
PACKERS: Fullwood 13-37, Woodside 3-16, Majkowski 3-8, Fontenot 1-0.
PASSING
BUCS: Testaverde 39-19-188-5-0.
PACKERS: Majkowski 53-25-331-2-2.
RECEIVING
BUCS: Carrier 7-104, Howard 6-21, Hall 3-19, Hill 2-40, Stamps 1-4.
PACKERS: Sharpe 8-169, Fontenot 5-34, Fullwood 3-24, Query 2-40, Woodside 2-17, Kemp 2-14, Bland 1-17, Didier 1-9, Matthews 1-7.
INTERCEPTIONS
BUCS: Harris 1-19, Reynolds 1-8.
PACKERS: Brown 2-12, Stephen 1-8, Lee 1-0, Noble 1-0.
KICK RETURNS
BUCS: Stamps 1-36, Howard 1-14, Elder 1-4.
PACKERS: Workman 4-64, Bland 1-12.
PUNT RETURNS
BUCS: Drewery 3-63.
PACKERS: Query 4-37.
SACKS
BUCS: Moss 1-10, Cannon 1-6.
PACKERS: Harris 2-9, Brown 1-8, Winter 1-1.

GAME REPORTS AND COMMENTS
Click here for the gamebook and the play-by-play
Click here for Michelle Kaufman's comments
Click here for what the Bucs thought about that decisive flag
Another one-point game, the first time in NFL history any team had played three of them in a row. This game was broadcast on Armed Forces Radio and I remember the signal fading out just before Chris Jacke's winning fieldgoal.

The Packers got an amazing break when the Bucs were called for a dubious penalty on fourth down that set up the winning kick, one that crept over the crossbar into a strong wind.

And the Packers had lined up in an illegal formation on that fourth down play that didn't get called.
OFFENSE
DEFENSE
LT
74 Gruber
LDE
79 Davis
LG
73 McHale
NT
95 Jarvis
C
60 Grimes
RDE
94 Goff
RG
71 Cooper
LOLB
59 Murphy
RT
72 Taylor
LILB
99 Marve
WR
84 Hill
RILB
54 Randle
TE
86 Harris
ROLB
58 Moss
TE
82 Hall
LCB
29 Reynolds
FB
43 Howard
SS
20 Harris
RB
24 Stamps
FS
39 Hamilton
QB
14 Testaverde
RCB
22 Jones
SUBSTITUTIONS
1 Igwebuike, 5 Mohr, 25 Cocroft, 32 Wilder, 34 Tate, 36 Futrell, 40 Elder, 41 Mitchell, 51 Thomas, 56 Anno, 57 Najarian, 70 Swayne, 75 Bax, 78 Cannon, 83 Peebles, 85 Walker, 87 Drewrey, 88 Carrier, 97 Lee
DID NOT PLAY
12 Ferguson, 30 Robinson, 65 Graham, 80 Pillow
INACTIVE
61 Ingram, 77 Weston