Tampa Bay Buccaneers 20 Minnesota Vikings 10
Sunday 18 October 1987 at Tampa Stadium
| | | |
| --- | --- | --- |
| | | |
| MIN | 10:35-1Q | Dawson FG34 |
| TB | 4:11-1Q | Tiffin FG50 |
| TB | 13:10-3Q | Wells fumble recovery in the endzone (Tiffin kick) |
| MIN | 10:26-3Q | Womack 23 pass from Adams (Dawson kick) |
| TB | 6:00-3Q | Walker 30 interception return (Tiffin kick) |
| TB | 8:34-4Q | Tiffin FG37 |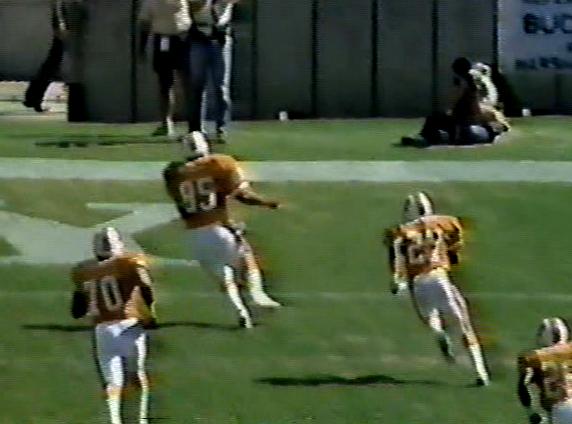 INDIVIDUAL STATISTICS
RUSHING
BUCS: Gladman 12-29, Ricks 8-23, Wright 5-19, Zorn 4-4.
VIKINGS: Womack 4-13, Harrell 5-8, Frye 4-4, Adams 2-2, Wilson 1-3, Scribner 1-(-7).
PASSING
BUCS: Zorn 36-20-199-2-0.
VIKINGS: Adams 37-20-195-4-1.
RECEIVING
BUCS: S.Holloway 8-107, Wright 7-51, Streater 2-15, Gladman 2-8, Dixon 1-18.
VIKINGS: Womack 5-46, Brim 4-49, Frye 3-25, Harrell 3-20, Gillespie 2-28, Wilson 2-14, Daugherty 1-13.
INTERCEPTIONS
BUCS: Walker 2-30, Tripoli 1-0, Montoute 1-0.
VIKINGS: Smith 1-24, Louallen 1-16.
KICK RETURNS
BUCS: Curry 2-38, Walker 1-0.
OPPONENTS: Bess 2-42, Womack 2-24, Harrell 1-4.
PUNT RETURNS
BUCS: Curry 3-32.
OPPONENTS: Bess 3-18.
SACKS
BUCS: Turner 3.5-20, Turpin 2-12, Nordgren 1-7, Montoute 0.5-4.
OPPONENTS: Mays 1-6.

GAME REPORTS AND COMMENTS
Click here for the gamebook and the play-by-play
Click here for a game report
In front of the lowest crowd ever at Tampa Stadium, Kevin Walker was named the NFC's Defensive Player of the Week for his two interceptions, one of which went back for a score, but this award was for the whole defense.

The Bucs forced seven sacks including a franchise record-tying three by Calvin Turner, and four interceptions. Arthur Wells recovered a fumble in the endzone to put the Bucs 10-3 up early in the third quarter, and after Adams had thrown a TD pass to tie the scores, Walker's second interception of the game put the Bucs ahead to stay.
OFFENSE
DEFENSE
LT
64 Pumphery
LDE
67 Harris
LG
69 Huddleston
NT
76 Nordgren
C
50 Turk
RDE
67 Harris
RG
62 Jordan
LOLB
56 Montoute
RT
68 Smith
LILB
53 McCallister
TE
80 Holloway
RILB
54 Gant
WR
89 Streater
ROLB
51 Turpin
WR
87 S Carter
LCB
37 Walker
FB
34 Wright
SS
40 Quinn
RB
47 Ricks
FS
26 Tripoli
QB
10 Zorn
RCB
31 Curry
SUBSTITUTIONS
1 Tiffin, 5 Criswell, 22 Clark, 23 King, 24 Land, 29 Paige, 32 Gladman, 59 Pennington, 70 Turner, 81 Shakespeare, 85 Wells, 88 Dixon, 90 Clark, 91 Jacobs, 94 Riggins, 98 Ramey
DID NOT PLAY
7 Reaves, 11 Hold, 55 Pitcock, 60 O'Connor, 72 Hunt, 73 Johnson, 82 Modesitt
INACTIVE