Tampa Bay Buccaneers 31 Detroit Lions 27
Sunday 4 October 1987 at the Silverdome
| | | |
| --- | --- | --- |
| | | |
| DET | 8:11-1Q | Grymes 36 pass from Hons (Prindle kick) |
| DET | 5:16-1Q | Prindle FG23 |
| DET | 4:16-1Q | King 9 fumble return (Prindle kick) |
| TB | 14:49-2Q | Wright 15 pass from Hold (Tiffin kick) |
| TB | 11:33-2Q | Tripoli 15 interception return (Tiffin kick) |
| DET | 1:51-2Q | Truvillion 53 pass from Hons (Prindle kick) |
| TB | 1:32-2Q | Streater 61 pass from Hold (Tiffin kick) |
| TB | 8:03-3Q | Tiffin FG21 |
| TB | 2:17-3Q | Ricks 1 run (Tiffin kick) |
| DET | 11:41-4Q | Prindle FG35 |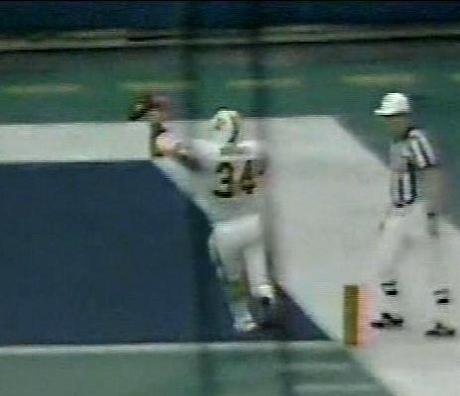 INDIVIDUAL STATISTICS
RUSHING
BUCS: Wright 21-67, Hold 3-18, Land 7-16, Ricks 6-10, Thomas 1-2..
LIONS: Edwards 13-28, Wester 12-46, Dollinger 5-16, Hons 1-11, Black 1-0.
PASSING
BUCS: Reaves 8-2-16-0-0, Hold 15-6-102-0-2.
LIONS: Hons 26-10-201-3-2..
RECEIVING
BUCS: Wright 4-29, Streater 1-61, Walls 1-13, Ricks 1-12, Holloway 1-3.
LIONS: Truvillion 4-99, Grymes 3-81, Wheeler 2-17, Dollinger 1-4.
INTERCEPTIONS
BUCS: Tripoli 2-17, Gant 1-15.
LIONS: none.
KICK RETURNS
BUCS: Walls 4-104, Wright 1-17, Gladman 1-16.
OPPONENTS: Hall 4-73, Bradley 2-42.
PUNT RETURNS
BUCS: Walls 4-12.
OPPONENTS: Bradley 5-30.
SACKS
BUCS: Harris 1-9, Riggins 1-9, Montoute 1-8, Clark 1-8, McCallister 1-6.
OPPONENTS: Carr 1-12.

GAME REPORTS AND COMMENTS
Click here for the gamebook and the play-by-play
Click here for the game report
Little over 10 minutes into the first replacement game, it looked like the alternative Bucs were facing a humiliating defeat trailing 17-0. But in front of the smallest crowd ever to watch a Tampa Bay game, 4,919, the Bucs came back thanks to a defense that forced five sacks, had three interceptions including one for a score that led to Paul Tripoli being named NFC Defensive Player of the Week.

Former Arena League QB Mike Hold threw two scores, one a 61-yard bomb to Eric Streater. The Lions closed to within four when Ray Criswell was tackled on an abortive punt, but they could get no closer than four points as the Bucs hung on to win.
OFFENSE
DEFENSE
LT
64 Pumphery
LDE
90 Clark
LG
62 Jordan
NT
76 Nordgren
C
50 Pitcock
RDE
78 W Carter
RG
60 O'Connor
LOLB
56 Montoute
RT
68 Smith
LILB
53 McCallister
TE
80 Holloway
RILB
54 Gant
WR
89 Streater
ROLB
52 Teague
WR
83 Walls
LCB
37 Walker
FB
34 Wright
SS
40 Quinn
RB
24 Land
FS
26 Tripoli
QB
7 Reaves
RCB
31 Curry
SUBSTITUTIONS
1 Tiffin, 5 Criswell, 11 Hold, 23 King, 29 Paige, 32 Gladman, 33 George, 36 Thomas, 47 Ricks, 51 Turpin, 59 Pennington, 66 Heffernan, 67 Harris, 70 Turner, 77 Brown, 82 Modesitt, 84 Jackson, 87 S Carter, 91 Jacobs, 94 Riggins, 98 Ramey
DID NOT PLAY
72 Hunt, 73 Johnson
INACTIVE