Tampa Bay Buccaneers 48 Atlanta Falcons 10
Sunday 13 September 1987 at Tampa Stadium
| | | |
| --- | --- | --- |
| | | |
| TB | 8:56-1Q | Freeman 11 pass from DeBerg (Igwebuike kick) |
| TB | 0:43-1Q | Carter 6 pass from DeBerg (Igwebuike kick) |
| ATL | 11:35-2Q | Luckhurst FG50 |
| TB | 5:18-2Q | Magee 11 pass from DeBerg (Igwebuike kick) |
| TB | 2:37-2Q | Carter 3 pass from DeBerg (kick failed) |
| TB | 5:43-3Q | Austin 1 run (Igwebuike kick) |
| TB | 14:38-4Q | Carrier 2 pass from DeBerg (Igwebuike kick) |
| ATL | 9:34-4Q | Bailey 34 pass from Campbell (Luckhurst kick) |
| TB | 3:32-4Q | Bartalo 3 run (Igwebuike kick) |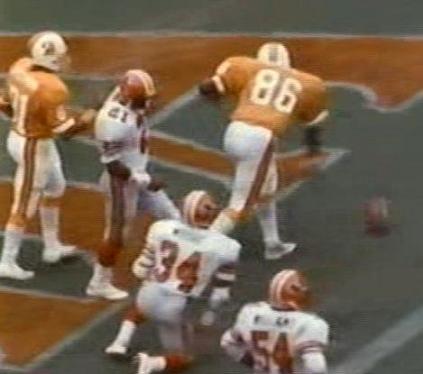 INDIVIDUAL STATISTICS
RUSHING
BUCS: Howard 12-47, Bartalo 7-23, Smith 5-23, Austin 9-20, Wilder 7-13, Freeman 1-1.
FALCONS: Riggs 12-52, Archer 2-8, Flowers 2-3.
PASSING
BUCS: DeBerg 34-24-333-1-5.
FALCONS: Archer 22-8-94-2-0, Campbell 11-6-77-0-1.
RECEIVING
BUCS: Carter 6-60, Carrier 6-50, Wilder 4-62, Magee 3-46, Hall 2-44, Howard 1-45, Austin 1-15, Freeman 1-11.
FALCONS: Riggs 4-27, Bailey 3-56, Johnson 3-33, Dixon 1-33, Whisenhunt 1-14, Matthews 1-4, Flowers 1-4.
INTERCEPTIONS
BUCS: Woods 1-42, Futrell 1-23.
FALCONS: Case 1-12.
KICK RETURNS
BUCS: Futrell 2-8.
OPPONENTS: Stamps 6-117.
PUNT RETURNS
BUCS: Futrell 4-39.
OPPONENTS: none.
SACKS
BUCS: Kellin 2.5-24.5, Holmes 1.5-12.5.
OPPONENTS: none.

GAME REPORTS AND COMMENTS
Click here for the gamebook and the play-by-play
Click here for Tom Ford's comments on the game
Click here for Tom McEwen's "Morning After" column
Click here for how Hubert Mizell saw it unfold
Ray Perkins' first game in charge, Mick Luckhurst's last trip to Atlanta as a player, and the biggest win in franchise history.

Steve DeBerg threw five touchdowns, the defense did its bit, and everything just looked right with the world for Buc fans after two years of Leeman Bennett.
OFFENSE
DEFENSE
LT
72 R.Taylor
LDE
78 Cannon
LG
66 Yarno
NT
94 Stensrud
C
60 Grimes
RDE
90 Holmes
RG
68 Mallory
LOLB
51 Washington
RT
74 Powell
LILB
58 Davis
WR
87 Carter
RILB
54 Randle
WR
89 Carrier
ROLB
57 Moss
TE
86 Magee
LCB
29 Reynolds
FB
39 Austin
SS
33 Kemp
RB
32 Wilder
FS
20 Woods
QB
17 DeBerg
RCB
22 Jones
SUBSTITUTIONS
1 Igwebuike, 5 Garcia, 21 McKeever, 25 Howard, 35 Smith, 36 Futrell, 41 Swoope, 42 Bartalo, 50 Turk, 52 Brantley, 53 Graham, 56 Walker, 59 Murphy, 73 Heller , 75 Kellin, 77 Maarleveld, 79 Goode, 81 Freeman, 82 Hall, 83 Holloway, 85 G.Taylor, 98 Keys
DID NOT PLAY
14 Testaverde
INACTIVE