Tampa Bay Buccaneers 20 New York Giants 22
Sunday 3 November 1985 at the Meadowlands
| | | |
| --- | --- | --- |
| | | |
| NYG | 8:44-1Q | Schubert FG24 |
| TB | 6:57-1Q | Igwebuike FG53 |
| TB | 11:27-2Q | Giles 25 pass from DeBerg (Igwebuike kick) |
| NYG | 3:00-2Q | Schubert FG36 |
| TB | 0:07-2Q | Igwebuike FG20 |
| NYG | 9:59-3Q | Morris 1 run (Schubert kick) |
| NYG | 2:11-3Q | Schubert FG24 |
| NYG | 12:59-4Q | Schubert FG41 |
| NYG | 8:32-4Q | Schubert FG33 |
| TB | 2:27-4Q | Giles 1 pass from DeBerg (Igwebuike kick) |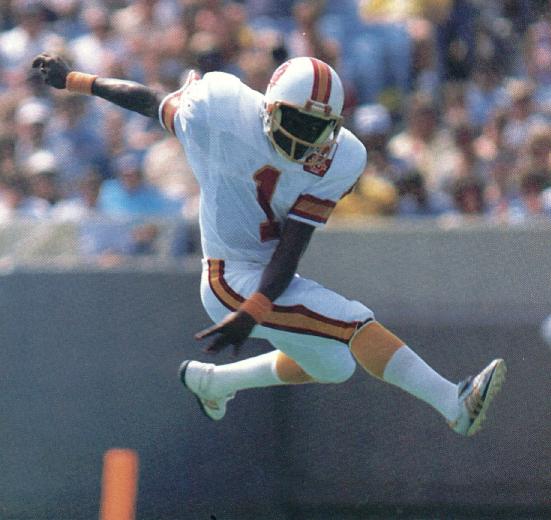 INDIVIDUAL STATISTICS
RUSHING
BUCS: Wilder 21-75, Springs 3-7, Armstrong 2-6.
GIANTS: Morris 26-132, Adams 8-39, Carthon 1-3, Simms 2-1, Carpenter 1-0.
PASSING
BUCS: DeBerg 42-21-239-1-2.
GIANTS: Simms 31-18-204-0-0.
RECEIVING
BUCS: Carter 6-55, House 4-65, J.Bell 4-36, Giles 3-56, Wilder 2-20, Magee 1-4, Armstrong 1-3.
GIANTS: Manuel 4-50, McConkey 3-33, Galbreath 3-30, Bavaro 3-24, Carpenter 2-18, Adams 1-30, Johnson 1-12, Morris 1-7.
INTERCEPTIONS
BUCS: none.
GIANTS: Kinard 1-30.
KICK RETURNS
BUCS: Freeman 5-105, Prior 1-14.
GIANTS: Adams 4-77.
PUNT RETURNS
BUCS: Prior 1-14.
GIANTS: McConkey 4-44.
SACKS
BUCS: Logan 2-16, Curry 1-8, Cannon 0.5-6.5, Washington 0.5-6.5.
GIANTS: Martin 1.5-7.5, Patterson 0.5-3.5.

GAME REPORTS AND COMMENTS
Click here for the gamebook and the play-by-play
For the fifth time in nine games, the Bucs had the lead at half-time, but for the ninth time in nine games, they lost. The Bucs did drive to midfield inside the final minute but a completion to Adger Armstrong to the Giants' 38 was called back for holding and they got no closer. Jerry Bell's season-ending knee injury curtailed his best-ever NFL season, one in which he was leading all NFC tight ends with 43 receptions at the time.

"Some guy in Newark threw the flag from the airport" said guard Sean Farrell on the key penalty. "The guy never takes the flag out of his pocket unless the game is on the line and he has got money on it."
OFFENSE
DEFENSE
LT
62 Farrell
LDE
78 Cannon
LG
72 Courson
NT
76 Logan
C
60 Grimes
RDE
90 Holmes
RG
68 Mallory
LOLB
57 Browner
RT
73 Heller
LILB
58 Davis
WR
89 House
RILB
52 Brantley
WR
87 Carter
ROLB
51 Washington
TE
88 Giles
LCB
23 Castille
TE
82 J Bell
SS
31 Curry
RB
32 Wilder
FS
44 Sully
QB
17 DeBerg
RCB
21 Holt
SUBSTITUTIONS
1 Igwebuike, 5 Garcia, 7 Risher, 20 Springs, 24 Prior, 25 Howard, 30 Greenwood, 40 Armstrong, 54 Randle, 55 D Johnson, 56 C Johnson, 59 Kubin, 64 Shearin, 65 Fielder, 67 Morgan, 75 Lindstrom, 79 Kaplan, 81 Freeman, 83 T Bell, 85 Witte, 86 Magee
DID NOT PLAY
8 Young, 61 Kersten
INACTIVE