Tampa Bay Buccaneers 16 St.Louis Cardinals 0
Sunday 10 November 1985 at Tampa Stadium
| | | |
| --- | --- | --- |
| | | |
| TB | 4:12-1Q | Igwebuike FG47 |
| TB | 9:10-2Q | Armstrong 1 pass from DeBerg (Igwebuike kick) |
| TB | 14:45-4Q | Igwebuike FG46 |
| TB | 9:10-4Q | Igwebuike FG50 |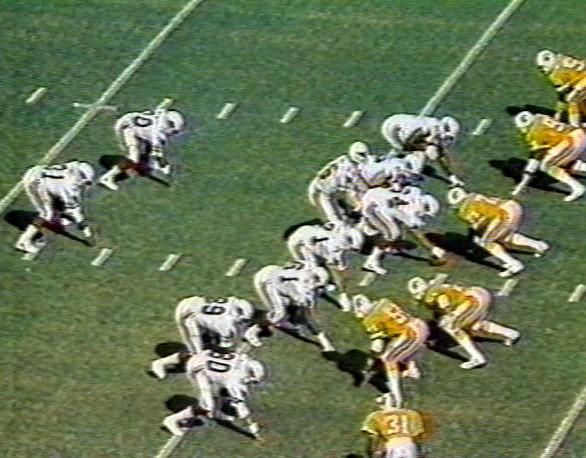 INDIVIDUAL STATISTICS
RUSHING
BUCS: Wilder 29-120, DeBerg 2-4.
CARDINALS: Mitchell 18-64, Ferrell 5-28, Anderson 1-3, Lomax 1-0.
PASSING
BUCS: DeBerg 27-11-196-1-1.
CARDINALS: Lomax 33-21-197-2-0.
RECEIVING
BUCS: Giles 6-134, Carter 2-49, House 1-6, Magee 1-6, Armstrong 1-1.
CARDINALS: Smith 5-47, Ferrell 5-39, Mitchell 5-38, Marsh 4-53, Tilley 2-20.
INTERCEPTIONS
BUCS: Davis 1-22, Holt 1-3.
CARDINALS: Junior 1-0.
KICK RETURNS
BUCS: Prior 1-22.
CARDINALS: Duncan 5-116.
PUNT RETURNS
BUCS: Prior 1-3.
CARDINALS: Smith 2-36.
SACKS
BUCS: Cannon 1-4, Browner 0.5-4.5, Morgan 0.5-4.5.
CARDINALS: Nunn 1-14.

GAME REPORTS AND COMMENTS
Click here for the gamebook and the play-by-play
Click here for the BUCPOWER of this game
The Bucs finally won a game in 1985 and did it with only their second shut-out in team history following the division clincher six years earlier against the Chiefs.

Three long fieldgoals by Donald Igwebuike, a career high receiving day by Jimmie Giles, and a typical workload performance by James Wilder were the offensive highlights.

The defense preserved the shutout by forcing three turrnovers.
OFFENSE
DEFENSE
LT
62 Farrell
LDE
78 Cannon
LG
72 Courson
NT
76 Logan
C
60 Grimes
RDE
90 Holmes
RG
68 Mallory
LOLB
54 Randle
RT
73 Heller
LILB
58 Davis
WR
89 House
RILB
56 C Johnson
WR
87 Carter
ROLB
51 Washington
TE
88 Giles
LCB
23 Castille
TE
86 Magee
SS
31 Curry
RB
32 Wilder
FS
44 Sully
QB
17 DeBerg
RCB
21 Holt
SUBSTITUTIONS
1 Igwebuike, 5 Garcia, 7 Risher, 24 Prior, 25 Howard, 30 Greenwood, 40 Armstrong, 55 D Johnson, 57 Browner, 64 Shearin, 65 Fielder, 67 Morgan, 75 Lindstrom, 79 Kaplan, 80 Dunn, 81 Freeman, 83 T Bell, 85 Witte
DID NOT PLAY
8 Young, 20 Springs, 52 Brantley, 61 Kersten, 71 Studaway
INACTIVE