Tampa Bay Buccaneers 41 New York Jets 21
Sunday 16 December 1984 at Tampa Stadium
| | | |
| --- | --- | --- |
| | | |
| TB | 8:54-1Q | Ariri FG37 |
| TB | 7:07-1Q | Wilder 6 run (Ariri kick) |
| TB | 6:11-2Q | J.Bell 3 pass from DeBerg (Ariri kick) |
| NYJ | 1:11-2Q | Dennison 5 pass from O'Brien (Leahy kick) |
| TB | 8:45-3Q | Ariri FG35 |
| TB | 14:55-4Q | J.Bell 13 pass from DeBerg (Ariri kick) |
| TB | 12:15-4Q | Carroll 4 pass from DeBerg (Ariri kick) |
| NYJ | 3:22-4Q | Paige 3 pass from O'Brien (Leahy kick) |
| TB | 1:21-4Q | Wilder 4 run (Ariri kick) |
| NYJ | 0:54-4Q | Hector 2 run (Leahy kick) |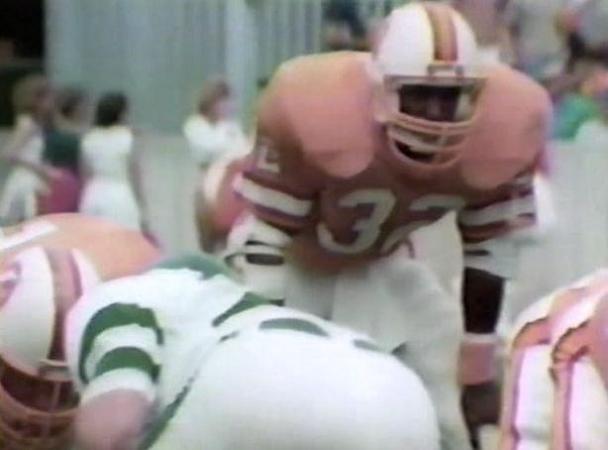 INDIVIDUAL STATISTICS
RUSHING
BUCS: Wilder 31-103, DeBerg 1-13.
JETS: Hector 10-45, Minter 10-44, O'Brien 3-2.
PASSING
BUCS: DeBerg 34-26-280-0-3.
JETS: O'Brien 34-19-201-2-2.
RECEIVING
BUCS: Wilder 9-60, House 6-70, Carter 4-57, J.Bell 3-47, Carroll 2-21, Armstrong 1-18, T.Bell 1-7.
JETS: Hector 6-41, Jones 4-43, Shuler 3-70, Walker 2-26, Paige 2-13, Dennison 1-5, Minter 1-3.
INTERCEPTIONS
BUCS: Castille 1-30, Cotney 1-24.
JETS: none.
KICK RETURNS
BUCS: Bright 1-17.
JETS: Minter 5-107, Humphrey 1-22, Davidson 1-9.
PUNT RETURNS
BUCS: Bright 1-21, Z.Thomas 1-7
JETS: Minter 1-8.
SACKS
BUCS: Selmon 2-17, Cannon 2-13, Green 2-10.
JETS: Gastineau 2-21, Bennett 1-10, Faurot 1-10, Carter 1-9.

GAME REPORTS AND COMMENTS
Click here for the gamebook and the play-by-play
Click here for Jim Selman's game report
Click here for Tom McEwen's morning-after column
A crazy finish as John McKay ordered his team to let the Jets score so they could get the ball back for James Wilder to try and break the NFL's record for combined rushing/receiving in a season. Lost amidst the chaos, was the Bucs' highest-ever points total (41) and Steve DeBerg throwing three TDs in a game for the first time in his Buc career.

Sadly also, it was the last-ever game LeeRoy Selmon would play for the Buccaneers but no-one realised it at the time. The Jets would get their revenge the following season in the Meadowlands however.
OFFENSE
DEFENSE
LT
79 Kaplan
LDE
78 Cannon
LG
72 Courson
NT
76 Logan
C
60 Grimes
RDE
63 Selmon
RG
62 Farrell
LOLB
57 Browner
RT
73 Heller
LILB
58 Davis
WR
89 House
RILB
52 Brantley
WR
87 Carter
ROLB
53 Green
TE
82 J Bell
LCB
23 Castille
TE
86 Carroll
SS
33 Cotney
RB
32 Wilder
FS
43 Reece
QB
17 DeBerg
RCB
27 Acorn
SUBSTITUTIONS
2 Ariri, 5 Garcia, 20 Morton, 24 Harvey, 29 Bright, 31 Curry, 38 Peoples, 46 Armstrong, 50 Wilson, 51 Washington, 54 Wood, 55 Spradlin, 59 Thompson, 70 Thomas, 71 Braggs, 74 Sanders, 77 Bujnoch, 81 Dixon, 83 T Bell, 84 Thomas, 85 Witte
DID NOT PLAY
14 Thompson, 21 Holt, 25 Dierking, 41 Thomas, 67 Morgan, 88 Giles
INACTIVE