Tampa Bay Buccaneers 23 San Diego Chargers 24
Sunday 13 December 1981 at Tampa Stadium
| | | |
| --- | --- | --- |
| | | |
| SD | 9:03-1Q | Sievers 27 pass from Fouts (Bernirschke kick) |
| TB | 7:03-1Q | T.Bell 58 pass from Williams (Capece kick) |
| SD | 7:32-2Q | Cappelletti 8 run (Bernirschke kick) |
| TB | 10:17-3Q | Capece FG49 |
| SD | 11:52-4Q | Brooks 1 run (Bernirschke kick) |
| TB | 8:33-4Q | Wilder 8 run (kick failed) |
| TB | 8:06-4Q | Wilder 23 run (Capece kick) |
| SD | 0:25-4Q | Bernirschke FG29 |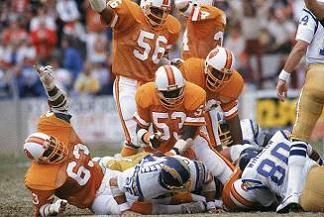 INDIVIDUAL STATISTICS
RUSHING
BUCS: Owens 11-61, Wilder 4-34, Williams 1-17, Eckwood 1-2, R.Bell 2-0.
CHARGERS: Brooks 17-50, Cappelletti 9-32, Muncie 3-17, Fouts 1-3, Chandler 1-(-8).
PASSING
BUCS: Williams 35-22-321-2-1, House 1-0-0-0-0.
CHARGERS: Fouts 49-33-351-2-1, Winslow 1-0-0-0-0, Chandler 1-0-0-0-0.
RECEIVING
BUCS: Wilder 6-78, Giles 4-38, Owens 4-36, T.Bell 3-96, House 3-61, Eckwood 2-12.
CHARGERS: Chandler 8-112, Winslow 8-55, Joiner 7-99, Brooks 7-31, Sievers 1-27, Scales 1-22, Cappelletti 1-5.
INTERCEPTIONS
BUCS: Lewis 1-10, Brown 1-0.
CHARGERS: Edwards 1-39, Lowe 1-0.
KICK RETURNS
BUCS: Owens 2-52, Wilder 1-19, T.Davis 1-13.
OPPONENTS: Brooks 4-99, Bauer 1-14.
PUNT RETURNS
BUCS: Colzie 1-0.
OPPONENTS: Brooks 2-29.
SACKS
BUCS: none.
OPPONENTS: Woodcock 2-20, Kelcher 1-11.

GAME REPORTS AND COMMENTS
Click here for the gamebook and the play-by-play
Click here for a game report
Click here for locker room quotes and interviews
The Bucs could have clinched the NFC Central with a win, but Rolf Bernischke's fieldgoal with 45 seconds remaining kept the champagne on ice for another week. San Diego's winning drive was a 16-play effort in which Dan Fouts completed a key fourth down pass to Charlie Joiner. James Wilder had two scores, but a fumbled snap on the second extra point prevented the game going to overtime. Theo Bell had his best receiving day as a Buccaneer in this game.
OFFENSE
DEFENSE
LT
74 Sanders
LDE
65 Stalls
LG
72 Snell
NT
76 Logan
C
50 Wilson
RDE
63 Selmon
RG
61 Roberts
LOLB
59 Hawkins
RT
73 Hannah
LILB
56 Johnson
WR
89 House
RILB
54 Wood
WR
83 Bell
ROLB
53 Green
TE
88 Giles
LCB
41 Thomas
FB
32 Wilder
SS
20 Colzie
RB
42 R Bell
FS
34 Brown
QB
12 Williams
RCB
40 Washington
SUBSTITUTIONS
3 Capece, 9 Swider, 21 Holt, 24 Delaney, 26 Owens, 27 T Davis, 43 Eckwood, 44 Cesare, 51 Nafziger, 52 Brantley, 57 Lewis, 62 Leonard, 64 Short, 68 Yarno, 70 Hutchinson, 75 Reavis, 79 Campbell, 86 Obradovich, 87 Carter, 90 White
DID NOT PLAY
10 Ford, 14 Fusina, 84 Jones
INACTIVE