Tampa Bay Buccaneers 3 Kansas City Chiefs 0
Sunday 16 December 1979 at Tampa Stadium
| | | |
| --- | --- | --- |
| | | |
| TB | 7:10-4Q | O'Donoghue FG19 |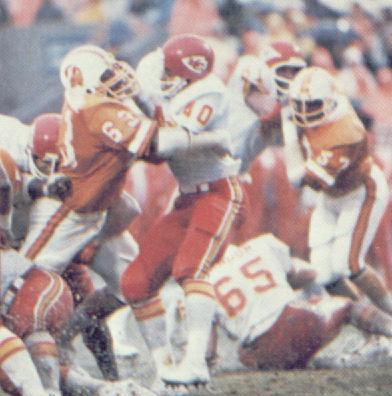 INDIVIDUAL STATISTICS
RUSHING
BUCS: Bell 39-137, Eckwood 13-65, Williams 7-25, Davis 1-2, Blanchard 1-0, Ragsdale 1-(-5)..
CHIEFS: Gant 6-25, Williams 5-15, McKnight 9-12, Fuller 2-6.
PASSING
BUCS: Williams 13-5-51-2-0.
CHIEFS: Fuller 13-7-46-1-0.
RECEIVING
BUCS: Giles 3-25, Eckwood 2-26 .
CHIEFS: Gant 3-24, Samuels 2-13, McKnight 1-5, Marshall 1-4.
INTERCEPTIONS
BUCS: Wood 1-13.
CHIEFS: Collier 1-40, Christopher 1-0.
KICK RETURNS
BUCS: Reece 1-13.
OPPONENTS: Dirden 1-28.
PUNT RETURNS
BUCS: Reece 6-41.
OPPONENTS: Smith 2-15.
SACKS
BUCS: Cotney 1-11, Crowder 1-7, L.Selmon 1-6.
OPPONENTS: Still 1-6.

GAME REPORTS AND COMMENTS
Click here for the gamebook and the play-by-play
Click here for Jim Selman's game report
Click here for Tom McEwen's morning-after column
The game that clinched that first precious division title and playoff berth. It poured with rain all day, passing was nigh impossible, but the Buc defense was up to the task. They held the Chiefs to a record-low 80 yards of total offense and just four first downs.
OFFENSE
DEFENSE
LT
75 Reavis
LDE
60 Chambers
LG
64 Horton
NT
71 Crowder
C
50 Wilson
RDE
63 Selmon
RG
61 Roberts
LOLB
57 Lewis
RT
70 Carlton
LILB
58 Selmon
WR
81 Hagins
RILB
54 Wood
WR
85 Owens
ROLB
56 Johnson
TE
88 Giles
LCB
45 White
FB
38 J Davis
SS
33 Cotney
RB
42 Bell
FS
34 Brown
QB
12 Williams
RCB
46 Reece
SUBSTITUTIONS
6 O'Donoghue, 16 Blanchard, 23 Ragsdale, 25 Jordan, 27 T Davis, 36 Berns, 43 Eckwood, 44 Cesare, 51 Nafziger, 53 Bonness, 55 Brown, 66 Yarno, 69 Austin, 74 Sanders, 76 Logan, 77 Kollar, 79 Lewis, 84 Jones, 86 Obradovich, 87 Mucker
DID NOT PLAY
14 Fusina, 15 Rae, 40 Washington
INACTIVE