Tampa Bay Buccaneers 22 Minnesota Vikings 23
Sunday 25 November 1979 at Tampa Stadium
| | | |
| --- | --- | --- |
| | | |
| TB | 9:39-1Q | Bell 2 run (kick blocked) |
| TB | 13:23-2Q | O'Donoghue FG20 |
| MIN | 1:48-2Q | LeCount 26 pass from Kramer (Danmeier kick) |
| MIN | 0:20-2Q | Rashad 32 pass from Kramer (Danmeier kick) |
| MIN | 13:45-3Q | Danmeier FG44 |
| TB | 9:03-3Q | Davis 16 run (O'Donoghue kick) |
| MIN | 3:12-3Q | Young 3 pass from Kramer (kick failed) |
| TB | 0:19-4Q | Williams 13 run (kick blocked) |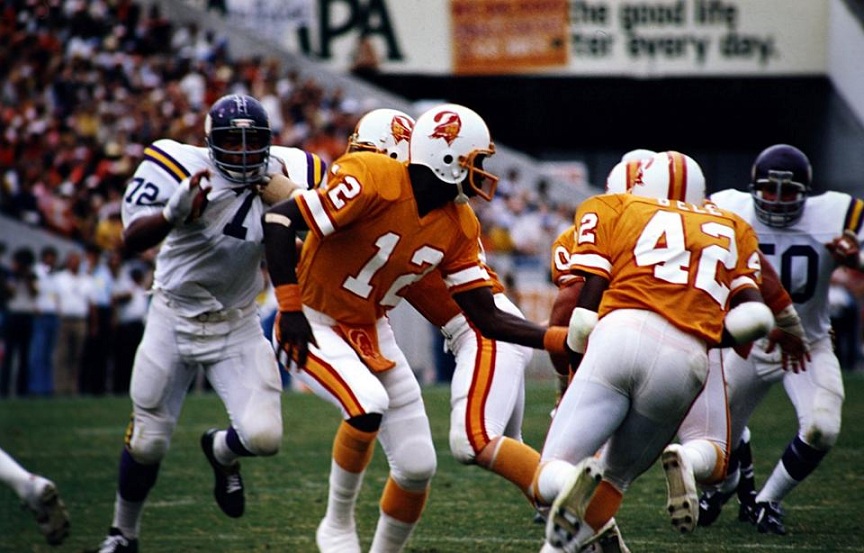 INDIVIDUAL STATISTICS
RUSHING
BUCS: Bell 28-101, J.Davis 8-43, Williams 6-39.
VIKINGS: Brown 12-52, Young 10-45, White 1-6, McClanahan 1-4, Miller 2-2, Kramer 3-(-1).
PASSING
BUCS: Williams 38-19-242-0-0.
VIKINGS: Kramer 26-15-158-0-3.
RECEIVING
BUCS: Owens 4-66, Bell 4-43, Mucker 3-48, Hagins 3-37, Giles 1-28, Obradovich 2-24, J.Davis 1-3, Eckwood 1-(-7).
VIKINGS: Rashad 6-93, Brown 4-13, Tucker 2-17, Young 2-9, LeCount 1-26.
INTERCEPTIONS
BUCS: none.
VIKINGS: none.
KICK RETURNS
BUCS: Ragsdale 5-113.
OPPONENTS: Edwards 3-132.
PUNT RETURNS
BUCS: Reece 2-2.
OPPONENTS: Edwards 3-8.
SACKS
BUCS: none.
OPPONENTS: none.

GAME REPORTS AND COMMENTS
Click here for the gamebook and the play-by-play
Click here for Jim Selman's report on the game
Click here for Tom McEwen's morning-after column
Click here for then Florida-Governor Bob Graham's special article
With a chance to clinch a playoff berth, the old Bucs returned to haunt the 1979 version as they managed to miss three short kicks including two extra points, and a punt, in losing by a single point to division rival Minnesota.

The Bucs gained 425 yards in offense, their most ever, and Ricky Bell went over the 1,000-yard rushing mark but it was all to no avail.

OFFENSE
DEFENSE
LT
75 Reavis
LDE
60 Chambers
LG
64 Horton
NT
71 Crowder
C
50 Wilson
RDE
63 Selmon
RG
61 Roberts
LOLB
57 Lewis
RT
73 Hannah
LILB
58 Selmon
WR
81 Hagins
RILB
54 Wood
WR
85 Owens
ROLB
56 Johnson
TE
88 Giles
LCB
45 White
TE
86 Obradovich
SS
33 Cotney
RB
42 Bell
FS
34 Brown
QB
12 Williams
RCB
40 Washington
SUBSTITUTIONS
6 O'Donoghue, 16 Blanchard, 23 Ragsdale, 25 Jordan, 27 T Davis, 36 Berns, 38 J Davis, 43 Eckwood, 44 Cesare, 46 Reece, 51 Nafziger, 53 Bonness, 66 Yarno, 69 Austin, 70 Carlton, 74 Sanders, 76 Logan, 77 Kollar, 79 Lewis, 84 Jones, 87 Mucker
DID NOT PLAY
14 Fusina, 15 Rae
INACTIVE