Tampa Bay Buccaneers 14 New York Giants 17
Sunday 15 October 1978 at the Meadowlands
| | | |
| --- | --- | --- |
| | | |
| NYG | 3:07-1Q | Danelo FG22 |
| TB | 11:00-2Q | Davis 3 run (O'Donoghue kick) |
| TB | 3:16-2Q | DuBose 1 run (O'Donoghue kick) |
| NYG | 10:14-4Q | Csonka 7 run (Danelo kick) |
| NYG | 7:26-4Q | Csonka 17 run (Danelo kick) |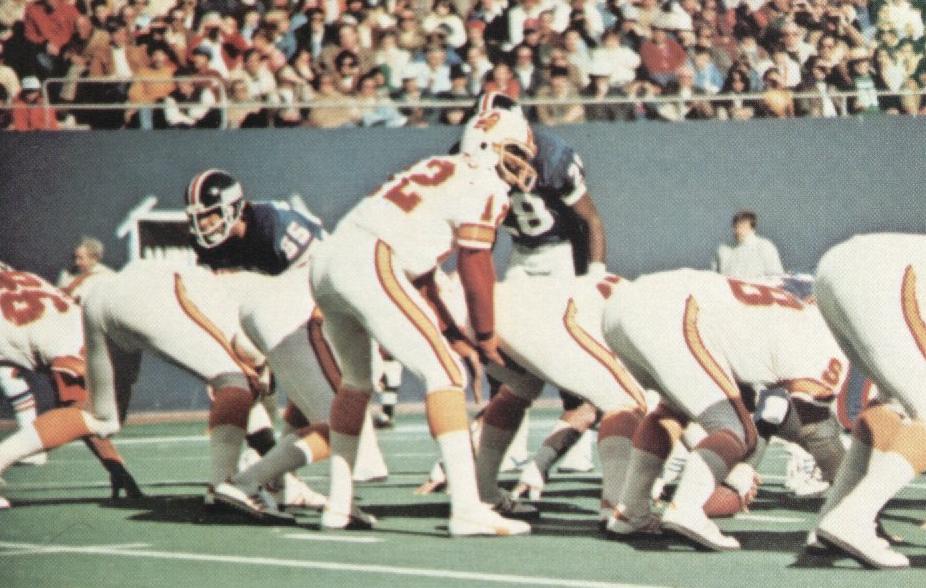 INDIVIDUAL STATISTICS
RUSHING
BUCS: DuBose 24-109, J.Davis 6-34, Bell 9-20, Williams 2-4, Carter 1-(-3).
GIANTS: Hammond 15-63, Csonka 13-56, Taylor 9-52, Pisarcik 1-4, Kotar 2-(-2), Golsteyn 1-(-3).
PASSING
BUCS: Williams 27-7-100-2-0.
GIANTS: Pisarcik 13-4-45-2-0, Golsteyn 2-2-18-0-0.
RECEIVING
BUCS: Obradovich 3-45, Owens 2-39, Mucker 1-9, Davis 1-7.
GIANTS: Thompson 2-32, Hammond 2-13, Taylor 1-18, Kotar 1-0.
INTERCEPTIONS
BUCS: Johnson 1-4, White 1-0.
GIANTS: Carson 1-30, Kelley 1-20.
KICK RETURNS
BUCS: Reece 3-57.
OPPONENTS: Hammond 2-41.
PUNT RETURNS
BUCS: Reece 2-8.
OPPONENTS: Hammond 1-(-2), Robinson 0-0.
SACKS
BUCS: L.Selmon 2-15.
OPPONENTS: Van Pelt 1-2.

GAME REPORTS AND COMMENTS
Click here for the gamebook and the play-by-play
The Bucs took a 14-3 lead into the fourth quarter but an interception and a fumble set up a pair of Larry Csonka touchdown runs to send Tampa home defeated.

The Bucs had a chance to tie the game in the final seconds but Neil O'Donoghue's 42-yard fieldgoal into a strong wind was wide. Jimmy DuBose had a 100-yard rushing game but suffered a knee injury that would keep him out for the rest of the season.
OFFENSE
DEFENSE
LT
75 Reavis
LDE
73 Hannah
LG
68 Medlin
DT
76 Pear
C
79 Wilson
RDE
63 L Selmon
RG
64 Horton
LOLB
57 Lewis
RT
74 Freitas
LILB
61 D Selmon
TE
86 Obradovich
RILB
54 Wood
WR
87 Mucker
ROLB
56 Johnson
WR
85 Owens
LCB
45 White
FB
35 DuBose
SS
33 Cotney
RB
32 L Carter
FS
34 Brown
QB
12 Williams
RCB
40 Washington
SUBSTITUTIONS
4 Green, 6 O'Donoghue, 23 Ragsdale, 25 Jordan, 38 Davis, 42 Bell, 44 Cesare, 46 Reece, 51 Nafziger, 53 Bonness, 55 Brown, 60 Chambers, 65 Johnson, 70 Carlton, 71 Crowder, 72 Puetz, 77 Kollar, 83 Grant, 88 Giles
DID NOT PLAY
15 Rae, 19 Huff, 67 Moritz, 82 Darby, 89 McKay
INACTIVE