Tampa Bay Buccaneers 0 New York Giants 10
Sunday 13 November 1977 at Tampa Stadium
| | | |
| --- | --- | --- |
| | | |
| NYG | 7:53-1Q | Hammond 2 run (Danelo kick) |
| NYG | 0:38-2Q | Danelo FG43 |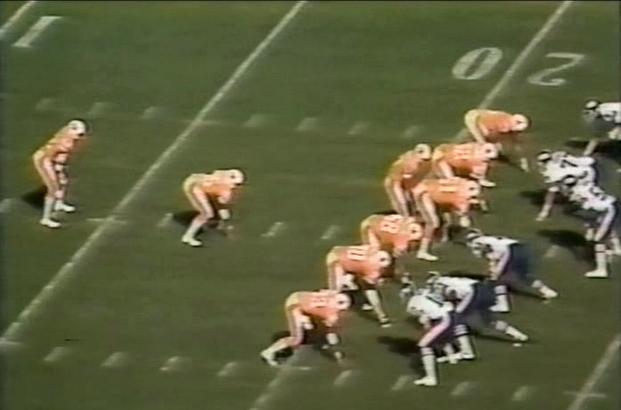 INDIVIDUAL STATISTICS
RUSHING
BUCS: Bell 16-42, Davis 9-27, Blount 3-17, Williams 8-13, DuBose 2-6, Green 1-0.
GIANTS: Hammond 20-55, Kotar 9-35, Csonka 6-16, Watkins 5-21, Pisarcik 1-0, Golsteyn 3-(-4).
PASSING
BUCS: Blount 26-13-234-3-0.
GIANTS: Pisarcik 12-6-88-1-0.
RECEIVING
BUCS: Owens 5-113, Hagins 3-76, Nafziger 2-19, Bell 2-15, Carter 1-11.
GIANTS: Shirk 4-61, Robinson 1-18, Perkins 1-9.
INTERCEPTIONS
BUCS: Lewis 1-13.
GIANTS: Mallory 1-9, Powers 1-1, Van Pelt 1-0.
KICK RETURNS
BUCS: Hagins 2-53, A.Davis 1-22.
OPPONENTS: Hammond 1-20.
PUNT RETURNS
BUCS: Reece 4-57.
OPPONENTS: Hammond 1-6, Reece 1-(-5).
SACKS
BUCS: Pear 1-8, Lewis 1-6.
OPPONENTS: Mendenhall 1-18, Van Pelt 1-13, Gregory 1-11, Archer 1-5, Martin 1-5.

GAME REPORTS AND COMMENTS
Click here for the gamebook and the play-by-play
Of all the losses in 1977, this was was just ridiculous. The Bucs outgained a team for once, controlled the ball and played good defense. Yet still lost thanks to five turnovers. The game's only TD came when Buccaneers center Dan Ryczek snapped the ball over the head of punter Dave Green. Instead of running into the end zone for a safety, Green was tackled on the 1 yard line.

The Bucs were inside the Giants' 12 yard line six times, but failed to score. John McKay called Tampa Bay's inability to score in the 10-0 loss "ridiculous." The Giants had been seven point favourites against the spread going into the game. Future Buc QB Jerry Golsteyn saw some late action for the Gotham crew in this one.
OFFENSE
DEFENSE
LT
75 Reavis
LDE
78 Rudolph
LG
62 Winans
DT
76 Pear
C
51 Ryczek
RDE
63 L Selmon
RG
68 Medlin
LOLB
57 Lewis
RT
70 Carlton
LILB
61 D Selmon
TE
83 Nafziger
RILB
54 Wood
WR
85 Owens
ROLB
56 C Johnson
WR
81 Hagins
LCB
45 White
FB
35 DuBose
SS
33 Cotney
RB
42 Bell
FS
34 Brown
QB
17 Blount
RCB
40 Washington
SUBSTITUTIONS
4 Green, 9 Leavitt, 23 Ragsdale, 25 Jordan, 28 Davis, 32 L Carter, 43 Williams, 46 Reece, 52 Harris, 53 Bonness, 59 Lemon, 64 Robinson, 65 R Johnson, 66 B Carter, 73 Hannah, 77 Kollar, 79 Wilson, 80 Novak, 87 Mucker, 89 McKay
DID NOT PLAY
14 Hedberg
INACTIVE
19 Huff, 82 Waddell