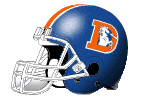 Tampa Bay Buccaneers 13 Denver Broncos 48
Sunday 7 November 1976 at Mile High Stadium
| | | |
| --- | --- | --- |
| | | |
| DEN | 10:05-1Q | Turner FG19 |
| DEN | 2:29-1Q | Armstrong 36 pass from Ramsey (Turner kick) |
| TB | 12:58-2Q | Carter 3 run (Green kick) |
| TB | 6:51-2Q | Green FG45 |
| TB | 4:07-3Q | Green FG35 |
| DEN | 3:07-3Q | Moses 71 pass from Ramsey (Turner kick) |
| DEN | 2:11-3Q | Gradishar 31 interception return (Turner kick) |
| DEN | 12:44-4Q | Turner FG33 |
| DEN | 11:03-4Q | Perrin 9 run (Turner kick) |
| DEN | 10:04-4Q | Rowser 32 interception return (Turner kick) |
| DEN | 9:34-4Q | Poltl 21 fumble return (Turner kick) |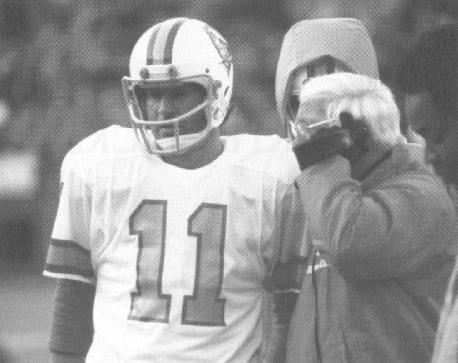 INDIVIDUAL STATISTICS
RUSHING
BUCS: Carter 16-39, Johnson 5-22, Williams 5-20, Spurrier 3-19, Dickinson 3-15, McNeill 1-(-3).
BRONCOS: Armstrong 18-116, Kiick 6-18, Keyworth 7-17, Perrin 3-14, Ramsey 3-10, Odoms 1-9, Weese 1-8.
PASSING
BUCS: Spurrier 32-16-131-1-0, Dickinson 5-0-0-1-0.
BRONCOS: Ramsey 18-9-200-2-2, Weese 3-1-28-0-0.
RECEIVING
BUCS: BMoore 5-43, Owens 3-41, Williams 3-12, McKay 2-26, Carter 1-4, McNeill 1-3, DuBose 1-2.
BRONCOS: Armstrong 3-64, Odoms 3-60, Moses 2-88, Keyworth 2-16.
INTERCEPTIONS
BUCS: CPeterson 1-15, Jordan 1-10.
BRONCOS: Gradishar 1-31, Rowser 1-32.
KICK RETURNS
BUCS: McNeil 2-67, Douglas 2-37, Johnson 1-20.
OPPONENTS: Perrin 3-101, Franckowiak 1-14.
PUNT RETURNS
BUCS: Reece 1-4.
OPPONENTS: Upchurch 4-74, Schultz 0-0.
SACKS
BUCS: D.Selmon 1-6.
OPPONENTS: Hammond 1-2, Smith 1-7.

GAME REPORTS AND COMMENTS
Click here for the gamebook and the play-by-play
The Broncos, 11 point favourites against the spread, tallied 38 points in the second half to bounce back from an uninspiring first half which saw the score tied at 10-10 at the interval.

Two scores in a minute, Steve Ramsey's 71-yard scoring strike to Haven Moses and Randy Gradishar's interception return of a Steve Spurrier pass, put the Denver victory in motion, although the Bucs' best chance in the second half, a Calvin Peterson interception, went to naught when the linebacker's knee gave way whilst returning Ramsey's pass down the left sideline.

John McKay's take on the game:" I think they wanted to show me that I'm really a college coach."
OFFENSE
DEFENSE
LT
71 Young
LDE
78 Rudolph
LG
72 Fest
DT
76 Pear
C
51 Ryczek
DT
63 LSelmon
RG
79 Wilson
RDE
66 Toomay
RT
74 Current
LLB
30 Gunn
TE
86 Moore
MLB
56 Cooper
WR
85 Owens
RLB
54 Wood
WR
89 McKay
LCB
40 Washington
FB
43 Williams
SS
25 Jordan
RB
32 Carter
FS
28 Stone
QB
11 Spurrier
RCB
46 Reese
SUBSTITUTIONS
4 Green, 18 Dickinson, 19 Johnson, 22 McNeill, 26 Davis, 27 Davis, 33 Cotney, 35 DuBose, 44 Moore, 52 Reese, 53 Ball, 55 Hunt, 58 CPeterson, 61 DSelmon, 64 Robinson, 67 Alward, 70 Young, 77 Little, 80 Novak, 82 Pagac, 84 Douglas, 88 Smith
DID NOT PLAY
5 Hanratty
INACTIVE