Tampa Bay Buccaneers 19 Kansas City Chiefs 28
Sunday 31 October 1976 at Tampa Stadium
| | | |
| --- | --- | --- |
| | | |
| KC | 9:13-1Q | Stenerud FG42 |
| KC | 12:11-2Q | Stenerud FG32 |
| KC | 13:22-3Q | Masters 2 pass from Livingston (Stenerud kick) |
| KC | 8:11-3Q | White 2 pass from Livingston (Stenerud kick) |
| TB | 10:55-4Q | McKay 8 pass from Spurrier (kick failed) |
| KC | 8:06-4Q | Lane 2 run (kick failed) |
| TB | 5:14-4Q | Johnson 1 run (kick failed) |
| TB | 2:16-4Q | Novak 30 pass from Spurrier (Green kick) |
| KC | 0:43-4Q | Safety - Current recovered fumble in endzone |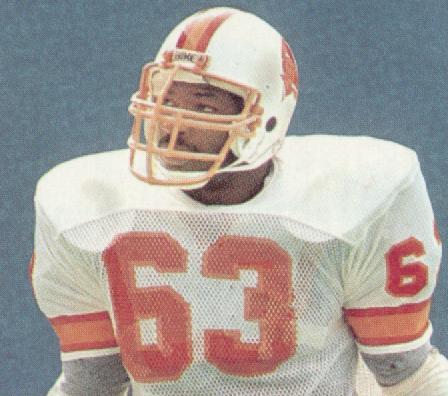 INDIVIDUAL STATISTICS
RUSHING
BUCS: DuBose 4-12, McNeill 2-8, Carter 10-6, E.Johnson 4-4, Owens 1-(-16).
CHIEFS: Reamon 18-60, Lane 14-52, Marshall 1-11, Harrison 2-7, Podolak 3-6, McNeil 1-1, Livingston 4-(-1).
PASSING
BUCS: Spurrier 36-20-212-0-2.
CHIEFS: Livingston 30-17-183-2-2.
RECEIVING
BUCS: Johnson 8-85, McNeill 3-7, McKay 2-46, Carter 2-24, Novak 1-30, Owens 1-11, Ryczek 1-6, Pagac 1-5, DuBose 1-(-2).
CHIEFS: Lane 4-47, Reamon 4-33, White 3-42, Masters 3-32, Brunson 1-14, Harrison 1-12, Podolak 1-3.
INTERCEPTIONS
BUCS: Cotney 1-25, Jordan 1-0.
CHIEFS: none.
KICK RETURNS
BUCS: Johnson 2-52, McNeil 1-33, Carter 1-11.
OPPONENTS: Harrison 2-56, Williams 1-19, Adams 1-0.
PUNT RETURNS
BUCS: Reece 2-3.
OPPONENTS: Brunson 1-48.
SACKS
BUCS: none.
OPPONENTS: Lohmeyer 2-19, Estes 1-4, Team 1-7.

GAME REPORTS AND COMMENTS
Click here for the gamebook and the play-by-play
The Chiefs threatened to blow the Bucs off the field in the third quarter but were unable to deliver the death blow and almost found themselves run out of Tampa Stadium. Mike Livingston passed for two third-period touchdowns to go with a pair of first-half fieldgoals by Jan Stenerud to give Kansas City, six point favourites, a commanding 20-0 lead entering the fourth quarter.

But veteran Steve Spurrier, held to only 34 yards passing at that point, passed for two scores and set up a third as the winless Bucs tried to pull the game out. But the worst-ranked Chief defense stiffened and forced a safety in the closing minutes when tackle Mike Current fell on a Spurrier fumble in his own endzone. John McKay's take on the game:" It is the turning point. For the bad. And that's the best thing I can say."
OFFENSE
DEFENSE
LT
71 Young
LDE
78 Rudolph
LG
72 Fest
DT
76 Pear
C
51 Ryczek
DT
63 LSelmon
RG
79 Wilson
RDE
66 Toomay
RT
74 Current
LLB
30 Gunn
TE
82 Pagac
MLB
52 Reese
WR
85 Owens
RLB
54 Wood
WR
89 McKay
LCB
25 Jordan
FB
35 DuBose
SS
33 Cotney
RB
32 Carter
FS
28 Stone
QB
11 Spurrier
RCB
46 Reese
SUBSTITUTIONS
4 Green, 19 Johnson, 22 McNeill, 27 Davis, 53 Ball, 55 Hunt, 56 Cooper, 61 DSelmon, 64 Robinson, 67 Alward, 70 Young, 77 Little, 80 Novak, 84 Douglas, 88 Smith
DID NOT PLAY
5 Hanratty, 18 Dickinson, 40 Washington, 43 Williams, 58 CPeterson, 86 Moore
INACTIVE
26 Davis, 44 Moore