Tampa Bay Buccaneers 9 Buffalo Bills 14
Sunday 26 September 1976 at Tampa Stadium
| | | |
| --- | --- | --- |
| | | |
| TB | 7:46-1Q | Green FG39 |
| TB | 1:01-2Q | Green FG24 |
| BUF | 13:16-2Q | Chandler 59 pass from Ferguson (Ricardo kick) |
| TB | 12:18-4Q | Green FG19 |
| BUF | 9:15-4Q | Gant 15 pass from Ferguson (Ricardo kick) |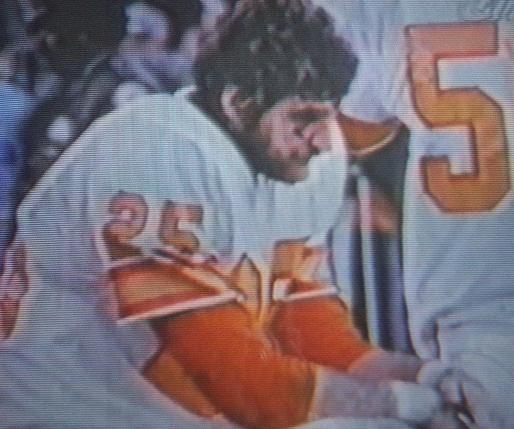 INDIVIDUAL STATISTICS
RUSHING
BUCS: Carter 12-72, Williams 12-50, C.Davis 10-31, Johnson 3-14, DuBose 1-1, M.Moore 1-1, B.Moore 1-1.
BILLS: Kinney 12-62, Simpson 20-39, Powell 2-8, Ferguson 1-0.
PASSING
BUCS: Spurrier 27-13-170-1-0, Carter 1-0-0-0-0.
BILLS: Ferguson 22-12-188-0-2.
RECEIVING
BUCS: B.Moore 4-65, C.Davis 3-32, Owens 1-15, McKay 1-14, Williams 1-14, B.Smith 1-13, Green 1-9, Carter 1-8.
BILLS: Chandler 5-110, Gant 3-50, Simpson 2-19, Holland 1-9, Kinney 1-0.
INTERCEPTIONS
BUCS: none.
BILLS: Greene 1-18.
KICK RETURNS
BUCS: Carter 1-17, C.Davis 1-11, DuBose 1-6.
OPPONENTS: Word 2-36, Moody 1-24, Hooks 1-14.
PUNT RETURNS
BUCS: M.Moore 4-37, Reece 2-29.
OPPONENTS: Hooks 1-0, Moody 1-0, Word 1-(-8).
SACKS
BUCS: Pear 1-2.
OPPONENTS: Smith 1-2.

GAME REPORTS AND COMMENTS
Click here for the gamebook and the play-by-play
The expansion Bucs still had to score a touchdown but thanks to Dave Green, they finally came up with some points after two shutout defeats and their defense came close to embarrassing the Bills who had been 10.5 point favourites going into the game. Green kicked three fieldgoals and his punting kept Buffalo in poor field position for much of the game.

OJ Simpson was held to only 39 yards but Joe Ferguson solved the Tampa defense just enough to get the job done, hitting Bob Chandler with a 58-yard TD pass and Reuben Gant for a 15-yard score.

John McKay's take on the game:" We could have and should have won."
OFFENSE
DEFENSE
LT
71 Young
LDE
78 Rudolph
LG
72 Fest
DT
76 Pear
C
73 Ward
DT
63 LSelmon
RG
67 Alward
RDE
66 Toomay
RT
74 Current
LLB
58 CPeterson
TE
82 Pagac
MLB
56 Cooper
WR
83 McGriff
RLB
57 JPeterson
WR
89 McKay
LCB
40 Washington
FB
43 Williams
SS
33 Cotney
RB
26 Davis
FS
28 Stone
QB
11 Spurrier
RCB
46 Reese
SUBSTITUTIONS
4 Green, 19 Johnson, 25 Jordan, 30 Gunn, 32 Carter, 35 DuBose, 42 Oliver, 44 Moore, 51 Ryczek, 53 Ball, 54 Wood, 61 DSelmon, 64 Robinson, 80 Novak, 85 Owens, 86 Moore, 88 Smith
DID NOT PLAY
13 Lawrence, 18 Dickinson, 77 Little, 79 Wilson
INACTIVE
22 McNeill, 27 Davis, 52 Reese