Tampa Bay Buccaneers 14 New England Patriots 31
Sunday 12 December 1976 at Tampa Stadium
| | | |
| --- | --- | --- |
| | | |
| TB | 13:37-2Q | Williams 17 run (Green kick) |
| NE | 13:17-2Q | Johnson 69 run (Smith kick) |
| TB | 2:52-2Q | Owens 27 pass from Spurrier (Green kick) |
| NE | 4:59-3Q | Johnson 9 run (Smith kick) |
| NE | 6:15-4Q | Hunt 68 interception return (Smith kick) |
| NE | 2:41-4Q | Smith FG30 |
| NE | 0:04-4Q | Grogan 1 run (Zabel kick) |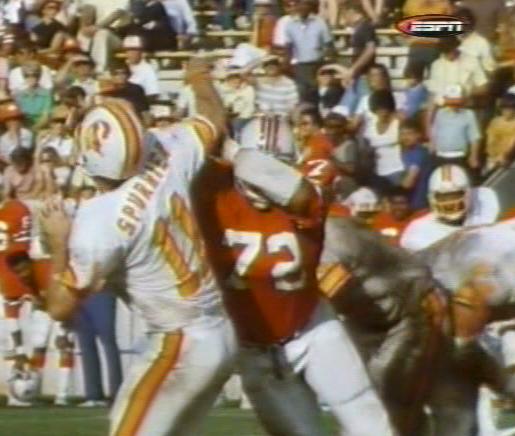 INDIVIDUAL STATISTICS
RUSHING
BUCS: Williams 15-58, Carter 14-32, McNeill 6-19, Spurrier 4-13, Johnson 4-5, DuBose 1-4, Pagac 1-4.
PATRIOTS: Johnson 14-127, Calhoun 12-68, Cunningham 6-39, Phillips 3-22, Grogan 3-2, Burks 1-2.
PASSING
BUCS: Spurrier 17-12-145-1-1, Carter 1-0-0-0-0.
PATRIOTS: Grogan 14-4-40-1-0.
RECEIVING
BUCS: Williams 4-33, Novak 3-55, Johnson 2-9, Owens 1-27, Smith 1-16, DuBose 1-5.
PATRIOTS: Burks 1-17, Calhoun 1-12, Vataha 1-8, Cunningham 1-3.
INTERCEPTIONS
BUCS: Stone 1-26.
PATRIOTS: Hunt 1-68.
KICK RETURNS
BUCS: Douglas 3-85, Johnson 2-51.
OPPONENTS: Calhoun 2-31, Conn 1-26.
PUNT RETURNS
BUCS: Douglas 4-78.
OPPONENTS: Haynes 3-53.
SACKS
BUCS: none.
OPPONENTS: Tipton 1-12.

GAME REPORTS AND COMMENTS
Click here for the gamebook and the play-by-play
The Bucs were tied at 14-14 in the fourth quarter and were driving for the go-ahead score when Sam Hunt intercepted Steve Spurrier and returned it for a touchdown. British kicker and future Channel 4 TV presenter John Smith added a fieldgoal to extend the lead later in the final period.

The Buccaneer scoring came in the second period when Ed Williams bulled into the endzone from 17 yards out and Spurrier found receiver Morris Owens alone in the endzone from 27 yards out when a defensive back fell down.

John McKay's take on the game:" We are 0-14, I can't say much more than that. I'll probably take a little time off and go and hide somewhere."
OFFENSE
DEFENSE
LT
71 Young
LDE
78 Rudolph
LG
72 Fest
DT
65 Moore
C
51 Ryczek
DT
64 Robinson
RG
67 Alward
RDE
66 Toomay
RT
74 Current
LLB
54 Wood
TE
80 Novak
MLB
59 Lemon
WR
85 Owens
RLB
55 Sims
WR
89 McKay
LCB
25 Jordan
FB
43 Williams
SS
33 Cotney
RB
19 Johnson
FS
28 Stone
QB
11 Spurrier
RCB
24 Word
SUBSTITUTIONS
4 Green, 20 Pierson, 22 McNeill, 27 Davis, 30 Gunn, 32 Carter, 34 Brown, 35 DuBose, 52 Reese, 53 Ball, 69 McAleney, 70 Young, 79 Wilson, 82 Pagac, 84 Douglas, 86 Moore, 88 Smith
DID NOT PLAY
5 Hanratty, 77 Little
INACTIVE
21 Martin, 61 DSelmon, 76 Pear, 81 Jennings