Tampa Bay Buccaneers 0 Pittsburgh Steelers 42
Sunday 5 December 1976 at Three Rivers Stadium
| | | |
| --- | --- | --- |
| | | |
| PIT | 7:01-1Q | Bleier 7 run (Gerela kick) |
| PIT | 13:37-2Q | Bleier 1 run (Gerela kick) |
| PIT | 12:53-2Q | Kruczek 1 run (Gerela kick) |
| PIT | 6:05-2Q | Bleier 3 run (Gerela kick) |
| PIT | 9:42-3Q | Swann 35 pass from Bradshaw (Gerela kick) |
| PIT | 0:17-3Q | Swann 23 pass from Bradshaw (Gerela kick) |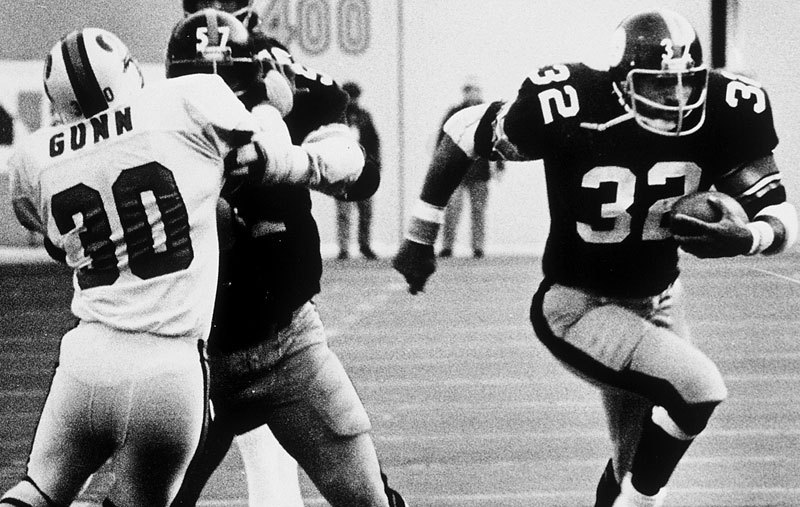 INDIVIDUAL STATISTICS
RUSHING
BUCS: DuBose 5-32, Carter 11-26, Williams 8-25, McNeill 2-14, Hanratty 1-1, Green 1-0, MMoore 2-(-4).
STEELERS: Bleier 29-118, Harris 14-55, Harrison 8-29, Lewis 1-8, Bradshaw 2-7, Fuqua 1-2, Pough 1-2, Kruczek 1-1, Deloplaine 1-0.
PASSING
BUCS: Hanratty 4-1-(-1)-1-0, Spurrier 10-4-58-1-0.
STEELERS: Kruczek 7-6-84-0-0, Bradshaw 8-6-79-0-2.
RECEIVING
BUCS: Novak 2-30, Owens 1-27, Williams 1-1, Carter 1-(-1).
STEELERS: Swann 5-92, Brown 2-29, Cunningham 2-15, Bleier 1-15, Lewis 1-9, Deloplaine 1-3.
INTERCEPTIONS
BUCS: none.
STEELERS: Blount 1-27, Shell 1-4.
KICK RETURNS
BUCS: McNeil 3-47, Douglas 2-45, M.Moore 1-23, Johnson 1-16.
OPPONENTS: Deloplaine 1-24.
PUNT RETURNS
BUCS: M.Moore 2-6.
OPPONENTS: Deloplaine 3-14, Bell 2-12.
SACKS
BUCS: none.
OPPONENTS: Greene 1.5-13.5, Furness 1.5-10.5, Lambert 1-15, Shell 0.5-3.5, Toews 0.5-3.5.

GAME REPORTS AND COMMENTS
Click here for the gamebook and the play-by-play
By this point in the season, teams were not even bothering to start their top players against the Bucs and this shutout defeat to the Steelers was no different. Ricky Bleier had a 100-yard game and Terry Bradshaw did not appear until the second half before throwing a pair of scores to Lynn Swann. Pittsburgh were favoured by an NFL record 26 points against the spread.

The Bucs were held to 105 yards in total offense and turned the ball over four times after allowing former Steeler QB Terry Hanratty to start in place of Steve Spurrier. John McKay's take on the game: "There were times that I felt like leaving the stadium and hitch-hiking home."
OFFENSE
DEFENSE
LT
71 Young
LDE
78 Rudolph
LG
72 Fest
DT
76 Pear
C
51 Ryczek
DT
64 Robinson
RG
67 Alward
RDE
66 Toomay
RT
74 Current
LLB
30 Gunn
TE
82 Pagac
MLB
52 Reese
WR
88 Smith
RLB
54 Wood
WR
84 Douglas
LCB
24 Word
FB
43 Williams
SS
33 Cotney
RB
32 Carter
FS
28 Stone
QB
5 Hanratty
RCB
25 Jordan
SUBSTITUTIONS
4 Green, 11 Spurrier, 19 Johnson, 20 Pierson, 21 Martin, 22 McNeill, 27 Davis, 35 DuBose, 44 Moore, 53 Ball, 55 Sims, 59 Lemon, 65 Moore, 69 McAleney, 70 Young, 77 Little, 79 Wilson, 80 Novak, 85 Owens, 89 McKay
DID NOT PLAY
86 Moore
INACTIVE
61 DSelmon, 81 Jennings