Bucs end as they began, with win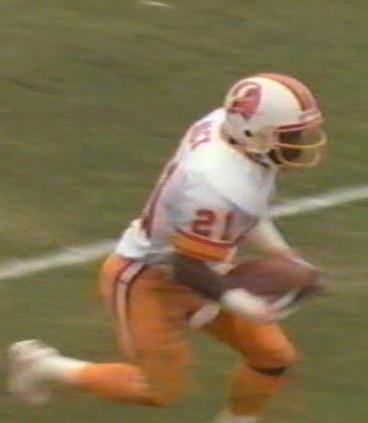 Rick Stroud, The St.Petersburg Times, published 28 December 1992

It was a game played on a slow, sandy field that you would expect to favor the fellas from Tampa Bay. Turf's up. And ain't life always a beach for the Bucs, anyway? It was somehow fitting that a team that never seemed on solid ground ended the season by beating the Phoenix Cardinals 7-3 Sunday on this field of screams that doubled as Sun Devil Stadium. The Bucs won it by overcoming terrible field conditions that forced six missed field goals - including all three attempts by Tampa Bay's Eddie Murray - and enabled their defense to force six turnovers.

They won despite giving the Cardinals two possessions in the final two minutes, which ended with interceptions by Garry Lewis and Milton Mack in the Bucs' end zone. The victory snapped a five-game losing streak for the Bucs (5-11), who will finish tied for third in the NFC Central if Detroit loses to San Francisco tonight. It also lowered Tampa Bay's position in the NFL draft to either sixth or seventh while earning them a tougher schedule next season. If Detroit loses tonight, the Bucs' schedule will include home games against San Francisco, Washington, Kansas City and the Raiders and road games against Denver, the Giants, Atlanta and San Diego.

But the Bucs appeared content just to end the season the way it began - by beating the Cardinals - and congratulated each other amid the mud and the blood and the cheer. "This was the worst playing surface I think I've ever played on as a player or a coach, ever," Sam Wyche said. "It looked like they laid sod on a beach. It was absolutely the worst playing conditions in the National Football League. This game doesn't look pretty because of the field conditions and partly because it was a defensive battle. At least you leave the season saying about yourself things about the last couple of outings. We're proud of the way we played (last week) in San Francisco, disappointed in the loss. Proud of the way we played here and happy about the victory."

The Bucs did their darnedest to give the game away. Discarded Bucs quarterback Chris Chandler twice tried to rally the Cardinals in the final two minutes after Tampa Bay failed to run out the clock or force Phoenix to use all its timeouts. Quarterback Vinny Testaverde, who was 24-of-41 in what may have been his last game in a Bucs uniform after six seasons, was intercepted on second down by cornerback Aeneas Williams with 2:22 left in the game. Chandler completed a pass to Larry Centers at midfield before his pass intended for Ernie Jones on the next play was intercepted in the end zone by Lewis.

Even after Lewis' interception, Testaverde and the Bucs failed to run out the clock and gave Phoenix another chance when Testaverde's third-down pass to Lawrence Dawsey sailed high. With no timeouts, Chandler completed three passes and Bucs tackle Mark Duckens was penalized for offsides to give the Cardinals a first down at Tampa Bay's 18 with 17 seconds left. But Chandler was whacked after throwing incomplete to Ricky Proehl. That brought Timm Rosenbach off the bench, and he threw a pass in the end zone that was intercepted by Mack to end the game. "We wanted to go out on a good note. We've been lacking in the turnover department, and we wanted to leave that impression here in Phoenix," Bucs defensive end Santana Dotson said.

Coincidentally, Rosenbach was knocked out of the season-opener on a sack by Dotson. The Bucs got their only points with 2:36 left in the first half. An 11-play, 69-yard drive was capped by a 23-yard pass from Testaverde to Mark Carrier that gave the Bucs a 7-3 lead. Testaverde was 7-of-10 on the drive.

Sun Devil Stadium had been used and abused by high school, college and pro teams in the same week leading to Sunday's mudbath. The Cardinals have complained about the new sod at the Arizona State University-owned stadium since two high school games were played in a downpour last month. Both Murray and Cardinals kicker Greg Davis were frustrated by the playing conditions. Davis fared a little better, hitting a 21-yard field goal in the first quarter before missing on attempts of 48, 43 and 33 yards. "It's like trying to hit a drive out of a sand trap," Davis said.

Murray missed all three of his tries, from 40, 33 and 36 yards. "My placement foot was going anywhere from 2 to 3 inches down below the surface," Murray said. "So now I'm kicking 6 inches behind the ball. It didn't make a difference how I tried to plant, I was still sinking. The turf just came up. You could breathe on it and it would come apart."

The Bucs' running game also found no breathing room. Running back Reggie Cobb was held to 11 yards on 11 carries and cursed the conditions. "It was like running on the beach," Cobb said, "with cleats on."

But the Bucs' defense kept coming up with turnovers despite yielding 353 total yards and 21 first downs. Safety Joe King accounted for three of them with two interceptions and a fumble recovery while making just his second start. "It might have been ugly, but we'll take it any way we can," Testaverde said. "There's been very few of them this year, so any win is a good win."