Bucs' finale a fitting end to lousy year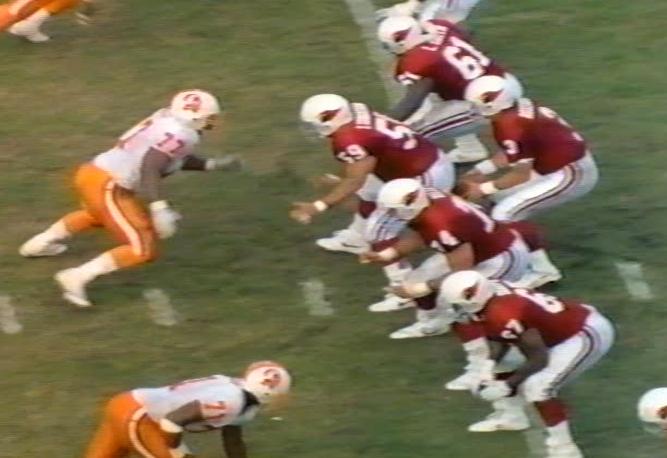 Rick Stroud, The St.Petersburg Times, published 28 December 1992

Perfect. Dead, solid perfect — the Phoenix loss to the Buccaneers on Sunday — and that was what it was, a Phoenix loss. Masterfully done, poetic, symbolic.

It was a 7-3 Phoenix loss despite the best efforts of the Buc offense to deny that defeat in a wretched final game to a dreadful season. To emerge the loser, the Cardinals had to throw five interceptions, fumble once and miss three field goals. They also had to blow two late scoring opportunities the Bucs provided, one set up by Vinny Testaverde's onlv interception. It nearly decided the game in favor of Phoenix.

It also helped that, with three seconds left and Phoenix at Tampa Bay's 17. an official ruled Buc defensive Buc Milton Mack was in bounds when he intercepted the only ball QB Timm Rosenbach threw all afternoon. He over-ruled a buddy in the striped shirts who said he was out of bounds meaning Phoenix would have had one more shot at a touchdown and victory.

The Phoenix loss was foremost attributed to the play of an ex-Buc. Likely there were some out there who figured Chris Chandler would be the hero because former Buc coach Ray Perkins blew a No. 1 pick for him. then waived him, thus reaping no benefit whatsoever for the costly blunder. Chandler's performance Sunday was a partial payback, and frankly, should have been expected. He was all he was as a Buccaneer: why, he was even injured at crunch time and not there for the finish.

Finally, the inevitable irony of the Phoenix loss. The Bucs get the win that allows them to finish high enough in the NFC Central, so: 1) They will not have the high draft pick necessary to grab someone like FSU's Marvin Jones; 2) They will play a tougher schedule. Coach Sam Wyche said he wanted to beat Phoenix for pride and to finish higher so teams such as San Francisco, the Raiders and Redskins would come to Tampa Stadium as an attraction.

That was admirable and acknowledges he is aware season ticket sales wilt be a problem, but Coach, if you are winning the fans will come if you play my high school team. Hardee County High. Pride? Past time for that. Polish, execution and leadership on offense, that's what's needed.

During the fourth quaner, the Bucs' defensive players must have wondered why they were busting their butts while the offense was squandering opportunity after opportunity. Had the offense played even a smidgen better, it would have been a rout. Had kicker Eddie Murray, once a champ at his craft, not missed field goals of 33. 36 and 40 (I know the turf was rotten), it would have ensured a 5-11 season much earlier. Phoenix kicker Greg Davis also missed three, but at least he made one.

The Bucs should have won this one big time and finished with a flourish instead of a flush. Field position was theirs all day. The crowd hardly was a factor, since there was hardly one at all. And Phoenix offered those six turnovers — five by the well-trained Chandler. The Buc defense played a curious tactical game, but in the end it was a winner. Chandler was sacked once, but at a critical time. Instead, it opted to lay back, and out of that came the five interceptions. Also worthy of tribute were receivers Mark Carrier and Lawrence Dawsey and fullback Anthony McDowell.

But with this 5-11 season over, the cold hard looks now will be taken at the roster that includes only 19 who were here when Wyche arrived a year ago. Surely a place-kicker now is a priority, along with receiver speed, an impact defensive player and secondary help.

Wyche's soul-searching will involve Testaverde. linebacker Broderick Thomas, and the NFL's impending free-agent market. Thomas slipped, for whatever reason. He should have been All-Pro. Testaverde should be headed for his third Pro Bowl. And owner Hugh Culverhouse surely will notify Wyche through Rich McKay — or perhaps even in person — that he does not have the bank balance of a sportswriter. so go for it regarding free agency.