Bucs a mix of caution, optimism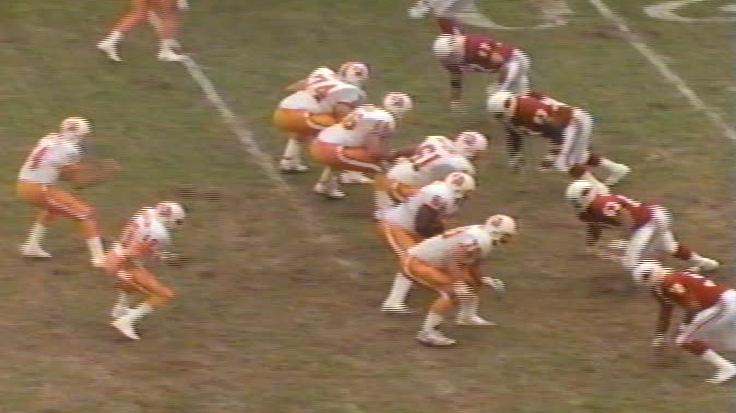 Hubert Mizell, The St.Petersburg Times, published 28 December 1992

It's late December, and football's winners are still playing. Work of losing teams has mercifully subsided. On a sunny Monday, bounding about One Buccaneer Place's green acres, a team wearing orange jerseys joyously rehearsed for post-season competition. Not the landlord Tampa Bay Bucs, of course, but the Tennessee Volunteers, who're using the facilities to prepare for Hall of Fame Bowl opponent Boston College.

"It's nice having the Vols, but I'm counting on the Bucs being on that field this time next year, getting ready for an NFL playoff game," said Sam Wyche, the resident One Buc Place coach-magician-optimist. His season ended Sunday in Phoenix, where Tampa Bay improved to 5-11. The Adventure . . . ends. Videotapes of the 7-3 win are not being shipped to Canton, Ohio, for proud showings at the Pro Football Hall of Fame.

But don't tell Sam it was ugly. "I've never really seen an ugly win," said Wyche, stepping inside One Buc Place's media shack, away from the sounds of Tennessee's practice, to administer post (season) mortems. "It's hard not to look sluggish on that terrible field in Phoenix."

Both the Cards and Bucs had difficulty standing up, much less running or throwing or kicking. NFL Bloopers '92 need look no further for its reel of field-goal flubs. Sod at Sun Devil Stadium was looser, clumpier and worse-looking than any of Howard Cosell's toupees. But let's not play that one again, Sam, whether you're talking the slippery glee of Phoenix or the bigger, sadder picture of Tampa Bay's 10th consecutive 10-loss season.

Go ahead, Sammy, reach into your silk top hat. Use the old Wyche charm, chatter and sleight of hand to attempt the toughest sort of football sell . . . to a bewildered Tampa Bay constituency . . . that 1993 will at last be the season that steers the Bucs out of 10-loss bondage. "We didn't have a Cinderella year, at least not on the scoreboard," Wyche said in the greatest understatement since Princess Di said to Prince Charles, "I have a headache."

But, no joking, the first-year coach of the Bucs is convinced that a 5-11 season "has clearly identified our problems" and also "identified many of the solutions." Wyche's most obvious cravings, heading toward the '93 college draft and NFL free-agency, are a wide receiver with Carl Lewis speed and a linebacker with the tenacity of a young Mike Singletary and a placekicker who can send kickoffs halfway to Havana.

On the Monday after the Phoenix finish, we were hearing a man who I believe is expecting an 8-8 or 9-7 record - or even better - next year. His hope, enthusiasm, diligence and optimism are to be applauded. But, well, even if this ain't Missouri, Sam, I do believe I'm hearing at least a million voices chanting, "Show me!"

In addition to the obvious pluses of tailback Reggie Cobb and cornerback Ricky Reynolds - who would be in the Pro Bowl if they wore uniforms of NFL respect - Wyche said things like, "Our rookie tight end, Tyji Armstrong, was the most improved player I have ever seen, over the course of a season."

Okay, about Vinny . . . "We want Vinny Testaverde to be here," Wyche said, reinforcing his solidarity behind the controversial six-year quarterback who has free-agency options, "and I think he wants to be here."

Go ahead, groan. Bucs followers should have a lifetime pass to complain. Nonetheless, I'm convinced that, in Testaverde, Wyche is reaching for his most viable and sensible option. I've been a party to most every minute of Testaverde's six turbulent NFL seasons; his far-too-few ups and his far-too-many downs. But if, somehow, we manage to block out Vinny's 1987-91 past and focus on 1992, a more appetizing picture focuses.

Sure, it could be that Sam has given me a smack with his amateur magician's wand. But, whatever, I think that - considering his accompanying cast - Vinny was better than half the NFL starting quarterbacks. Do I hear a groan? Or a million? If his '93 improvement matches what Testaverde accomplished in '92, Sam's man will at last be a winner of a QB. But, yes, "Show me!" is the appropriate cry.