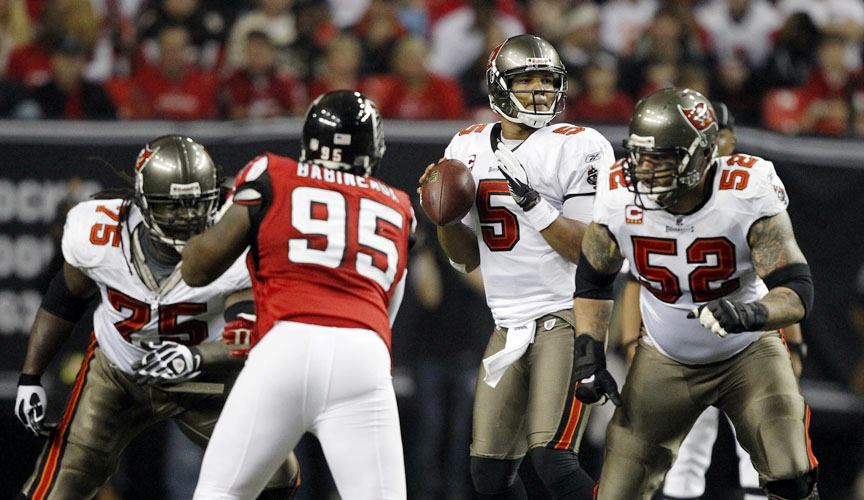 Roy Cummings, The Tampa Tribune, published 2 January 2012

From the head coach to the last running back on the depth chart, the Bucs quickly turned their attention Sunday to the upcoming offseason.

"This offseason is really going to say a lot about this team,'' Pro Bowl right guard Davin Joseph said. "We really need to check our dedication here. We need to see who's really going to be a part of this offseason, who's going to play hard and who's going to be really committed to football.

"That's going to show in the offseason and hopefully it will make us a better team. We're going to find out who's really about this team, who's really dedicated and who's really about themselves.''

Getting better all the time
Bucs veterans said late Sunday the future depends on key young players improving during the offseason. But the young players are not alone.

"I'm telling you about all these young guys (having to get better), but I'm sitting back this offseason and I'm rethinking everything,'' LT Donald Penn said. "I'm really not happy with the way I'm ending this season. I have to get better myself.''

Penn earned a trip to the Pro Bowl for his play a year ago, but gave up several sacks down the stretch this season, including one Sunday during the first half.

Milestones
WR Dezmon Briscoe scored his team-leading fifth and sixth receiving touchdowns with catches of 2 and 5 yards.


CB Elbert Mack recorded his second interception of the season, fifth of his career, and returned it 40 yards for his first career touchdown. Tampa Bay has scored 39 defensive touchdowns since 2000, third-most in the NFL during the span after Baltimore and Green Bay with 42 each.

PK Connor Barth made a 41-yard field goal to finish the season 26-of-28 for a 92.9 field goal percentage, breaking Steve Christie's franchise record of 85.2. Barth ended the season making 15 consecutive kicks, the longest streak in the NFL.

QB Josh Freeman passed for 3,592 yards this season, second on the team's single-season passing list behind Brad Johnson, who threw for 3,811 in 2003.

TE Kellen Winslow, who had seven catches for 56 yards, extended his pass-catching streak to 92 consecutive games. Winslow's is the third-longest active streak among tight ends, seventh overall. Also, Winslow's 763 receiving yards for the season ranked third among tight ends in Bucs history. He set the franchise record with 884 in 2009, topping Jimmie Giles' mark of 786 in 1981. Winslow finished two receptions shy of his team record of 77 for tight ends.

Extra points
Only the 1983 team – during a 55-14 loss at Green Bay – gave up more points in one half than the Bucs did against the Falcons, who led 42-7 at halftime.

The Bucs scratched starters WR Arrelious Benn (neck) and RT Jeremy Trueblood (concussion) from their lineup. DTs Albert Haynesworth and Brian Price dressed for the game but didn't start and were replaced in the starting lineup by Frank Okam and Roy Miller.