Bucs close season with 10th straight loss
Roy Cummings, The Tampa Tribune, published 2 January 2012

Purely by coincidence, former Tennessee Titans coach Jeff Fisher crossed paths with the Buccaneers this weekend. If their paths cross again, it might not be a coincidence.

With their 2011 season mercifully over, the Bucs must decide whether Fisher or another available coach is a better fit moving forward than Raheem Morris, who directed one of the worst tailspins in franchise history.

It reached humiliating proportions Sunday at the Georgia Dome, where Tampa Bay was disgraced during a 45-24 loss to the Atlanta Falcons that extended their season-ending losing streak to 10-games.

The streak marked the first time since the expansion season of 1976 the Bucs lost 10 straight to end a season and the first time since 1977 they lost 10 straight within a season.

Worse than the quantity of the losses, though, was the quality. The Bucs lost their final five games by an average of 23 points, many punctuated by a wavering degree of competitiveness that carried into Sunday.

Needing to hold Atlanta to 24 points to avoid becoming the most scored upon team in franchise history, the Bucs surrendered 27 points in the first 18 minutes and 42 before the end of the first half.

"I've never been around a team where it all went so bad so quickly,'' veteran cornerback Ronde Barber said. "And Raheem will take all the blame for this and he probably shouldn't. It's all of our faults. As a unit, as a team collectively – all six units in the building – none of them were good enough. To put it all on Raheem is very shortsighted.''

Morris certainly isn't taking a short-sighted view of things. No sooner was the season over than he began talking about starting up his offseason program in an effort to correct the problems that led to the 4-12 finish.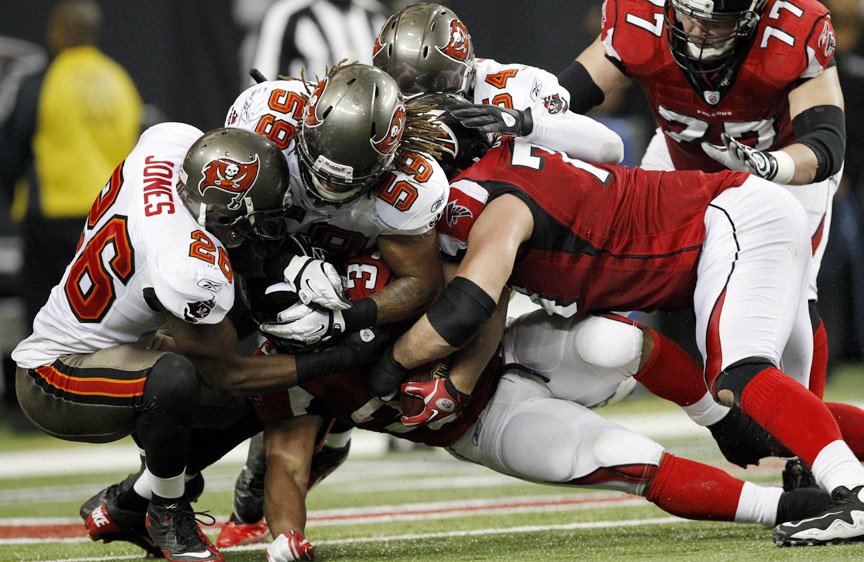 "If I was the business of worrying about my future, I wouldn't be coaching,'' he said. "I'm going to work tomorrow and I'll keep going until they tell me to stop.''

When Morris will be told anything is hard to know. The Bucs informed him he would return for a second season one day after Morris led them to a 3-13 record in 2009, but waited nearly a month to fire his predecessor, Jon Gruden, in 2008.

Inside the Bucs locker room it seems the vote has already been taken. Like Barber, Pro Bowl right guard Davin Joseph echoed the sentiments of many in saying Morris was not the biggest cause of the downfall.

"I've been saying the same thing for the last five weeks,'' Joseph said. "When we get to the point where we can play better on third down, stop turning the ball over and make some plays on defense, we'll be a better team. Plain and simple.''

It was just that plain and simple Sunday. The Bucs gave up the first seven points on a game-opening, 80-yard drive and 21 of the next 28 by virtue of turnovers. Tampa Bay had a league-high 40 turnovers this season.

Josh Freeman, who threw 25 touchdown passes and just six interceptions in 2010, was responsible for 27 of those turnovers, including three – two interceptions and a fumble – in the first half Sunday. He finished with three interceptions for the day, 22 for the season.

Not that the giveaways were all Freeman's fault. He lost the fumble when John Abraham stripped the ball from his hands after blowing by right tackle James Lee and threw one of his picks as a result of a classic 1976-like Bucs foul-up.

On third-and-6 from the Atlanta 24-yard line, Curtis Lofton intercepted Freeman and returned the ball for a touchdown after Freeman's intended target, running back Kregg Lumpkin, was wiped out by a collision with tight end Kellen Winslow.


The defense had its share of foul-ups, too. On the Falcons' second score, receiver Julio Jones ran past corner E.J. Biggers and outplayed safety Sean Jones to catch a pass, then got up and broke tackle attempts by Jones, Biggers and linebacker Geno Hayes to reach the end zone.

Atlanta running back Michael Turner ran for 172 yards and two touchdowns on 17 carries – in the first half. "The team was prepared to play, but we got outplayed by a better football team,'' Morris said. "They came out of the box and got them fast and quickly and we couldn't tackle them. That's an issue.

"So are the turnovers. You can't think that's not gong to happen when you turn the ball over the way we did."

The Bucs eventually put together a couple of successful drives late in the game, but most of those and their two offensive touchdowns came against a Falcons lineup littered with reserves. Tampa Bay turned in the occasional run stuff and quarterback pressure, plus got an interception returned for a touchdown from Elbert Mack. But plays of that nature were rare.

Plays of that nature have been rare since the Bucs started the season 4-2, which is why Fisher's presence at the Bucs' team hotel on Saturday caused a bit of a stir. Fisher, considered a top candidate for any NFL head coaching job, was in town to see his son Trent, a defensive back at Auburn University, play in the Chick-fil-A Bowl. Could his next stop be Tampa?