Bucs' Defense Leaves Bears, Rest Of League In Denial
Martin Fennelly, The Tampa Tribune, published 30 December 2002

Not this time. The Bucs would not give it back again. Twice they said bye-bye to a bye. Sunday, destiny fell into their hands once more. They grabbed it, and who knows what else, by the throat. Not even the thermometer could stare them down. Or the thought of life without Brad Johnson. How could the scoreboard say different? The Bucs defense would not let it. The Packers had lost. And the Bucs would not let another chance escape.

The Chicago Bears were more ghosts than galloping in Red Grange's old house. The Bucs did what was needed in a 15-0 win. It did not need to be pretty. Five Martin Gramatica field goals seemed like a mighty onslaught. The Bucs defense made it so. Now the only complications are Johnson's status and a little- known contract codicil that stipulates that Bill Parcells coach the Bucs in any postseason game.

By any degree - and there were less than 40 of them when Sunday's game began (talk about ghosts) - this was a giant leap for Buckind. With teeth chattering, with rumors about Johnson's back howling like the wind, with the odor of stinking Tuna in the air, they inhaled this game. They regained the high ground, or at least enough of it to stay off Green Bay tundra if it comes to that.

Yes, the Eagles are out there. But Sunday wasn't about them. It was about the Bucs, who did what they had to do. There were snow drifts in the bleachers at ancient Memorial Stadium. It was so cold the Glazers' liar-liar pants couldn't catch fire. It did not matter. The Bucs warmed to the task.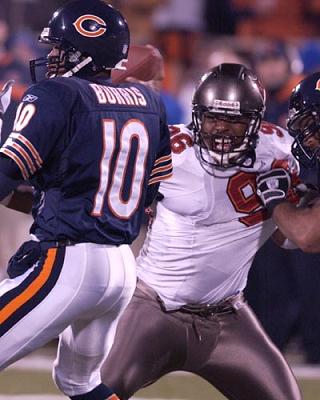 What About This Coach? It was a shame that Parcells' name arose Sunday. Jon Gruden should be front and center. He and his team. After all the worrying - his and ours - the doom and gloom lifted and the Bucs had won 12 games, more than any Bucs team ever had in the regular season. That's the truth. And after the Parcells revelations and the spinal tap dancing around Johnson's condition, the truth made for arctic refreshment. We all know that Gruden was brought here to do more than this, that the postseason is when we start keeping score.

But give his team credit. Think of what could have happened. Think of the Saints. Better yet, think of the Dolphins, who couldn't find their way into the playoffs with Ricky Williams. Imagine if the Bucs had lost to the Bears, to Chicago quarterback Henry Burris, who entered the game having completed 11 NFL passes, whose last professional start came for a team in Saskatchewan. Imagine if the Bucs had dropped this ball. Well, quit imagining. And dream a little dream.

The Bears threatened once when the game was in doubt, and Burris was picked off by Derrick Brooks, who should be defensive MVP of the league. Brian Kelly had two picks. Warren Sapp, playing hurt, had seven tackles. This defense, this defense, this defense. It would not lose this game. Nor would Rob Johnson, and for now that will do. Michael Pittman finally looked as strong as his biceps with 90 yards on the ground. For the third time in four games, the running game was there. Dream another little dream.

All week long - all season long - Gruden told them they would get what they deserved. When they came into their locker room Sunday, the Packers were on the television. They looked at each other. Did they deserve this. ``We made it so,'' Brooks said.

And so they did. When it was over. They could see their breath and knew a little bit more of the old Bucs was dead. ``How cold was it tonight?'' Kelly asked.

You told him 38 degrees at kickoff, a record low for a Bucs victory. You told Brooks. Who knows what this team will do in coming weeks, especially if Brad Johnson does not come back. Derrick Brooks knew only one thing. ``We can make any history we want,'' he said.

Then he smiled. Definite warming trend.