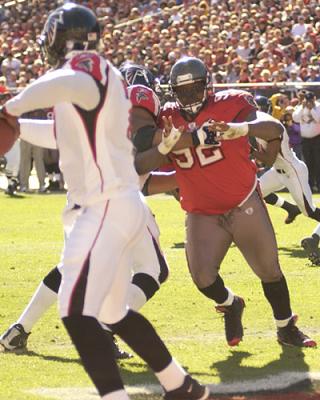 Marty Strasen, The Tampa Tribune, published 21 December 2003

A day of speculation. That's really what it was, since it didn't turn out to be much of a football game until the last few minutes. Rich McKay spent the afternoon sitting quietly next to Falcons owner Arthur Blank in the visitors' suite on his first game-day as Atlanta's general manager. Did he have to catch himself starting to cheer for the Bucs at any time? It would be hard to blame him, considering he's invested much of his life in the franchise. One can only speculate. And what shall we make of the future of the teams on the field? This, too, is a subject for debate.

No one will know for a while what the loss of McKay will mean for a Bucs club that squandered any slim playoff hopes it might have held with a 30-28 loss to the Falcons. This season has been a nightmare for the Bucs, just one year after McKay and Coach Jon Gruden made their strained relationship work well enough to win a championship. Now that a meaningless game at Tennessee is all that remains, attention can be turned to the big questions: Who fills McKay's seat as general manager? And where does the team go from here? Let the speculation begin. ``We'll regroup. We'll respond. We'll reload if we have to,'' Gruden said. ``And we'll come back next season better than ever, I hope.''

If the Bucs are a battered and beaten team, they didn't show it in the final 2 1/2 minutes Saturday. After four early interceptions put his team in a 30-7 hole, Bucs QB Brad Johnson led a furious late rally that left his team a two-point conversion short. Gruden called it one of the ``great gut-checks'' he's witnessed from a quarterback. But a loss is a loss, and the Bucs deserved their fate in this one. ``In defeat, it's hard to stand up here and find a lot of things to feel real good about right now,'' Gruden said in his postgame news conference.


As for the Falcons, calling their season a train wreck would imply their train made it to the track in the first place. That's not the case. Their offense had no chance after a preseason injury sidelined star QB Michael Vick for most of the season, and their defense made it a matching set by quickly establishing itself as incapable of stopping either the run or the pass. McKay's presence was not the reason the Falcons mustered enough pride to outplay the Bucs at Raymond James Stadium. He's good, but he's not that good.

However, McKay's presence will be a big part of the turnaround the Falcons will make in the years to come. Speculation of that sort has to have Atlanta fans thrilled despite the events that preceded his hire. The Falcons have the NFL's best athlete calling their signals and one of its most accomplished GMs searching for talent. That figures to make them a player in the NFC South race over the next few years. Carolina has a strong young nucleus and will gain playoff experience in the weeks ahead. It's possible New Orleans could overcome its string of underachievement without a major overhaul. So where does that leave the Bucs?

It leaves them with something to prove, beginning next year. There's enough talent here to bounce back from a season in which everything that could possibly go wrong went very, very wrong. Finding a GM who can help Gruden add to that talent base is the vitally important next step. And several crucial roster decisions await, including whether to make a strong effort to retain Warren Sapp or let him go. For the Bucs and their fans (especially the thousands who missed Saturday's thrilling finish because they left the game in the third quarter), the offseason came one week early in 2003. Will it be a time for improving their chances to make another Super Bowl run, or will it turn into a winter of more discontent? Feel free to speculate.