Scott Smith, Buccaneers.com, published 21 December 2003

It's official: There will be no Super Bowl repeat this year. The Tampa Bay Buccaneers refused to die until the closing seconds of Saturday's 30-28 loss to the Atlanta Falcons, but when Brad Johnson's pass on a two-point try with 27 seconds left was batted down by Travis Hall, their playoff dreams were finally snuffed out. Four interceptions in the first half doomed the Buccaneers, as QB Brad Johnson got off to a shaky start. Atlanta scored 24 points off those four turnovers, taking a 27-7 lead into halftime that they spiked to 30-7 by the beginning of the fourth quarter.

Johnson then led the Bucs on an amazing comeback, directing three touchdown drives in the fourth quarter. The Bucs were still down by 16 with 2:30 to play, but Pro Bowl snub Keenan McCardell caught a 76-yard touchdown pass to finish a 96-yard drive, and Karl Williams followed with a two-point conversion on an out-and-in route to make the score 30-22. That drive was made possible when T.J. Duckett fumbled at the Bucs' four-yard line. A successful onside kick followed as Martin Gramatica purposely drilled a low kick off Falcon CB Derek Ross and Dwight Smith recovered. Johnson, who was 13 of 16 in the fourth quarter, completed four of six passes on a 62-yard drive, hitting FB Jameel Cook for an 11-yard score with 27 seconds to play. Hall denied the two-point try and the Bucs' final onside kick attempt failed.

Johnson was brilliant in the second half and eventually finished with sparkling numbers besides the interceptions: 34 completions in 48 attempts for 346 yards and four touchdowns. In the second half, Johnson hit on 21 of 27 passes for 240 yards, three touchdowns and no interceptions. "He just missed some throws," said Jon Gruden. "Balls got away from him. But I'll say this: That was one of the great gut-checks I've seen at that position. We made some mistakes in the first half in regard to turnovers. My experience in pro football is that it is very hard to overcome turnovers."


Atlanta, which improved to 4-11, broke a six-game losing streak to the Buccaneers and QB Michael Vick had his first breakthrough against a defense that had been his nemesis. Vick completed just eight of 15 throws for 119 yards, but he tossed two touchdown passes and ran 12 times for 39 yards. It was the type of performance the electric, third-year passer had routinely put together against other teams, but not the Bucs. This time, Tampa Bay failed to sack Vick once and had difficulty keeping him in the pocket when he wanted to run. At one point, facing a fourth-and-one in the fourth quarter, Vick and Duckett ran into each other on an attempted handoff, so Vick simply pulled the ball back from Duckett and darted around the right end for an impromptu first down.

It was that kind of day. At least it was until the final period. Mirroring other disappointing losses to Carolina (twice), New Orleans and Green Bay, the Bucs rallied marvelously at the end only to barely fall short. Gruden, who led the Bucs to a Super Bowl title in his first year at the helm, felt good about his team's effort even as it was eliminated from the postseason. "I'm very proud of our football team, the character they showed in the last 15 minutes of that game," he said.

Coming into Saturday's game, the Falcons had the league's 32-ranked defense and had secured just 11 interceptions all season. And, indeed, Tampa Bay finished with a total yardage edge of 440 to 267; however, the turnovers ultimately doomed the home team. Vick, who missed the Bucs' 31-10 win in Atlanta in September due to a broken leg, made his third start of the season and the third of his career against Tampa Bay. Much of the pregame focus was on the matchup between Vick and the Bucs' defense, but Atlanta got off to a hot start by keeping the ball on the ground. The Falcons first six plays were all handoffs, highlighted by T.J. Duckett's 25-yard run on the game's second play, and they put Atlanta in position for Jay Feely's 26-yard field goal five minutes into the game. Duckett finished with 93 yards on 27 carries, most of them straight up the gut, but did let the Bucs back in the game with his fourth-quarter fumble.


Nine minutes after the opening score, following a Keith Newman interception of a badly overthrown pass, Vick got into the act with a rollout, six-yard touchdown pass to TE Alge Crumpler. Three quarters remained but the Bucs, who haven't won a game in which they trailed by 10 or more points since 1999, once again couldn't recover. The Bucs did briefly appear to jump back into the game in the second quarter, scoring the game's next touchdown to cut the lead to 10-7. Tom Tupa, red-hot in recent weeks, dropped a punt down at the Falcons' two and, after a three-play stop by the Tampa Bay defense, the Bucs got the ball back at Atlanta's 46. Eight plays got it into the end zone, including a 22-yard crossing-route pass to WR Charles Lee. On third-and-goal from the three, TE Rickey Dudley realizing he was completely uncovered, alerted Johnson to that fact and the two ran an unscripted pitch-and-catch to get on the scoreboard. It marked Dudley's first touchdown since returning to the team a month ago.

That first comeback didn't last long, however, as an obviously confident Vick struck again. On the very first play following Keion Carpenter's diving interception, Vick threw a 49-yard bomb to a wide-open Peerless Price, down to the Bucs' 19. Three plays later, the Falcons took advantage of an eight-inch size mismatch on the right sideline, as WR Brian Finneran plucked a lob out of the air over nickel back Ronyell Whitaker. Less than a minute later, Johnson was hit as he threw, resulting in a soft pass that was easily intercepted by Juran Bolden and returned 41 yards for a touchdown. Before the half could wind down, Johnson was intercepted again, this time by Bryan Scott on a pass that was deflected by WR Keenan McCardell, and the Falcons tacked on a field goal to make it 27-7.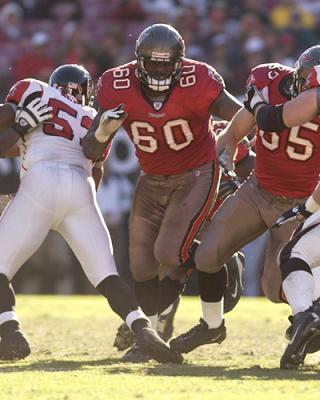 The Bucs took a now-or-never strategy to start the second half, going for it on fourth-and-seven from the Falcons' 36 on their opening drive. However, the play failed and the Falcons responded with a 44-yard field goal drive that drained another 6:15 off the clock. RB Aaron Stecker then returned the Falcons' kickoff to the Atlanta 40, but a holding penalty brought the ball all the way back to the Bucs' 20. Johnson did manage to drive the Bucs 80 yards for a touchdown from there, but the march leaked three and a half minutes into the fourth quarter and left the Bucs rather short on time, still down by 16 points. Johnson completed 10 of 12 passes for 73 yards on the drive, including a fourth-down slant to WR Charles Lee for a three-yard score. After that gamble, the Bucs rolled the dice on an onside kick with 11:27 remaining but failed to recover.

Atlanta then ran seven minutes off the clock before Duckett's fumble opened the door for another comeback attempt. Despite his early struggles, Johnson set several Buccaneer records on the day. His first touchdown pass was his 23rd of the season, breaking his own mark of 22, set last year. Johnson's 24th scoring pass, the dart to Lee, matched his own season best, and he would get two more to make it 26. Late in the drive that produced the Lee touchdown, Johnson also surpassed Doug Williams' Buccaneer record of 3,563 passing yards, eventually finishing the game with 3,715.

As deadly to the Bucs' playoff hopes as this game was, it was also, at times, an exceedingly ugly contest, with minor skirmishes breaking out constantly, particularly on special teams. Falcons LB Artie Ulmer was ejected just before halftime after delivering an ill-advised punch to LB Nate Webster's facemask. The Bucs penalty problems, which had momentarily subsided last week in a win over Houston, also came back, as the Bucs were flagged seven times for 46 yards. Atlanta's win was a dramatic reversal in the head-to-head series. Tampa Bay had defeated Atlanta six straight times, their best streak against any team, ever. The last Buc loss to their Georgian neighbors came in 1995, when the Falcons won in Tampa, 24-21, on October 22. The Bucs had dominated Atlanta during its winning streak, prevailing in the six games by an average margin of 17 points.