How the American press saw the game
The Tampa Tribune, published 21 December 2003

Michael Vick relished the role of spoiler. "It feels great," the Atlanta quarterback said. Vick and the Falcons beat Tampa Bay 30-28 Saturday to end the Buccaneers' hopes of overcoming injuries, the jettisoning of Keyshawn Johnson and other distractions to repeat as Super Bowl champions. "For us to come down here and knock them out of playoff contention was big for us. That was our goal all week -- if we can't go, they can't go."


It's been a miserable season for Atlanta (4-11), which lost Vick for the first 11 games with a broken right leg. Coach Dan Reeves was fired 11 days ago, and the Falcons were coming off a 38-7 loss to Indianapolis in their debut under interim coach Wade Phillips. But with Vick in the lineup, there's always hope. The third-year pro threw for 119 yards and two touchdowns against a Tampa Bay defense that shut him down twice last year. The Falcons' defense did its part, too, intercepting four of Brad Johnson's passes and scoring once.

A furious Tampa Bay rally fell short when Travis Hall batted down Johnson's two-point conversion pass with 27 seconds remaining. "I just did a good job feeling the protection, beating my guy outside and getting upfield quick and was able to get in Brad Johnson's face," Hall said. "It felt great because it wasn't like just barely a tip. It was like one of those total volleyball rejections."

With the Bucs trailing 30-7 going into the fourth quarter, Johnson threw three TD passes in the last 11 minutes, including an 11-yarder to Jameel Cook that gave Tampa Bay (7-8) a chance to send it into overtime. But just as they have on numerous other occasions this season, the defending champs couldn't make one more play to get over the hump. "You can talk about all the injuries and distractions we had," safety John Lynch said. "But ultimately it comes down to what happens on the field."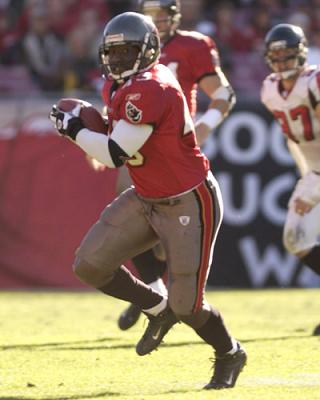 One week after being held to just 47 yards passing and 30 rushing in Atlanta's loss to the Colts, Vick completed 8 of 15 passes and ran 12 times for 38 yards. He threw TD passes of 6 yards to Alge Crumpler and 13 yards to Brian Finneran in the first half, then led a long third-quarter drive that produced Jay Feely's 37-yard field goal for a 30-7 lead. Juran Bolden returned one of Atlanta's interceptions 41 yards for a touchdown, and the Falcons used picks by Keith Newman, Keion Carpenter and Bryan Scott to set up 17 more points and a 27-7 halftime lead.

By the middle of the fourth quarter, many of the 65,572 fans had already headed home. They missed the best part of the game, including a busted play on fourth-and-1 that Vick turned into a 2-yard gain after colliding with intended ballcarrier T.J. Duckett. Vick spun out of the confusion in the middle of the line and took off around right end, eluding two of Tampa Bay's best tacklers -- Derrick Brooks and Ronde Barber -- to make the first down. "It was actually my fault. I went the wrong way," Vick said. "I handed the ball off to him, then snatched it back out."

The Bucs had won three of their previous four games to climb to .500 and cling to their slim playoff hopes. Even if they had been able to contain Vick for a third straight victory, they would have needed to beat Tennessee next week and get considerable outside help to earn the last NFC wild-card spot. The loss was the second of the week to Atlanta, which hired former Bucs general manager Rich McKay to the same job with the Falcons last Monday.

McKay, whose ties to the Bucs dated to 1976 when his father became Tampa Bay's first coach, was unhappy with the Super Bowl champs because of differences with coach Jon Gruden over personnel matters. The new Falcons GM sat with owner Arthur Blank in the visiting owner's box and conceded that it was difficult rooting against his old team. "I've rooted for them for a long time as individuals, and it's hard to watch them and then root against them," McKay said. "That's very hard, but it happens in free agency, too."

Johnson completed 34 of 48 passes for 346 yards and four touchdowns. He helped rally the Bucs from the big fourth-quarter deficit with TD passes of 4 yards to Charles Lee and 76 yards to Keenan McCardell, who had six receptions for 122 yards. Lee finished with 10 catches for 88 yards. Duckett rushed for 93 yards on 27 carries for Atlanta.