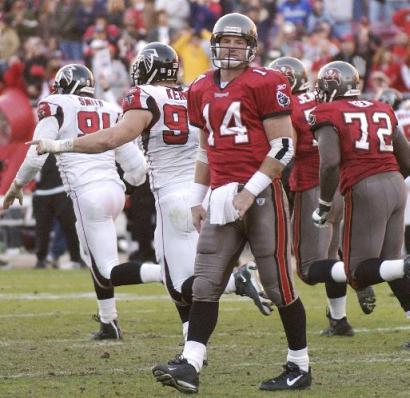 Roy Cummings, The Tampa Tribune, published 21 December 2003

Brad Johnson stood in front of his locker Saturday night, describing the frantic fourth-quarter rally that nearly altered the outcome of Tampa Bay's 30-28 loss to the Falcons at Raymond James Stadium. If you didn't know any better, you might have thought Johnson's summation was one of the Bucs' season, one in which they stumbled early, rallied late but ultimately failed to achieve their objective. ``We almost made it happen,'' Johnson said.

Almost. According to Derrick Brooks, who pointed out that the Bucs were in position to win in the final 90 seconds of all but one of their eight losses this year, it was a season of almosts. ``We're not a bad football team,'' Brooks said. ``We just had some growing pains this year. Never having been in the position of defending a world championship before, I think we learned a lot about that.''

Like the New England Patriots did a year ago, the Bucs learned that repeating as Super Bowl champions is nearly impossible and that just qualifying for the playoffs can be downright difficult. Their postseason dreams mathematically shattered, the 2003 Bucs will go down in history as the 12th Super Bowl champion to fail to make the playoffs the season after winning the title. ``Being at home for the playoffs, that's something that's going to be miserable,'' safety John Lynch said after he contemplated the notion for a second. ``It's something I never really thought would happen. But on the field, we just didn't make enough plays. Last year, we created a lot of opportunities for ourselves, and we usually cashed in on them. This year we didn't do that.''

They didn't win at home very often this year, either. For the first time since 1993, a year they went 5-11 overall, the Bucs were just 3-5 in front of their hometown crowd. ``Clearly that's something that we have to fix,'' Lynch added. ``Great teams don't lose at home.''

Great teams don't spot 3-11 opponents 10 first-quarter points, either, but the Bucs did Saturday, surrendering a field goal to the Falcons on their first drive and setting them up for a touchdown on their third with an interception. The pick, which set up a 6-yard pass from Falcons quarterback Michael Vick to tight end Alge Crumpler, was the first of four interceptions Johnson threw in the first half. All the picks were converted into points, with the Falcons getting two touchdowns and a last-second field goal out of the final three, and that was enough to put the Bucs in a hole they could never escape.

They came close, rallying for 21 points in the fourth quarter, but Travis Hall finally ended the threat by barreling through the Bucs' line and batting down a 2-point conversion pass intended for Charles Lee. ``We felt like they were going to throw it there, and so [interim defensive coordinator] Emmitt Thomas suggested a blitz,'' Falcons interim coach Wade Phillips said. ``The blitz got there, and we knocked the ball down.''

Thomas wasn't the only Falcons staffer offering Phillips suggestions Saturday. Rich McKay, the former Bucs general manager who took over as Falcons GM on Monday, threw one in as well. ``He suggested that deep ball we threw on the left side,'' Phillips said, referring to a 49-yard Vick-to-Peerless Price pass that came immediately after Johnson's second interception.


That pass set up a Vick-to-Brian Finneran touchdown pass and sparked the 17-point run that allowed the Falcons to build a 10-7 lead into a 27-7 edge in just one minute, 53 seconds. ``I think giving up the field goal there at the end was the worst part of that,'' Lynch said of the Falcons rally. ``That makes it 27-7, and when you're down 27-7, you make it very hard on yourself.''

The task the Bucs faced became even harder when Falcons kicker Jay Feely made it 30-7 with 3:40 to play in the third quarter. But the Bucs immediately began to show their resolve. On the ensuing drive, Johnson found his groove and marched the Bucs 80 yards in 16 plays, finishing the journey by throwing a 3-yard touchdown pass to Lee. The Falcons then were able to run more than 7 1/2 minutes off the clock, but the Bucs kept them out of the end zone by forcing T.J. Duckett to fumble and recovering at their 4.

Four plays later, Johnson hooked up with Keenan McCardell on a 76-yard touchdown play that, coupled with the 2-point conversion pass to Karl Williams, cut the Falcons' lead to 30-22. The Bucs successfully engineered an onside kick, and on the seventh play of the drive Johnson hit fullback Jameel Cook on a flare-out and Cook ran in for the score. That set up the failed 2-point conversion attempt that will forever be remembered as the Bucs' last breath of 2003.

An ensuing onside kick attempt was doomed by confusion among the Bucs. Martin Gramatica wound up trying a pooch kick the Falcons easily recovered. It wasn't what was called from the sideline. ``I can assure you, that's not the way it was drawn up,'' Lynch said. ``It symbolizes the whole season for me,'' is how defensive tackle Warren Sapp phrased it.

In reality, the entire game symbolized the season. ``We got the engine going [Saturday], but it was a little too late,'' McCardell said. ``That's been the model of our whole season - start slow and finish fast. We needed to play fast all the time.''